About Flipdish
Flipdish is a cloud-based solution designed to help restaurants, hotels, takeaways, cafés or bars process and manage online orders through custom branded mobile applications and websites. Features include sales analytics, reward program, heat mapping, push notifications, role-based permissions and reporting. The application enables owners to create a multi-page customizable website using the brand logo, colors, images and menu details. With the dashboard, managers can monitor order details, customer information or delivery locations and evaluate business performance via sales metrics. Professionals can run marketing campaigns and build customer loyalty and engagement by sending offers, vouchers or discount to regular buyers. Flipdish integrates with various third-party platforms such as Lightspeed, Dinerware, Facebook, Google Analytics, Intercom, WeBringg, Orkestro, Shopify, Google Pay and more. Pricing for the solution is available on request and varies as per the location. Support is provided via email, phone and documentation.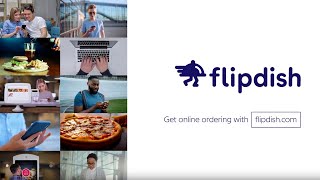 Flipdish has a free version. Flipdish paid version starts at US$485.00/one-time.
Starting Price:
US$485.00/one-time
Industry: Food & Beverages
Company size: 11-50 Employees
Used

Daily

for

1+ year

Review Source
---
Excellent support and customer service
Our website and online ordering is powered by Flipdish
Pros
Customer service is excellent; issues I have had in the past have been responded to in a friendly and helpful way, especially by a very efficient [SENSITIVE CONTENT HIDDEN]. Many previous concerns such as daily sales printouts etc have been addressed with the introduction of a new flipdish terminal that makes everything very straightforward now.
Cons
There are one or two small things we would like updated, such as subtotal on order receipts before discount so we can check against till readout, but as Flipdish have been generally very responsive to feedback we're hoping to see small tweaks like this soon.
Response from

Flipdish

Hi Jade, thank you for your 5 star review, and kind words. It genuinely delights be to hear you say that we have excellent support and customer service, as this is something we are very passionate about at Flipdish. It's also great to read that our new Terminal has solved many issues for you - that is exactly what good technology should do. As you say, we will continue to listen to and act on our customers' feedback, so thank you for taking the time to give it. Best wishes, Heather, Global Head of Customer Success @ Flipdish

Replied 12/3/2020
Industry: Wholesale
Company size: 1,001-5,000 Employees
Used

Daily

for

2+ years

Review Source
---
Chipmongers App on Flipdish
We have an excellent performing consumer App thanks to Flipdish bringing in sales for our customers daily and weekly.
Pros
Great support and business understanding from the Team in Flipdish which made the setup and implementation easy when it came to our App. The software is rock solid and very stable, the Admin is easy to use and intuitive and from a consumers point of view the Flipdish App is the best on the market, getting the consumer to order in just a few short steps and makes the payments option seamless and secure.
Cons
Nothing we have found not to like in this software in 4 years of using the App.
Response from

Flipdish

Hi Michael, it is great to hear that Musgrave (Chipmongers) find the Flipdish App the best on the market, with great support and business understanding from the team in Flipdish. That is fantastic feedback to hear, thank you. Best, James, Co-Founder @ Flipdish

Replied 15/11/2019
Industry: Hospitality
Company size: 11-50 Employees
Used

Daily

for

1+ year

Review Source
---
Good to build loyal customers.
I generally liked the app and the idea behind it. The main problem is how to convince people to download yet another app in to their phone....
Pros
Good for building customer's loyalty to the business. If you actually convince customer to download the app...it makes a good tool then. Easy push notifications.
Cons
Not enough help given in terms of encouraging new downloads. A bit delayed software updates. They need to work a bit more on location services.
Industry: Food & Beverages
Company size: 2-10 Employees
Used

Daily

for

2+ years

Review Source
---
Perfect takeaway app
Without question the best part of Flipdish is their customer service, and ease of access to that service. Superb from start to finish and you're treated like you matter and not just another client. The app itself has 100% uptime and I haven't received any negative customer feedback about it.
Pros
The flexibility and speed at which items can be added / removed to the menu, and instant push notifications are brilliant for directly communicating with customers.
Cons
A personal dislike for me is that I am not a fan of how the menu is laid out and that the menu is automatically collapsed. That means when a customer adds something, and you go back to the menu, you're doing a lot of scrolling. A better solution to my mind is having menu subtitles a customer can click on, which opens / closes that section of the menu.
Response from

Flipdish

Hi Neil, wow, thank you for calling us the "perfect takeaway app"! What a glowing recommendation. If we can help at all, please let us know. Best, Heather, Head of Customer Success @ Flipdish

Replied 19/6/2019
Industry: Food & Beverages
Company size: 11-50 Employees
Used

Daily

for

2+ years

Review Source
---
Very good, great staff, easy to manage, lower percentage rates and essentially a white label.
ease of use, cheaper rates, our own app without the hassle.
Pros
Customer Service is top.
Nice and easy App for customers.
Obviously lower percentage taken.
Great companion website.
Speed of corrections and change to menus.
Cons
Device in store may need updating to something similar to just eat. but only a minor issue and this would then set the standard for operations. however I understand it might then need to increase the percentage. So if that's the case then no.
Response from

Flipdish

Hi Michael, thanks so much for your great review! It's terrific to hear that you have found our customer service to be top class and the app & websites to be very user friendly for both your Remos Pizza and Brooklyn Burger customers. We're considering lots of different options for device upgrades in future; we will be sure to keep you updated! Thank you again for taking the time to share your feedback, we really appreciate it. If we can help at all, just let us know. Best, Heather Customer Success @ Flipdish

Replied 24/4/2018