About kintone
Kintone is a cloud-based, customizable workflow management platform suitable for businesses of all sizes. The key features of the solution include compliance management, approval process control, forms management, event monitoring and application-library access. The solution enables users to automate tasks such as process workflows, assignments and notifications without needing to modify or create custom code. Kintone offers Excel spreadsheet conversion into apps and open API connectivity. The solution also offers workshops, content and consulting to provide developers and business owners with the required skills to use the product. Kintone is designed to work desktops and on mobile platforms such as iOS and Android. A free trial is available.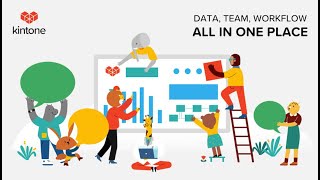 kintone does not have a free version but does offer a free trial. kintone paid version starts at US$24.00/month.
Starting Price:
US$24.00/month
Used

Daily

for

2+ years

Review Source
---
Great software which allows to quickly optimize analog processes. Fits small and large...
Pros
Very easy to develop forms and workflows. User driven. Allows to deploy apps fast and supports quick changes based on user needs.
Cons
The mobile version needs improvement and is not as user-friendly as the desktop version. A better mobile version would greatly add to the overall value of the software.
Response from

kintone

Thanks for the review! I will pass on your feedback about our mobile app. We are currently in Beta testing for Kintone Roam, a new version of our mobile app. This new app is intended for in-the-field Kintone users. If you'd like to check it out, please email [email protected]

Replied 1/5/2018
Industry: Nonprofit Organisation Management
Company size: 2-10 Employees
Used

Daily

for

2+ years

Review Source
---
Takes the Stress Out
I have accurate reports, solid information and feel confident in my presentations because of the ability to have reports at my fingertips.
Pros
I love that Kintone allows me to retrieve our data in an easy to understand way. I can pull reports, manipulate them and present the data easily.
Cons
I wish it were a bit more flexible in regards to searching for information.
Response from

Kintone

Hello Tara,

Thank you for your wonderful review! We're glad to hear you are satisfied with Kintone, and find our product user-friendly. I've included a link below on how to search data in Kintone.

Searching Data: https://get.kintone.help/k/en/user/search/search_details.html

Please don't hesitate to reach out if you ever have any questions. We're happy to help!

Best,
Marie
Kintone Customer Success

Replied 20/8/2020
Industry: Information Technology & Services
Company size: 11-50 Employees
Used

Daily

for

1-5 months

Review Source
---
New I.T Analyst using Kintone for about 6 months now
I've built a lot of apps for the company I'm with including a Gas Mileage Tracker App where I wrote a script that connected to Google Maps App and gave us the distance in miles and how much that was in dollars. I enjoyed it for the simplicity and how easy it was to get started building an app. Also the fact that the scripts use Javascript instead of some made up language is also good since most developers have been introduced to either Javascript or Java by now.
Pros
I like how easy it is to use and learn and set everything up. One of the advantages I think it has over most of the products in the same line, is how easy it is to set up process management and to assign roles to everyone on the team. For newer companies without anyone that's tech suave, I would definitely recommend Kintone!
Cons
Compared to other Services like Zoho Creator, there really is not much room for customization in the apps and the fact that you have to use another service to generate forms to input into the database is also bad because if you are not a user with Kintone, then the data cannot be accessed.
Response from

Kintone

Hi James,

Thank you for your feedback! With our open API's, the customization possibilities are endless to transform your apps. I'd be happy to connect you with a Sales Engineer to review any requirements you have in more detail.

There are a couple of options to display your data to those not inside Kintone. You can purchase a Guest Account which allows users to access a specific Space in which they were invited to and view the data from there. There is also an add-on called kViewer that allows you to display information inside Kintone with those outside of Kintone via a URL.

Best,
Larissa
Kintone Customer Success

Replied 23/8/2019
Industry: Information Services
Company size: 2-10 Employees
Used

Daily

for

6-12 months

Review Source
---
Great Value and Easy to Use
Great, customer support has been easy to use and the staff is very knowledgable about the product.
Pros
Kintone is easy to customize without coding knowledge and offers almost all of the functionality of products that are 5x as expensive.
Cons
Integrations with other programs need to be refined and the ability to reverse a step in the process management system would be really helpful.
Response from

Kintone

Hello Russel,

Thank you for your great review. We're glad to hear you enjoy Kintone's flexibility and functionalities! As for the integrations, we have Kintone Developer Program; Help and support on plugins, integrations, technical
assistance can be found here.

Kintone Developer Program: https://developer.kintone.io/hc/en-us

You can set up Process Management so the status can be reversed. I would be happy to connect you with your Customer Success rep to help set this up on your domain!

Our team is always glad to help you if you need any further support.

Best,
Marie
Kintone Customer Success

Replied 18/6/2020
Industry: Printing
Company size: 2-10 Employees
Used

Daily

for

1-5 months

Review Source
---
Great product!
We have automated our quoting process, our freight shipping process, our purchasing process, and many other procedures with Kintone. If there's a problem, chances are, we can fix it with Kintone.
Pros
I love the custom nature of the software and the ability to customize every app with JavaScript. Offbeat Press is a custom screen printing company so everything we do is custom and we need a software that can keep up with all of our custom needs. Kintone does that.
Cons
If you don't have experience with JavaScript, it can become a little more expensive for various add-ons, but not much. And, at the end of the day, that's not a con against Kintone. It's a con against whoever is building the apps.
Response from

Kintone

Hello Ben,

Thank you for your great review! Happy to hear that you enjoyed the flexibility of our product.

As you may already know, we have Kintone Developer Program for help and support on plugins and integrations.

Kintone Developer Program: https://developer.kintone.io/hc/en-us

Please don't hesitate to reach out if you ever have any questions. We're happy to help!

Best,
Marie
Kintone Customer Success

Replied 17/6/2020