About Glasscubes
Glasscubes offers cloud-based collaboration solution for businesses. It provides for file sharing, collaboration and document management, making it accessible from devices with an internet connection. Glasscubes' file sharing module lets users store their documents in the cloud, while it's online community facilitates knowledge sharing. Users can upload any type of file they want without size restriction and can share files with people who are not subscribed to Glasscubes by sending them a password-protected link. This software features a "whiteboard" tool, where team members can jot down notes and attach images and links on a shareable whiteboard. Glasscubes also offers a buildable knowledge base, allowing team members to share information and questions in one location. Users can attach conversations to documents and make sure the relevant documents are associated with a project. Pricing is based on the number of users per month. Telephone and live chat support are offered.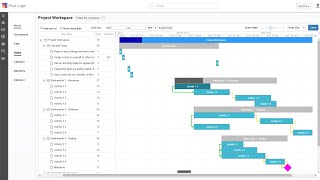 Glasscubes does not have a free version but does offer a free trial. Glasscubes paid version starts at US$35.00/month.
Alternatives to Glasscubes
Industry: Nonprofit Organisation Management
Company size: 2–10 Employees
Review Source
---
The online collaboration space that users actually use and embrace.
Among all the varieties of online collaboration software that I and the global networks I advise have used to try to build on-going, strong, virtual communication between our users, Glasscubes has been embraced and used more deeply, persistently and effectively than any other platform. Use the dashboard of recently added/changed/commented-upon to discover all the action throughout your Glasscube instance. It's an easy way to stay right on top of all developments. It gives confidence to users that their new contribution won't get lost deep in the site somewhere.
Pros
It has intuitively well-placed modules (dashboard of recent content; very functional workrooms - each with separate document/comments and more; effective tagging; and global search are most-used and appreciated.
Cons
I would find it advantageous for Glasscubes to widen its array of pricing options.
Industry: Telecommunications
Company size: 10,000+ Employees
Used

Daily

for

2+ years

Review Source
---
Every document feature that I need is here
Pros
The feature that I like best about this product is that it allows me to exchange files and manage papers without worrying about security effortlessly. I also like that I can build my unique material within the software, allowing me to need only one tool instead of the multiple I previously employed.
Cons
The only drawback I've discovered is that I have to extract documents to amend them before re-uploading them, but this is due to my organization, not the software. If you operate from an organization that allows it, you can use a desktop to access the system.
Industry: Accounting
Company size: 2–10 Employees
Used

Daily

for

1-5 months

Review Source
---
Glasscubes Review
Pros
Everyone can have access to what has been requested - all on the same hymn sheet.
Cons
If I make a comment in the main dashboard area it puts a task on the "Response Needed" logo (orange 'refreshing' style logo) and I have no ability to mark it "ticked green" as complete unless the client responds. Sometimes a response isn't needed - work around is to message from a separate section, but just a bit of a minor inconvenience.
Response from

Glasscubes

Hi Paul,

Thank you for your review, it is very much appreciated.

FYI, it is possible to mark a line item as complete. You just have to contribute to that item by clicking the 'Action' button and select the 'Contribute' option from the drop down menu, then the green tick will appear.

Don't hesitate to reach out to us if you need any assistance with that.

The Glasscubes Team

Replied 19/5/2023
Industry: Building Materials
Company size: 1,001–5,000 Employees
Used

Daily

for

6-12 months

Review Source
---
Easy to use. Brings the marketing team together! Really helps me keep track of the workflow....
Huge benefits. Keeps my inbox clean. Quick, simple and easy to use. Breaks down the communication barriers with the rest of the team.
Pros
Keeps the communication channels open, allows mutiple people to track jobs and respond the status. Really quick with greta file storage.
Cons
If the internet is down obviously that cause problems. It can be quite glitchy as our proxy walls cause it problems.
Industry: Health, Wellness & Fitness
Company size: 501–1,000 Employees
Used

Daily

for

1+ year

Review Source
---
Simple, secure and accessible
Glasscubes is a simple to use and administer document management and collaboration portal. It provides easy web-based access to users regardless of location/domain, document version control and audit trail, and messaging between users to notify updates or prompt next action.
Pros
We have used Glasscubes for over 2 years to manage our bid development and project documentation. The key features that work well for us are:- Web based access allows staff based across multiple locations to connect, including those working on remotes sites not connected to our domain- Version control, easy to download/upload documents and provides detailed audit trail of activity- Ability to message users to notify a document has been updated, or requires input - invaluable during fast paced bid development- Easy to administer - setting-up new workspaces, enabling/disabling user access etc. takes seconds
Cons
With over 50 folders now, the list would be easier to navigate if displayed by group instead of a single list