About Paymo
Paymo is a work and project management solution for small-medium businesses and freelancers. This solution supports remote work and offers project planning, resource scheduling, team collaboration, file proofing, time tracking, and project accounting within a single suite. Its project management features enable you to create projects, add tasks with multiple assignees, and save them as a template for later use. What's left is to monitor the project progress (time tracked vs. initial budgets) and manage work through one of the four different task views: List, Table, Board, Calendar, and Gantt Chart. Paymo also has you covered with a built-in timer, desktop, and mobile apps, as well as accurate timesheets that act as a window into your productivity. Data can be exported later as time reports and shared with your clients for extra transparency. The project accounting functionality to track expenses, create automated client invoices, transform proposals into projects, and get paid online will serve you well in keeping your financials close and making sure you get paid on time. Paymo offers three paid plans and a free plan for one user.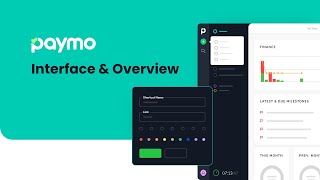 Paymo has a free version and offers a free trial. Paymo paid version starts at US$5.95/month.
Starting Price:
US$5.95/month
Industry: Graphic Design
Company size: 2–10 Employees
Used

Daily

for

2+ years

Review Source
---
Paymo has grown, evolved, and expanded alongside of the needs of our business.
Seriously, everything! I mentioned time tracking earlier but Paymo also does project management, client management, invoicing, estimation, Zapier integration, scheduling, team tasking...and the list goes on and on.
Pros
Time tracking is seamlessly integrated into our current designer workflow. This allows us to calculate the actual time spent on the job so clients understand where their money is being spent. It also allows us to identify where we need to increase project costs (9/10 times it's with 'customer correspondence').
Cons
We've been with Paymo for over 10 years so it was a bit of a kick when they started charging for functionality like Gant Charts. We've always loved the complete 'soup-to-nuts' service that Paymo offered so when certain items were put behind another paywall it definitely stung a bit. ¯\_(ツ)_/¯
Reasons for Choosing Paymo
As we expanded our business to include larger, quick-turn clients, we needed a better way to track time spent on projects. We found Paymo and started to implement time tracking and project management. It wasn't long before we were using it for estimating, invoicing, and reporting payroll. Almost a decade later, the platform continues to amaze us with updates and support that we never would have received from other services. We've even had folks join our team from Nike/adidas that say Paymo is something they wish they had at their previous jobs.
Reasons for Switching to Paymo
It comes down to 'bread and butter' of time tracking and project management. We've since added Slack and Trello to our ranks, but have never found a better, more cost-effective way of managing our day-to-day operations than Paymo.
Response from

Paymo

Loved the "(9/10 times it's with customer correspondence)" part, Neal :)

Besides Gantt Charts, the Business plan also comes with a Team Scheduling module, 100 GB of storage, and priority support.

We found this plan to be more appealing to larger teams, that's why we've decided to include it in a separate plan.

What specifically do you need from Gantt Charts, the ability to set dependencies or see task deadlines on a calendar?

If it's the latter one, then I have some good news: we're going to launch a task calendar view in the near future, so stay tuned!

Replied 25/6/2020
Industry: Information Technology & Services
Company size: Self Employed
Used

Daily

for

2+ years

Review Source
---
My time and sanity saver!
I've increased my productivity with Paymo's Kanban board view, combined with Table view, and saved TONS of hours on admin, invoicing, timesheets, client and project management.
Just this time saving alone pays off the monthly subscription.
Sanity and nerves saving is the bonus! :)
Why? Because Paymo helped me maintain good client relationships, timesheet transparency and great records&data representation for a client. So when a client comes up with a random question about a specific task, Paymo's records make finding (and presenting) a specific information or record so much easier, transparent and more reliable.
Pros
Paymo has been a lifesaver in many business management areas: project management, client management, time tracking, accounting.
With built-in budgeting, time tracking, expense tracking, estimate calculations, professional invoicing and getting paid online (and on time!), different project 'views' (list, table, board for kanban, gantt), extensive filters, dashboard and insights, resource scheduling, live time reports, client portal - and all that in one app - it's a sanity saver!
One of the things I also personally quite appreciate is the professional and clean look of the invoices (and how easy it is for clients to pay them online). With a click of a button, you can add the unbilled time/fees for a specific time period and/or projects to an invoice. Paymo does all that heavy admin stuff for you and it has saved me a lot of time!
Cherry on the top: all invoice items are presented so neatly and professionally, so that my clients can see exactly everything I've worked on for them and what I'm billing them for, as well as how much time is tracked for each project and task.
And Payoneer, in addition to PayPal/Stripe/Authorize.Net payment gateways is a big plus!
It's brilliant.
The moment I first tried it, I could immediately feel that Paymo is the tool designed for actual freelancers in mind, whether you work on a project basis, or a pay-as-you-go basis.
It's not complex, and all the features it has are just *right*. Exactly what I need.
And it's getting even better!
Cons
I wish the app was just a little bit faster, but I read somewhere that they already have this improvement on their roadmap.
Still, if you ask me, it's totally worth the wait for every new feature and improvement their team is cooking for us :)
Response from

Paymo

Thank you, Jelena <3

Speed improvements are already something that we're addressing. Stay tuned for more goodies such as a task calendar view, improved mobile app with team collaboration features and guest access.

Cheers,
Marcel

Replied 10/7/2020
Industry: Information Technology & Services
Company size: 11–50 Employees
Used

Monthly

for

1+ year

Review Source
---
"Smoothly Manage Your Business with Paymo Software: A Comprehensive Review"
My overall experience with Paymo software has been very positive. It is an efficient and user-friendly project management tool that helps to streamline processes, keep everything organized, and ensure that all of our team tasks are tracked properly.We are using Paymo to solve the problem of having a lack of visibility into our team's workload and progress. By using Paymo, we can keep our projects on track and ensure deadlines are met. Additionally, we can track the time spent on each task, which helps us to optimize our resources and ensure that our clients are getting the best value for their money. We have also been able to improve communication and collaboration between our team members by using Paym's chat feature. The benefits we have realized include better project management, improved communication and collaboration, and increased efficiency.
Pros
Pros:1. Paymo Software is easy to use and has a very intuitive user interface.2. It is highly flexible and customizable to fit the needs of any business.3. The software integrates seamlessly with existing business processes, making it easy to implement.4. It offers a wide range of features such as project management, time tracking, invoicing, and more.5. It provides real-time updates and notifications to keep users informed of project progress.6. The reporting and analytics tools help users to gain insights into their projects and teams.7. Paymo Software is secure, reliable, and backed by a strong customer support team.
Cons
One of the main cons of Paymo Software is its lack of customization options. It does not provide users with the ability to tailor the software to their exact needs, which can be a barrier for those who require a highly specialized solution. Additionally, the user interface can be confusing to navigate and use, making it difficult for some to use the software effectively. Finally, the integration process with existing business processes can be complex and time-consuming, which can be a hindrance for some organizations.
Industry: Information Technology & Services
Company size: Self Employed
Used

Daily

for

1-5 months

Review Source
---
Project and task management without surprises
overall sufficient experience. It does not create particular problems for you, nor does it give you particular satisfaction. to work in a group it's fine, as long as you don't have high customization requirements
Pros
Paymo's ease of use is disarming: it allows you to configure your project and your tasks in an instinctive, fast and reliable way
Cons
Working in Paymo I often feel the need to represent my projects in alternative ways, such as a mind map, or generally a graphic board .. but this is not possible in Paymo
Industry: Computer Software
Company size: 201–500 Employees
Used

Daily

for

1+ year

Review Source
---
Paymo makes coordinating projects and tasks easy
We have complete control over all of our projects, both active and dormant, which allows us to give our clients nothing but the highest quality results.
Pros
The Time-Tracking functionality is what ultimately led us to select Paymo. With Paymo, we can easily keep track of our time spent on each client's and each project's work, as well as generate time reports. When necessary, we can send out invoices that can be paid with PayPal, regardless of whether the customer is a registered Paypal user or not.
Cons
I wish there were more visual formatting options for estimates and invoices. As a designer, I know how crucial it is to pay close attention to detail, and I'd appreciate it if my bills and estimates reflected that.