About Hubstaff
Whether businesses are starting up a new team or looking for a better way to manage employees, Hubstaff has everything required to run teams confidently. With the innovative and robust time tracking and task management solution, enterprises can track their team's time with in-depth timesheets, GPS tracking and project management using the tasks module. As employees track time with the lightweight desktop, web, iOS and Android applications, enterprises will be able to monitor their activity with time tracking, optional screenshots and app tracking, mouse and keyboard usage and even on-site time with geofences. Hubstaff allows team leaders to view detailed reports, send client invoices and even pay employees directly based on their work hours and customizable pay rates. With over 30 application integrations like Basecamp, Trello, Asana, Github and Paypal, Hubstaff seamlessly fits in with multiple businesses, meaning users can work without any interference in their day-to-day operations.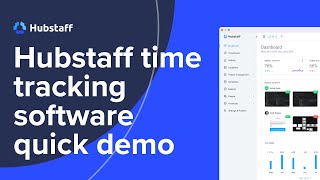 Hubstaff has a free version and offers a free trial. Hubstaff paid version starts at US$7.00/month.
Starting Price:
US$7.00/month
Industry: Entertainment
Company size: 2-10 Employees
Used

Daily

for

1-5 months

Review Source
---
The best solution for integrated task management and thorough time tracking and reporting.
Very happy I moved from Time Doctor to Hubstaff. Huge improvements on all areas and a satisfying product to use. The experience is so good that I find myself wanting to stay with Hubstaff regardless of whether my need for time tracking reduces.
Pros
- Integrated Task Management platform (Hubstaff Tasks) allows for agile style task management that feeds appropriate tasks to user's timers.
- Nice user interface
- Good reporting functions
- Thorough tracking options
- Client/project budgets
- Very good Customer Support
Cons
- I discovered some bugs during usage (which the developers have ironed out)
- Time off / holiday allowance policy function is a great addition, but doesn't allow enough granularity as decimals of hours (or minutes) can't be used.
Reasons for Choosing Hubstaff
More accurate and granular control of task management needed. Also felt that Time Doctor was outdated from a UI perspective.
Reasons for Switching to Hubstaff
Combination of functionality (thorough time tracking and agile task/project management), pricing, user experience and reviews.
Response from

Hubstaff

Hey Ewan, hope all is well with you and thank you for the kind words. You can now request time off exactly down to the minute. Cheers!

Replied 31/1/2022
Industry: Computer & Network Security
Company size: 11-50 Employees
Used

Daily

for

2+ years

Review Source
---
Hubstaff App Review
This app, is the best of it's kind and I believe that, I'll use it for a long time.
Pros
The app is very easy to use.
The ability to take screenshot of worker's screen is great.
Very customizable.
I like the fact that it's free for a single user.
Cons
At a point in time, it gives different recorded times. A different time sent via email from the actual recorded times.
Reasons for Choosing Hubstaff
Toggl was not working to my expectations...
Reasons for Switching to Hubstaff
Per reviews, hubstaff was the best so I decided to give it a try.
Response from

Hubstaff

Hello Paul, thank you for providing your input regarding our product.

When it comes to the daily emails that get sent out automatically by our system, there are a couple of reasons to consider for why they can appear to be incorrect.

Firstly, the hours displayed in those emails are always in the organisation's timezone, and not in the member's own one. So, if there is a big time difference between the two, for example organisation having EST (New York) and user CST (Shanghai), then the hours tracked can appear to be incorrect due to the big difference between timezones.

Also, if the user's Hubstaff tracker has not been able to upload all of its tracked data as intended, then the summary report will only display hours tracked and uploaded to our servers at the time of the email being sent out.

We do encourage the usage of the timesheets area to more accurately see the hours worked by the members of your team. On there, information can accurately be seen in both timezones.

Replied 25/4/2022
Industry: Biotechnology
Company size: 201-500 Employees
Used

Daily

for

2+ years

Review Source
---
Easy time tracking, complicated reports
Pros
Simple to use for the person tracking their time. I like that you can set up multiple different projects to track where you spend your time.
Cons
As a tracker, you need to download the desktop app. I don't think they have a comparable browser app. In the admin console, the amount of reports you can generate is overwhelming. Hubstaff should try to recommend the most common reports and hide the ones involving a lot of customizations.
Response from

Hubstaff

Hello Kelly, thank you for taking the time to leave us the review for the platform.

We do offer a number of different time trackers which can be used for tracking, each with their own pros and cons. There are both a Google Chrome extension and a web browser time tracker, the latter of which is available on our website, when the user is logged in to their account.

I will pass on your feedback about the filtering out of irrelevant reports to our product team, for their future consideration.

Replied 5/9/2022
Industry: Information Technology & Services
Company size: 201-500 Employees
Used

Daily

for

6-12 months

Review Source
---
Technical review
Pros
Time tracking reminder, notes, todo list.
Cons
annoying notifications (screenshot, not tracking time)
Response from

Hubstaff

Hi Abduallah! Thank you so much for bringing this to our attention. We're sorry to hear that you had some challenges in using our app.

We're glad to let you know that you can certainly turn off the notifications. You can check our support article (https://support.hubstaff.com/turning-desktop-notifications-hubstaff/) on how to go about doing it.

Regarding your app not tracking time, I encourage you to send us an email at [email protected] so that one of our friendly agents can take a look into the matter.

Thanks and we look forward to hearing from you!

Replied 15/9/2022
Industry: Online Media
Company size: 11-50 Employees
Used

Daily

for

2+ years

Review Source
---
The best Employee Monitoring Software in Market for Remote Employees
It was a great experience, the software is scalable and affordable. It only adds cost upon usage which is critical.
Pros
As a company with lots of employees working remotely for us, we need strong software to monitor employees' performance and act according to the efficiency analysis. Its best feature is idle time management which helps you know if some employee is sitting idle.
Cons
Customer support is delayed a bit. We sometimes faced problems with Windows computers, this is somewhere Hubstaff needs to work it more user-friendly for Windows.