About AllegianceMD
AllegianceMD is a cloud-based medical software system that is designed to serve the needs of small and midsize practices, as well as ambulatory surgery centers. The solution includes practice management functionality for billing and scheduling and an electronic medical record. More specific capabilities include e prescribing, claims management, and a reporting system. AllegianceMD allows patients to fill their history and demographics online as per the clinic's predetermined parameters. Medication features include medication list (active/inactive), e-refill request, allergy list, drug-drug interaction, and drug-allergy interaction. Laboratory maintains test history and permits tracking of abnormal lab follow-up. E-prescription system enables the user to check the patient's allergies and current medication against the proposed prescription, assuring that no prescription with possible side effects or consequences is filled. AllegianceMD is priced on a monthly subscription fee, which is based on the functionality used and the number of users on the system. The system runs on mac OS in addition to windows systems and is ONC-ATCB certified.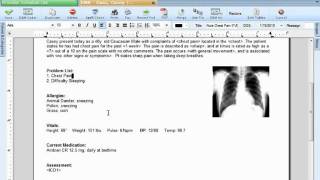 AllegianceMD does not have a free version.
Starting Price:
Not provided by vendor
Alternatives to AllegianceMD
Industry: Alternative Medicine
Used

Daily

for

2+ years

Review Source
---
Exslant for any Gp
It Looks good on the Network and would yous it my self in me Practise would recommend it to other Australian Doctors
Pros
Has a Place for Business and Peasants and I have Looked on the Network all around and haven't found any Like this has prickly every aspect for Doctors
Industry: Health, Wellness & Fitness
Company size: 11-50 Employees
Used

Daily

for

1+ year

Review Source
---
Decent PM and billing system
Practice management and EMR.
Pros
This system is easy to use and navigate. The functions are straight forward and simple to figure out.
Industry: Mental Health Care
Company size: 2-10 Employees
Used

Daily

for

1-5 months

Review Source
---
Features don't work
I would absolutely not recommend this program due to it not working properly AND how long they took to address my concerns. When I told them I was leaving, they tried to charge me a cancelation fee despite my long and recorded history of complaints of not being able to actually use the software. I was paying about $450 for this program AND paying for another EHR while waiting for this one to be functional. That never happened so I switched.
Pros
Documentations was a breeze for intakes and follow up notes. Also templates are customizable though they do provide some standard templates. Adding macros/quick text is easy as well. The only thing that works about this program are the notes. The patient portal did not work consistently, but when it does, the questionnaires port into the chart for ease of note integration without double entry.
The person assigned to my account for setup was very nice as was the person who helped with demo. But the program itself did not function properly. Billing was also easy to do in the system.
Cons
Most of the features I switched for did not work. The patient portal did not work on computer or mobile device, despite there being an app. I was later told though they had an app it was still in testing and did not work on IOS. When the program was demo'ed to me, I was told they have an app and website portal. When patients were able to login to the portal, from a computer only, the signed intakes did not port into the chart. I then had to print out copies for signature and keep hard copies in the office. When Covid happened, I could not longer use the system because people were not coming into the office. So I was double paying to continue my old EHR. They kept telling me someone was fixing this, but it was not fixed. The scan to chart and upload feature does not work except for on a pc, so I'm told. The fax did work but it does not auto assign to a chart. You have to manually put it where it needs to be. I don't have a pc so I can not confirm if it works there. I was also not told that upfront. They also told me they were rolling out Telehealth but did not do it before I left (which was after about 2 months). I would not recommend this program.
Reasons for Choosing AllegianceMD
I wanted more features and better billing. I did not get that.
Veracity has and continues to meet the needs of our faility. They are always updating the...
On a scale from 1 - 10. I give it a 10+ try it out I believe you will like not only the price but how easy it is to use.
Pros
Everything - Since the low monthly price includes everything you need even the Clearinghouse. It makes my job so much easier. Any time I have a question I call the same customer support number no mate what it is for and again no charge. New system updates no charge.
Cons
Haven't came a cross any it made it so easy to met our meaningful use requirements that it pays for its self.
From our previous horrible EHR experience, we were terrified to move to another EHR. However, we had to move away from our previous EHR. We decided to go with Allegiance veracity. We were up and running on billing and EHR in less than 4 weeks. It is amazing to say the least. It's packed with great features that no one we demoed could offer, and they are always adding more features. It's Extremely easy to use. The company support has been great to us thus far. I would definitely recommend them.