About Nearpod
Nearpod is a learning management software that allows educational institutions to launch interactive lessons with collaborative activities such as simulations, quizzes, virtual reality, and more. The solution enables teachers to conduct the classroom sessions live and in virtual modes. The cloud-based software offers an activity dashboard that permits teachers to upload PowerPoint presentations, PDFs, Google slides, videos, and more for conducting an interactive session. With Nearpod, educators can analyze student's performance by submitting formative assessments, audio responses, and real-time checks on the student portal. Additionally, it allows teachers to initiate game-based sessions for learning and review student's work by assessing post-seminar reports. Nearpod facilitates integration with Blackboard, Remind, Clever, itsLearning, ClassLink, Microsoft Teams, Canvas, schoolOGY, and more. Pricing for this solution is on a monthly subscription basis and support is extended via FAQs, live chat, and online documentation.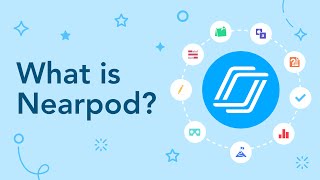 Nearpod has a free version and offers a free trial. Nearpod paid version starts at US$159.00/year.
Starting Price:
US$159.00/year
Industry: Education Management
Company size: 51–200 Employees
Used

Monthly

for

2+ years

Review Source
---
Presentation Supercharger
Nearpod allowed teachers to create engaging presentations for their students. The students enjoy the platform and the onboarding process was Bay breeze. Enhanced reports allow teachers to better understand student engagements to make adjustments to their instruction. My overall experience with nearpod is extremely positive
Pros
Implementation of nearpod is easy. Creating presentations is intuitive and familiar for teachers. The onboarding process requires little effort. Students enjoy the presentations. Nearpod makes creating engaging lessons becomes a reality
Cons
There is a cost associated with nearpod however it is a fair price. The amount of add-ons and additional resources make nearpod an exceptional value. There is a cost but the improved presentations offset the expense.
Industry: Education Management
Company size: 201–500 Employees
Used

Daily

for

6-12 months

Review Source
---
Interactive and Effective Learning with Nearpod
I find Nearpod very fun and effective. My students love it so, learning has been quite fun during this pandemic.
Pros
Nearpod is like the next generation of PowerPoint. It a very effective and interactive way of learning. You can reach all of your students together with Nearpod. It proves very effective in the current scenario. With Nearpod teachers are able to present lessons to students in a whole new way. It combines of audio, video, presentations,quizzes and very beautiful designs which helps the students to remain active and focused during class.
Cons
It's quite expensive which make it not accessible to many organizations. Sometimes students report of facing lags while using the app.
Industry: E-Learning
Company size: 501–1,000 Employees
Used

Monthly

for

1+ year

Review Source
---
Nearpod
I used this product because my school site bought us a license. I had used Pear Deck previously which is a similar software. In my opinion Pear deck is much easier to use and the students enjoy using it more as well.
Pros
It makes boring powerpoints more interactive. You can engage students by asking questions throughout the lesson and see their responses on your screen. There is also a library of pre-existing lessons ready to use.
Cons
The pre-made lessons didn't really fit my needs and creating your own Nearpod presentation from scratch is extremely time consuming. During the lesson it is difficult to go back and forth between the presentation and checking student responses.
Industry: Education Management
Company size: 51–200 Employees
Used

Weekly

for

2+ years

Review Source
---
Great Engagement and Success Tracking
Nearpod is my presentation go-to that helps me deliver information or learning in a fun and efficient way. It allows me to assess my students with reports in real time. I can even share a code with adults then I can track who has accessed it. I often turn to the Nearpod library when I need a last minute lesson-- it gives me content to start with so I don't have to build a lesson from scratch.
Pros
I use Nearpod for training teachers as well as creating and delivering lessons to students. The interactive features such as quizzes, a Time To Climb game, and Draw It keep grownups and kid engaged in the material. The VR "field trips" are amazing also, even if you don't have VR goggles. Nearpod support is great, there is a very active community of users to learn from, and the company is very responsive to feedback.
Cons
There is a learning curve before a person can use Nearpod to its full advantage. There are many premade lessons, but they often need to be customized for specific audiences such as grade level (I have found some of the Kindergarten lessons, for example, are too advanced for most little ones).The file structure and management is also a little awkward.
Industry: Education Management
Company size: 501–1,000 Employees
Used

Daily

for

2+ years

Review Source
---
Nearpod College
Tutors find it easy to use and engage students.
Pros
Ease of use - digital upskilling is made easy by Nearpod training and tutorials.
Cons
Back end Control Panel could be better.
Alternatives Considered
H5P
Reasons for Switching to Nearpod
Pricing - more intuitive