About Oracle Aconex
Oracle Aconex is a cloud-based operation management solution for managing information and processes between companies on complex construction and engineering projects. Several functions include document management, workflow automation, bid management, issue management, handover management and control of project correspondence. Aconex also offers BIM file management and process control, field inspections and issues management and the creation and management of digital operations and maintenance manuals. As a cloud-based solution, Aconex allows project members worldwide to create and review documents and other project information from any location. This includes RFIs, drawings, 3D models, contracts, reports and more. A real-time dashboard allows users to set their KPIs and monitor essential activities from a single screen. It also supports third party integrations which allow users to sync data within applications simultaneously. Aconex supports construction and engineering projects across multiple industry segments but is primarily designed for asset owners, developers, architects, engineers, general contractors, government contractors, heavy/highway construction firms and mining, power, and oil and gas companies.
What is Oracle Aconex?
Oracle's Aconex is an intelligent construction and engineering document management solution built to drive efficiences through the complete field management project lifecycle.
How do you use Oracle Aconex?
Aconex users select from and employ one or several BIM models for construction building decisions that are used to manage thousands of documents at each step of the project process, all while maintaining control and oversight.
Who uses Oracle Aconex?
Oracle's Aconex is used across construction delivery and ownership teams, from designers, subcontractors, field inspectors, to project managers.
How much does Oracle Aconex cost?
Oracle's Aconex does not share pricing details publicly. Contact Oracle direclt for information on starting price and available plan offerings.
Does Oracle Aconex have an app?
Aconex is a cloud-based solution supported on most major mobile devices, accessible on the Apple App and Google Play Store.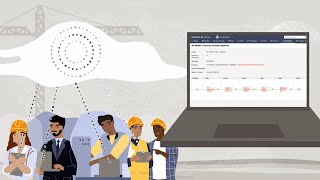 Oracle Aconex does not have a free version.
Alternatives to Oracle Aconex
Used

Daily

for

1+ year

Review Source
---
Aconex was easy to learn and easy to configure.
Ease of tracking documents in workflow and ease of transmitting documents to and from outside contractors.
Pros
I like the ability to configure the metadata. I also like the search and retrieve tools. Having the workflow/review document feature built in is also a time saver.
Cons
The review documents tool set needs to include a tool to export comments and save as a file. Currently, this procedure must be done outside of Aconex. Also, the workflow process should allow the administrator to add additional people to the workflow after it starts. This should not be a separate workflow within an active workflow that is tied to an active workflow participant (although when a user needs that feature it is useful but not typical).
The software also needs a better approach to storing the native file and corresponding pdf file together. Using history is not an effective method (and confusing to typical users) and giving either the native file or pdf file the same document number with a suffix (or some other means of numbering) can also be confusing. Both files should have the exact same document number.
Used

Daily

for

1+ year

Review Source
---
Aconex is the best tool I have found for managing documents and mail on medium to large...
Pros
I greatly appreciate Aconex's flexibility to adapt to policies and procedures you may already have. It does not force you into one way of doing things but at the same time doesn't require significant up-front configuration to get started.
I also like that Aconex is always improving and adding significant and useful new features often.
Cons
The only real con I have is one that can be managed but would be nice to have tighter controls on. Aconex does not offer the ability to restrict the permisison to change the document status (approved, approved as noted, rejected, dfrat, etc.) when superceding with a new version. By default it uses the previous version status for the new version status and if you forget to select a new status you could end up with the draft of the next revision of the document showing as approved in the document register. If you use workflows to approve your documents you can always go back and verify if a document was actually approved by the proper people but to do that requires a few extra mouse clicks.
Industry: Design
Company size: 51–200 Employees
Used

Daily

for

2+ years

Review Source
---
Absolutely awful performance, glitches and errors
In recent months my experience has been extremely negative. Each day I experience issues regarding speed and errors when trying to do basic tasks like open a correspondence, or upload files. I really would like to use it more because it is a great platform for keeping track of open tasks and correspondence between consultants, but the speed and performance is suffocating.
Pros
Good for tracking correspondence and open tasks.
Cons
Terrible performance - seriously hinders productivity during the day. Uploading files, loading correspondences and workflows load at snails pace and always unpredictable.
Used

Daily

for

2+ years

Review Source
---
Easy to use and great functionality.
Aconex helps us work on a global scale with many clients
Pros
Provides a global platform that allows many user to work together. Easy to add new files to the system. All mail is kept in the Mail module and it can't be erased, so you can't lose any correspondence. Easy to create workflow templates. Easy to run reports on workflows and RFI's. No size limit on the files. It functions like it was advertised and more.
Cons
Have to use the mail form titles that Aconex has pre-loaded into the system. Sometimes can get confused when working in the backend of the system where you might need to make a change.
Industry: Transportation/Trucking/Railroad
Company size: 1,001–5,000 Employees
Used

Weekly

for

2+ years

Review Source
---
Provided easy access to design documentation for review and keeping track of record.
Benefits are many as described earlier. Be able to have a process flow of all projects saving time, reducing cost, be able to identify issues and commenting of design documentation.
Pros
Be able to retrieve documentation easily and support from Aconex is great. It also offered process flow in project delivery which is clear to project teams. The email like within the software is easy to understand for all users and if that person knows how to send an email he or she knows Aconex.
Cons
Cannot think of any. However, the cost of the software might be a little pricey. One improvement that I would like to see with the software is a better tagging routine that is able to tagged files and become searchable. Currently searches are still very rudimentary. The BIM viewver tab should also could be improved adding more features to it or better still have a full feature BIM viewer and could reconize RVT as well as Bently 3D files without having to convert to IFCs.