About HotSchedules
HotSchedules is an online restaurant management platform that delivers scheduling, workforce, talent and inventory management tools. The solution offers tools that enable restaurant owners to recruit workforce, develop and share training courses with the staff, track business productivity and manage day-to-day restaurant operations. HotSchedules enables businesses to develop learning content for employees. HotSchedules is designed to accommodate all styles of content type, including video tutorials, documents, audio presentations and more. The scheduling feature enables administrators and managers to plan shifts and monitor labor attendance. HotSchedules logbook records employees' in & out time, daily notes, shift summary and restaurant checklists in one central place. HotSchedules also includes social recruiting, e-learning, labor management, BI, inventory, print and digital logbooks as well as various other applications built on their self-publishing API platform. HotSchedules is mobile-ready and can be accessed on iPhones, iPads, Android and Blackberry devices by downloading HotSchedules native mobile app available on the respective app stores.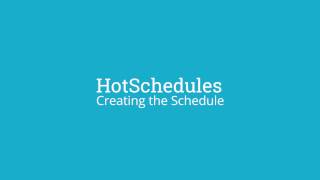 HotSchedules does not have a free version.
Alternatives to HotSchedules
Industry: Food & Beverages
Company size: 5,001-10,000 Employees
Used

Daily

for

2+ years

Review Source
---
Your Schedule On The Go!
Wonderful! I can easily access using the app from my phone a comprehensive view of todays roster and more! Helping me as a director plan a shift before I even get to work. Especially important to plan in my business because surprises arise frequently and daily. I can also easily request time off needed through the app, call, text, or even email my staff if needed to. Hot Schedules saves me and my company time, money, and helps our business to stay productive!
Pros
I really enjoy the convenience of being able to view your work schedule remotely and anywhere for that matter! Set up an email or a Gmail account and it's delivered right to your inbox! Gone are the days of having to call your employer or having to drive to your place of employment to view it on paper. "Your" time is valuable and let's be honest, none of us want to go to work on our days off for any reason!
Cons
I really and truthfully speaking have nothing negative to include with Hot Schedules. It's been a great software addition to our store and team! If someone did tell me that I had to pick out one feature that I don't care for, I guess it'd be the "How was your shift?" feature that pops up when logging on. That said, it's such a minor dislike and isn't really worth mentioning.
Industry: Food & Beverages
Company size: 10,000+ Employees
Used

Daily

for

2+ years

Review Source
---
Great tool to schedule your employees
Using for 7 years and if they would not keep changing the format I could say I love it. Anyhow it is great app for managers, easy quick access to employees list, phone numbers, emails and etc.
Pros
I'm doing schedules for my employees weekly and this app has few great features. Coping, modifying and automatically feeling schedules are only few of them.
Cons
Constantly changing the format. Right after I'm used to one they changing it again.
Industry: Restaurants
Company size: 201-500 Employees
Used

Daily

for

2+ years

Review Source
---
Hotschedules for restaurants
Great software. Not sure about the business model, we eventually paid more for a different software that has better customer service for issues.
Pros
Hotschedules was our go-to scheduling software for years in multiple restaurants, even as many more options came on the market. It was easy to use as a manager/scheduler & also for our staff
Cons
Hotschedules customer service was not quick to address issues but The price kept going up even as fixes weren't betting put in place.
Reasons for Switching to HotSchedules
I didn't
Industry: Food & Beverages
Company size: 11-50 Employees
Used

Daily

for

6-12 months

Review Source
---
hotschedules review
It's got so many options - none exactly what I need - that it is almost too cumbersome. I would like more flexibility to create template shifts and place them on days as needed, with it being ok that some days there are blank shifts left over. Rather than now, when if I make a template and want a day to be scheduled lightly, it tells the staff there's a house shift open. The template feature is practically more work than just starting from scratch each week. I hate entering the times of a shift and having it immediately autocorrect to the last half hour. For example if I want a shift to start at 1:30PM and end at 10:30PM, I have to type 1:30, click off and it will change it to 1:00, click back on to get to 1:30, and repeat to get the end time to read 10:30 instead of 10, then repeat to get PM instead of AM. I'd also like to not have to redo the schedule report generator so that it's easier to read every week, for the printed schedule we keep in the shop. All those outlines, yikes! What I do like is the messaging/staff communication parts. Requests off are clear and easy, same with shift swapping. I like being able to create blackout days for no requests off, and I like that I can easily see who wants off when and when the RO was made.
Pros
Requests off, availability, blackout dates, staff communication sections. The app works great for everyone.
Cons
No ease of use when making the schedule - autocorrecting number entries constantly, schedule templates aren't what I need, schedule report is difficult to read.
Response from

HotSchedules

Hi Darla!

Thank you for reaching out and providing feedback for us. We're sorry you're having a hard time navigating the scheduling templates. These articles may be of use to you in better explaining the process of scheduling using custom and blank templates and auto-scheduling!

https://help.hotschedules.com/hc/en-us/articles/215565977-HS-How-to-Use-the-Autoscheduler

https://help.hotschedules.com/hc/en-us/articles/218955327-HS-New-Scheduler-Generating-Templates-

https://help.hotschedules.com/hc/en-us/articles/222579107-HS-Templates-and-the-New-Scheduler

If you are still having issues, please contact customer care for assistance!

https://help.hotschedules.com/hc/en-us/articles/222476127-Contact-Us-Customer-Care-Support-

Replied 6/2/2017
Industry: Hospitality
Company size: 201-500 Employees
Used

Daily

for

2+ years

Review Source
---
Easy
Overall it's a great scheduling platform for all. Very easy to use and it's great for communicating with employees as well as logging disciplinary issues.
Pros
The best thing about this product is the ease of use. It's easy for managers and also for our employees. They give you step by step instructions on how to first create your account and utilization from there moving forward.
Cons
The worst thing about this product is customer service. It can be very hard to get ahold of someone and it takes days if not weeks for service tickets to be received.