About HotSchedules
HotSchedules is the hospitality industry's most widely adopted intelligent scheduling software. Managers can cut their scheduling time down to 45 minutes or less with the intuitive drag and drop interface while maintaining federal, state, and local labor compliance with automatic and configurable scheduling rules. But a scheduling provider is just a glorified spreadsheet until there's data behind it. Powered by Fourth Intelligence, HotSchedules integrates with your POS to generate labor and sales data so your managers schedule the optimal number of employees every shift. Historical data, weather, events, and more are all considered! When you're ready, publish the schedule and all employees will be notified via our app, rated the #1 business app for 5+ years. Employees love how easy it is to swap and release shifts, message co-workers, and request time-off. Their schedules also integrate with Google calendar! We'll also ask them to rate their shift on a scale of 1-5 when they clock out, giving you much-needed insight into employee satisfaction levels. Larger organizations will also love the Above Store Console giving admins a bird-eye view into the performance of multi-location operations. And for a deep dive, there's a myriad of reports available, the most popular including labor snapshots, OT alerts, and even the average time managers take to approve shift swaps. Our support team will help you uncover what reports are most important to your business and can set up automatic delivery on a cadence of your choosing. Further empower operational excellence with our digital Logbook allowing you to maintain control of your brand's communications and operational procedures. Create mobile-first tasks lists, delegate to-dos, and assign follow-ups (use our 70+ pre-built templates if you're not sure where to start). Eliminate communication breakdowns and Post-it note nightmares with digital store logs and staff journals, allowing you to easily store important information like store deposits, complaints, and employee incidents (great for performance appraisals!). And finally, ace health inspections with food safety compliance measures including recording wireless temperature readings and time-stamped verification of all compliance tasks. HotSchedules Time & Attendance solution ensures payroll accuracy, further maintains labor compliance, and reduces processing time. Equally important, it will prevent early clock-ins (also called time theft or buddy punching). Just with enforced punctuality and overtime alerts, HotSchedules saved a store .5% in labor costs, putting an additional $17,500 per store back into the restaurant! HotSchedules is also equipped with employee surveys, health checks, and many customization capabilities. Your team will not only be equipped with the industry's most widely adopted scheduling software, but 24/7 support. In the spirit of making your lives easier, not harder, your onboarding process will include live trainings, an implementation team to set HotSchedules up for your unique needs, and a dedicated customer success manager who will never upsell you, only support you.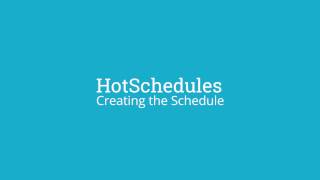 HotSchedules does not have a free version but does offer a free trial.
Alternatives to HotSchedules
Industry: Food & Beverages
Company size: 11-50 Employees
Used

Daily

for

2+ years

Review Source
---
Much better then paper schedule
Very positive experience. Made my schedule less chaotic and gives me options to control my work days and days off much better without having to deal with manger directly lol
Pros
Having a restaurant job means cheotic schedule. It's never the same. Impossible to keep up with and memorize. My last job had hot schedules but my new job doesn't:/ it's a nightmare without it. I miss it so much. It is so convenient to pick up and realise shifts whenever I please. No need to call or txt my co workers. Everything is done thru the app. App is not free but cheap and worth every single penny. I love that I can request days off and my ability. Super convenient. You have to wait for manager to approve or not of your request. I can see who my co workers will be for the shift. I can see all phone numbers and emails of my co workers. Every restaurant should have this app. It's very easy as well so even my 70 year old co worker knows how to use it. Very well done .
Cons
Sometimes I get loged out and have trouble logging back in. It froze few times. Could use more color and some fun options like emoji me lol make work schedule more fun
Industry: Food Production
Company size: 201-500 Employees
Used

Daily

for

2+ years

Review Source
---
The Best App In Its Category
I enjoy using Hotschedules, its very beneficial especially to businesses with with more than a couple employees.
Pros
Hotschedules is simple, I simply log onto the app and view what I need to look at! For me this is all I need. A great majority of apps will make you jump through irritating loops just to see a schedule or request time off Hotschedules doesn't. Please, if you are a manager who does any type of scheduling for a small or big business. I recommend Hotschedules you will not be disappointed!
Cons
Sense I've been using Ho schedules my only complaint has is being signed out randomly. I think that is due too having an apple iPhone. I'm not sure if android or other devices have the same issues.
Industry: Restaurants
Company size: 11-50 Employees
Used

Daily

for

1+ year

Review Source
---
Takes too long to sync new employees from Aloha.
Making scheduling a less of an headache. Being able to focus on other aspects of managing my restaurant.
Pros
Makes scheduling easier. I've never had an issues when it comes to scheduling with HS. It's a great platform especially when you operate a high volume restaurant. Hotschedules has allowed me to focus on other aspects of managing my restaurant. Scheduling literally takes about 15 minutes every week. Employees past and present have also had positive things to say about hot-schedules. Employees like the fact that you can download the app and be able to see any updates made to the schedule. Go-Hire has also been a great tool for my company. Onboarding new employees is made so much easier now with eliminating paper appplications and documents. Go hire easily let's you conduct background checks on new hires with a click of a button.
Cons
As I stated above in the describe your experience section. The fact that getting a new employee synced in hotschedules after they have been entered into Aloha takes 24 hours is really a big inconvenience. For me personally, this has resulted in delaying the start date for new hires. I have documented about twelve different support requests to the support team to help get a new hire synced faster. I suggest maybe allowing admins to manually add employees to the staff list to help resolve this issues. Operating a restaurant with high turnover, it's crucial that new hire are able to start right away with no delay. This by far the biggest and only con that I can think of with this platform.
Industry: Consumer Goods
Company size: 2-10 Employees
Used

Daily

for

1+ year

Review Source
---
Great Software for Restaurant Employees
Pros
I like how this software has all of the features needed for restaurant scheduling. You can view who is working each shift and be notified when the schedule is created. It also makes it easy to request time off without having to talk to somebody.
Cons
I haven't encountered any problems with this software so far.
Industry: Hospitality
Company size: 201-500 Employees
Used

Daily

for

2+ years

Review Source
---
Easy
Overall it's a great scheduling platform for all. Very easy to use and it's great for communicating with employees as well as logging disciplinary issues.
Pros
The best thing about this product is the ease of use. It's easy for managers and also for our employees. They give you step by step instructions on how to first create your account and utilization from there moving forward.
Cons
The worst thing about this product is customer service. It can be very hard to get ahold of someone and it takes days if not weeks for service tickets to be received.