About Gold-Vision CRM
Gold-Vision is a customer relationship management (CRM) solution that includes modules for sales, marketing, support, projects and events. Suitable for organizations of all sizes, it can be installed both on-premise and in the cloud. The core CRM features include automatic tracking and synchronization of emails with Microsoft Exchange. Other features include centralized storage of prospect and customer information, which can be accessed on desktop or mobile devices. Users can also view social profiles for prospects and customers. Sales features include lead management and scoring, with leads automatically scored based on customer interest. Users can also set pre-defined scores and view integrated website analytics. Marketing features include email marketing, campaign management and marketing automation. Dashboard and reporting features provide customer information and help users analyze sales activities. Pricing is per user per month. Support is offered via email, phone, online chat and a support portal.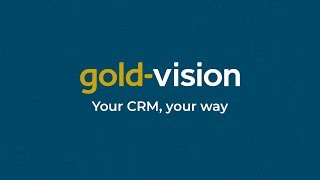 Gold-Vision CRM does not have a free version but does offer a free trial. Gold-Vision CRM paid version starts at US$32.50/month.
Starting Price:
US$32.50/month
Alternatives to Gold-Vision CRM
Industry: Entertainment
Company size: 11-50 Employees
Used

Daily

for

1-5 months

Review Source
---
A CRM that can flex and fit to your companies needs.
Note only a great experience with the software but also with the team. Non pushy sales, understanding project managers, amazing training and a very knowledgeable support team.
Pros
Gold-Vision CRM has had the same reaction with all users in our company. That is simply how flexible it is and how powerful it is. The pros start with the team behind it. All departments work together in the office and make sure they all get involved in areas of the product so they are making what the users need not what they think will be "cool". This means Gold-Vision is a system that has been built up over the year to be a fully featured CRM.
Account/Contact Management is simple, Opportunities are clear and can be cross linked to any other aspect of the data so you can include all stakeholders in the process. Lead Management is clear and makes sure you don't double up with duplicates.
The whole system though is driven with really powerful searching and filtering. So finding that single piece of data that is crucial to your process is fast and can be saved, making sure you can save time on repetitive tasks.
You can report all data into a a range of charts and graphs, all dynamic and easy to drill down into.
Applying the powerful filtering you can create lists for targeted marketing campaigns, quickly and easily. Then using the drag and drop template maker create stylish content templates. We also use a third party integration to track website visits.
When you get stuck you have a number of options to the reach the support team and this is part of the price so no extra spend on something you may not need. A great help site and a range of quick and simple help videos.
Cons
Honesty, haven't found anything yet that we found that is a Con. When we have had an issue with have found a workaround, or checked our workflow to see if we have been doing things a way that can be made better.
Response from

Esteiro Business Solutions

Thank you Lee for your fantastic review.

We're so pleased to hear that Gold-Vision helps everyone in Ambersphere Solutions work together and that you find our product not only simple to use, but flexible and powerful too.

We're also happy to hear of the amazing training and support that you have received from our Gold-Vision teams.

Kind regards,

Zoe

Replied 15/11/2019
Industry: Wholesale
Company size: 51-200 Employees
Used

Daily

for

6-12 months

Review Source
---
Yewdale - Customer Experience Review
Goldvision is helping us to keep a track of all of our customer contact and complaints. It allows us to to open tickets and follow the tickets through to resolution. The email tracking system is great so you can view all of the email contacts for each ticket at once. It allows us to add any photos or notes to view on each ticket and also integrates with our phone system outbound to leave call notes. This allows for a detailed investigation for each ticket and all of the tools we need to complete a thorough investigation through to a resolution. It also allows us to tag individual products and issues leading to more detailed and easily accessible reporting.
Pros
Integrated with our business easily and is now a go-to function for us in Customer Care. We use this regularly every day and is now used as our CRM for all customer contact with us. The ticketing system is excellent and the integration allows you to track your emails via the ticket reference to keep a record of all contact for each ticket. There is also a dashboard function which helps you to monitor and analyse incoming tickets and trends to report on.
Cons
There are still some more advanced features I would like to see from Goldvision in the future. This would include more advanced reporting for tickets, particularly for our Customer Care aspect and further integration with some of the other platforms we use would prove very handy too.
Response from

Esteiro Business Solutions

Hi Shaun,

Thank you for your great review and we are so pleased to hear that Gold-Vision was the best overall package when seeking a better CRM.

It's also great to hear that it is now your go-to function for your Customer Care to improve you service and customer management.

Kind regards,

Zoe

Replied 25/1/2021
Industry: Logistics & Supply Chain
Company size: 501-1,000 Employees
Used

Daily

for

2+ years

Review Source
---
User Friendly & Adaptable
Gold-Vision is a very easy system to use and I enjoy working with it everyday as does my team. It does all we need and I haven't yet come across something it can't do that I need!
Pros
My team have to use Gold-Vision on a daily basis and it is very user friendly and you can amend to your own personal business needs!
Cons
Nothing, I think the software is great!
Response from

Esteiro Business Solutions

Hi Sophie,

Thank you for your fabulous 10 out of 10 review. We are so pleased to hear that your team uses Gold-Vision daily and it meets your business needs!

Kind regards,

Zoe

Replied 4/5/2021
Industry: Telecommunications
Company size: 11-50 Employees
Used

Other

for

1+ year

Review Source
---
Small minded and technically limited in there approach to email campaigns
Pros
they have come along way with the ease of using the product , however its a crm and like everything else you get out what you put in
Cons
Amusingly as a CRM and Marketing tool they go against industry practice and essentially encourage you to Phish emails from another domain as they don't have ability to create a sub domain (like most companies use) for emailing marketing purposes without losing all functionality and control for that domain.
i.e if you own the domain mycompany.com they want you to create a new domain similar for sending out marketing emails - isnt this want phishing is - Crazy and to think you have to pay for the pleasure !!
Also dont hold your breath for support or your account manager to get back to you unless you chase and chase and chase and chase !!
Response from

Esteiro Business Solutions

Thank you for providing feedback. It was good to discuss this with you to confirm that our solution does allow you to use your sub-domains for marketing mailing. Also, using dedicated mailing domains is common practice, protects your primary domain from potential blacklisting and not related to phishing. Our strong mail delivery performance is testament to this. Although the common view is that primary domains are unaffected by the reputation of sub-domains, this view is not shared by organisations that manage the blacklists who are clear that poor sub domain reputation can affect a primary domain reputation. We are happy to support the sub domain approach, on the understanding that you accept the risks.

Our team had been trying to make contact with you and your colleagues on this matter. We have since spoken and we look forward to working with you and your team.

Replied 6/5/2021
Industry: Oil & Energy
Company size: 11-50 Employees
Used

Daily

for

1+ year

Review Source
---
Great tool for staying organized and having all our critical information in one location
Our overall experience with Gold-Vision has been great so far. Any time we have questions or run into a problem the Gold-Vision team is very quick to respond and help.
Pros
Our company has found Gold-Vision to be a very useful tool in helping us stay organized and on task with our client base. It's very helpful to have project and client information on one platform where all users within our organization can access it at any given time. I would recommend this software to any company who is looking to get away from working with ten different spreadsheets across five different departments of their organization. Gold-vision is a one stop shop for task management and organization.
Cons
As of today we are one year into our Gold-Vision subscription and do not have anything bad to say about the platform.
Response from

Esteiro Business Solutions

Hi Matt,

Thank you so much for your great review.

It's good to hear that your overall experience with Gold-Vision has been great and our support team have been really helpful and quick to respond to your queries.

Kind regards,

Zoe

Replied 17/3/2021