About Maitre'D
Maitre'D is a point-of-sale (POS) solution empowering 20,000 merchant operations worldwide, including fine dining and quick-service restaurants, hotels, cafes, bars, nightclubs, and more. It streamlines operations with tools such as cross-platform sales reporting and mobile management applications for real-time business alerts, ensuring optimized performance and profits generation. Maitre'D POS features advanced kitchen management and analytics capabilities, available as a fixed workstation or handheld on tablets for tableside ordering and payment. With a built-in inventory management tool, it helps keep track of stock, costs, barcode scanning and instant notifications. Maitre'D POS facilitates front and back-office communications across multiple locations. Additionally, it is a hardware-agnostic solution, configurable to multiple languages/currencies and offers 24/7 support.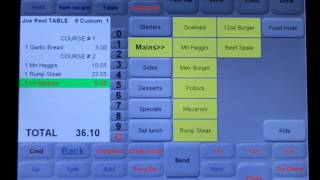 Maitre'D does not have a free version. Maitre'D paid version starts at US$79.00.
Used

Daily

for

2+ years

Review Source
---
fast and reliable, easy to use
Pros
this software is simple to use for everyone. Everything is well explain no matter the levels of knowledge.
Cons
I really dont know what to say about negative from this software. I really loved this software. Thank you MAitre D
Industry: Hospitality
Company size: 51–200 Employees
Used

Daily

for

1+ year

Review Source
---
Tech guys are awesome!
Great but a little difficult setting up for menu items.
Pros
Support was awesome...no matter what time of day or night - someone was always there to help out any problems we'd be having. It wasn't made for communicating with our hotel software but they made it work. The software does a lot more than we actually use it for.
Cons
Problems with interaction for room charges in the hotel...not always a problem with the software though but a hardware problem on our own end.
Industry: Restaurants
Company size: 11–50 Employees
Used

Daily

for

2+ years

Review Source
---
SYSTEM IS VERY OUTDATED AND THE OLDER IT GETS IT SEEMS TO BE A MAGNET FOR GLITCHES
I am curious what the user life of this product is. Our's is 11 yrs old and runs windows xp in the dining room "touchscreen & credit cards" , and my back office is running windows 7.1. The system is slowing down, running sluggish and recently we had a serious networking problem that ruined our Friday Night all you can eat Fish & Chips. 2 managers were on the phone w tech support for hours. The first call was made on Thursday evening and they responded Friday around 415pm. The call was made far enough in advance. Another time the power went off and when restored I couldn't reload the system because it "locked" and made me get a new product code to proceed. Again it was at 6pm and we had a full house. I had to purchase this code i know i didn't need over the phone with my credit card just to get my POS up and running. I had several outstanding tables that needed to be finalized and cashed out. I will say when i needed to get that unlock code there were no hold ups or waiting like when I needed tech support. They answered right off in person and were very eager to take my payment. The initial start up cost was ten thousand dollars cash up front. I consider that a big investment. I'm still paying and paying for insurance on hardware and software upgrades. My fear is it's going to get too old and out of date and I will be forced to purchase an entire new system. If I get both front and back pc's running windows 10 at the same time I will be very surprised. 10 is supposed to be the next operating system that's going to give us almost 20 yrs like XP and XP Pro did. we will see.
Pros
It's a user friendly and training waitstaff is very easy. Big bold buttons and colors on the screen
Cons
When I call TECH support I need support NOW not tomorrow. When POS is down my business doesn't Run!
Used

Daily

for

2+ years

Review Source
---
Happy
Pros
Easy to set up, Great corporate head office module. Can add new items in multiple locations within minutes.
Cons
Has its fair share of bugs, but which software doesn't. Need to communicate without th support to fix the issues which takes time.
Industry: Health, Wellness & Fitness
Company size: 11–50 Employees
Used

Daily

for

1-5 months

Review Source
---
This is amazing!
This system makes it simple to take care of customers in a timely fashion. The POS terminal is easy to set up and use which made the transition much smoother from the system we were using.