About Pulseway
Pulseway is an integrated IT assets and network monitoring solution designed for IT administrators to remotely monitor and control their business IT resources. The solution supports multi-deployment architecture, allowing the users to choose either on-premise deployment or hosting within the cloud. Pulseway allows managed service providers (MSPs) to view the real-time status of their system resources, monitor overall network performance and install critical updates from a central console. The platform helps with defining scripts to automatically schedule maintenance, backup, security check and other IT activities. Pulseway enables users to control devices connected to their network from a single point and monitor their performance. The solution also offers a Rest API for integration with third-party applications. Key Pulseway Features: - Monitoring and Management - Discovery and Deployment - Server Management and Monitoring - Automation like Never Before - Out-of-the-box OS & 3rd Party Patching - Unlimited Remote Control for macOS and Windows - Custom Reporting Pulseway is a cross-platform application and can run on multiple operating devices including Windows, Linux, Mac, Android and iOS-based devices. Pulseway is available on a monthly subscription basis that includes support via email, phone and product tutorials.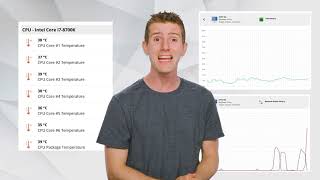 Pulseway does not have a free version but does offer a free trial. Pulseway paid version starts at US$0.76/month.
Starting Price:
US$0.76/month
Industry: Staffing & Recruiting
Company size: 1,001–5,000 Employees
Used

Daily

for

1+ year

Review Source
---
Pulseway is the absolute best monitoring solution out there!
Pros
I began using Pulseway as PcMonitor a few years ago. I had been using another product that was hard to configure and prone to so many false alarms it was useless. Then I found Pulseway and the whole game changed. Pulseway is priced fairly – my previous solution was SO expensive and the support spotty. The Pulseway software is easy to configure and can be accessed securely from pc or smartphone. Critical functions like restarting services , rebooting machines and even access to a command line can be done remotely. I get the right warnings directly to my phone or desktop wherever I am. I was on the beach in Maui over Christmas and one of my servers had a problem with a service that needed to be restarted – with other monitoring products I would have had to go back to my room, start up my laptop, hope to get wifi and vpn connection and RDP directly to the problem machine. Pulseway allowed me to clear the alert, check the status of the server and restart the service (Apache Tomcat) from my chair on the beach and not miss a minute of my children's surfing lesson.

Our organization has embraced this software. I recommended this to a colleague who had a critical scheduling server running multiple tasks via task scheduler. Due to service account limitations the server would log out the account every weekend. My colleague installed Pulseway and was able to keep the server signed in while we pursued a permanent solution and now has multiple servers on his own account.
Cons
I have yet to find a serious downside to this product. It is truly amazing and just works well. Well worth the low cost.
Industry: Information Technology & Services
Company size: 2–10 Employees
Used

Daily

for

2+ years

Review Source
---
Product is solid, support can be hit-and-miss
Used the product for years on the Pro version, until I was forced into a non-optional upgrade to the Teams plan. The forced transition process could not have been more poorly planned on the part of Pulseway, and burned me bad enough that I migrated all of my endpoints to a different product. If you start out on the Teams plan perhaps you'll have a better result, just pray that they don't decide to forcibly change you to something new or different a few years down the line.
Pros
Custom scripts, cross-platform compatibility, custom alerts
Cons
Core Pulseway software is excellent and reliable. Some of the peripheral things are less than stellar. The AV integration feels just a bit janky (Kaspersky in particular), and difficult to deploy custom whitelists and exclusions that work.
Reasons for Switching to Pulseway
I initially chose Pulseway over the competition due to the attractive price point and features. I left Pulseway due to abysmal customer service, and forced upgrades on my account.
Industry: Insurance
Company size: 51–200 Employees
Used

Daily

for

1+ year

Review Source
---
Pulseway
I've used several different systems like this and Pulseway's UI and functionality is top notch. As always for software there is room for improvement, but they have been working towards stable and useful additions to the software and I'm hopeful for the future. My Solution Specialist representative is great to work with and is always helpful!
Pros
Very nice improvements since version 6.0. The organization of the logins and systems is much nicer and easier to use since v.5. Also having the integration for antivirus and 3rd party patches is a very nice to have.
Cons
-Sometimes the service times out and disconnects from the server and the service will need to be restarted.
-Can't save or locate the webroot product id in pulseway. You have to login to the dashboard of webroot to get this.
-needs an at a glance note on each system to identify primary user of system.
Industry: Information Technology & Services
Company size: Self Employed
Used

Daily

for

1+ year

Review Source
---
I did it the Pulseway
My clients have a good overview of their inventory. Updating windows is effortless.
Pros
easy to use and to deploy. Good reporting functionality. Patching and monitoring is super!
Cons
The PSA functionality is too much. It would be easier to select which modules you actually need. The remote desktop feature is very limited in comparison to Teamviewer. It would be nice to have a dutch translation.
Alternatives Considered
Atera
Reasons for Switching to Pulseway
Excellent customer relationship, direct contact with the people of Pulseway. They also value your input.
Industry: Information Technology & Services
Company size: 11–50 Employees
Used

Daily

for

2+ years

Review Source
---
Excelent Solution
Very easy to manage all our customers main systems.
Pros
The mobile APP is excellent and the easy of usage
Cons
Some missing features when we started to use but it has evolved a lot. Currently just the need of a delayed restart of a server would be perfect!