About SendPulse
SendPulse is a cloud-based marketing solution that allows users to manage email, text messaging and push notifications through a single platform. It is suitable for small and midsize businesses. SendPulse's email features allows users to set up emails with a drag-and-drop editor and ready-made templates. Users can check the performance of their email campaigns with A/B testing tools. SendPulse also provides email servers with reputed IP addresses to help ensure email delivery. Users can send instant and personalized notifications to customers' devices using the SendPluse push notification feature. SendPulse's text messaging service allows users to send messages to more than 200 countries. The messaging service can send texts automatically based on a user-defined schedule. Predictive analytics tools help determine when to message clients. Support is provided through an online knowledge base, over the phone and via email. SendPulse is available with a monthly subscription or pay-as-you-go pricing.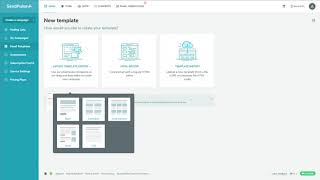 SendPulse has a free version and offers a free trial. SendPulse paid version starts at US$8.00/month.
Starting Price:
US$8.00/month
Alternatives to SendPulse
Used for

1+ year

Review Source
---
SendPulse fits our needs for bulk mailing to our many thousands of readers of our magazine.
The ability to send thousands of emails in one go. It helps manage campaigns to all our subscribers readers.
We also get to use it to send messages to select smaller subgroups of our readers and subscribers or even our advertisers (in some cases).
Pros
The User Interface UI is fairly neat and tidy. The buttons and controls are fairly easy to figure out even without a walkthrough or guide.
The software allows you to send a huge number of emails (to clean email addresses) with ease.
They maintain a high level of integrity with regard to not sending spam (to protect themselves and yourself).
Their support staff are polite and pretty prompt in dealing with queries and complaints. They tend to offer solutions where possible.
(For example, we had a mailing list that we had built over several years which had older addresses which had lapsed and expired and changed. When we tried to launch a campaign to those addresses many bounced back and they shut down the campaign midway. Initially, we were disappointed and irritated but after getting to chat with the support team we were offered good advice on cleaning our list. )
Cons
It would be good to have an email cleaner built into the software rather than having to use an external service.
I hate to pay for anything but sometimes you have to. In the case of SendPulse i got a good deal on a special and am happy with the price i pay. Those using the software can control their budget and choose packages that suit their pocket but be aware that there are cos
Industry: Health, Wellness & Fitness
Company size: 2–10 Employees
Used

Daily

for

Free Trial

Review Source
---
Marketing automation for medical office
Excellent
Pros
WhatsApp Bot and easy of implementation.
Cons
On big plan that cover the most important features with a discount.
Industry: Management Consulting
Company size: 51–200 Employees
Used

Weekly

for

1-5 months

Review Source
---
Good but API is hard work
So – I am going to caveat this whole thing with – if you're not interested in using the API or you are not coming from another service with an existing API integration, this probably won't apply to you.
Summary: 2 different API's, both awfully designed, both poorly documented, both with completely different authentication methods, credentials etc. however, the application itself is great, so if you're not using the API, it's probably fine.
Full Review:
SendPulse has a functional API, but it feels like it was created by someone that read a REST API book of best practices without really thinking about how people would / should use it.
My biggest problem is the way authentication works (on the main API which is for sending your campaigns, managing subscriptions etc.), sure it follows all OAUTH standards, but this means you need to manage identify on your application so you send all the correct tokens etc., it feels very Salesforce, not Slack (if you have used either of these API's you will know, Slack is easy, Salesforce is really really hard) – another comparison would be that it feels like IBM made this software when you are using the API, not a start-up.
If you are coming from something like MailChimp – the MailChimp API is easy, send a request with your API key and whatever you are requesting happens or you get a meaningful response, I have seen many garbage responses from the SendPulse API – you cannot guarantee JSON will come back, sometimes you get HTML, sometimes you get a weird HTML 404 page with some Yahoo copyright notices all over it, it all depends on how mangled your request is – so on top of having to worry about handling identity, you need to handle all sorts of strange responses not just JSON – and therein lies the next problem – DOCUMENTATION:
The API documentation is god-damn-awful, and because the API is quite complex and / or obscure in terms of how you request stuff, you often end up with garbage responses and have to trial-and-error how stuff works.
SendPulse has created a bunch of libraries to make this easier, and if you want to hang your PHP application by using their library, then go ahead – but if you have some kind of background task manager you will probably have to write your own stuff, which in most cases would not be too hard, but because the documentation is sparse, I really struggled to do even the basic stuff with CURL on the command line – if I was to suggest anything, provide CURL examples like Slack does, at least that way I could reverse engineer the CURL to sort out the lack of actual documentation (again, it's a problem because the API responds with junk HTML if you get your request wrong so you don't know what is actually wrong and have to trial-and-error a lot).
On top of all of this, if you are planning on using the SMTP send-alone API, you have a completely different authentication process – one that I still have no idea how to make work – this is what the documentation says about how to authenticate: http://i.imgur.com/sVAc3II.png
(the original documentation is here, but I think you need to be logged in to view it: https://login.sendpulse.com/manual/smtp-api/)
I personally have no idea how to authenticate against this SMTP API. I have not yet asked support about it because they are looking at something else for me that is more important, but I just don't…….. what….. from the documentation (a required parameter to authenticate, IV): "iv – an initialization vector, encrypted by a public key with an OpenSSL Library usage" – what is this? Why is it never mentioned again? how do I get it?
And most importantly, why on earth is it different to the (already convoluted) other OAUTH authentication on the main mail API?
Anyway, to wrap this up, I picked up SendPulse because I needed both templated / campaign based email and SMTP / transactional email and I previously had MailChimp, but did not want to pay for Mandrill because my SMTP volumes were super low.
SendPulse is fine, but I have wasted more time than the money I would have saved just using Mandril, however if you can get over all of this, the product is actually pretty good which is why I have not left a steamer of a review score, and as I said at the start, if you are not using the API it is great.
I just hope they release a new version of the API that focuses on functionality rather than horrible REST standards (although I'm not convinced all of this is standards compliant), which I think have generally been thrown away by the new-wave tech start-ups so people can quickly deliver value.
Pros
Price
Web Interface
Email Builder
Cons
API
Can't use Email Builder emails in the SMTP email interface
Industry: Program Development
Company size: 201–500 Employees
Used

Daily

for

1+ year

Review Source
---
SendPulse review
Pros
I appreciated SendPulse's comprehensive marketing platform that enabled me to manage my email, SMS and web push campaigns in one place. This made it effortless to stay on top of my marketing and guarantee smooth operation. Furthermore, the platform was user-friendly and came with helpful tutorials and support. I also enjoyed the various features, such as automation, segmentation, analytics, and A/B testing, which made it simpler to optimize campaigns and tailor content for maximum impact. Lastly, the pricing plans were very economical, making it a great option for businesses of all sizes.
Cons
No, for now i dont have any problem for using sendpulse
Industry: Events Services
Company size: 2–10 Employees
Used

Daily

for

1-5 months

Review Source
---
about my experience starts sendpulse
Pros
Very good price and funcionality, api is very easy to integrate
Cons
the support team over capacity, you need more people here in Brazil