About QuickBooks Time
QuickBooks Time is a cloud-based time tracking solution that helps owners and managers keep track of employees in real-time from their web or mobile applications. It provides mobile time tracking for employees who either work remotely or change locations or jobs regularly. Employees use their own devices, such as smartphones, computers, mobile apps, text messages or landlines to clock in and out. Mobile apps are available for Android and iOS. QuickBooks Time helps users set up overtime alerts for employees, which can help inform managers before overtime starts. Alerts can be sent to employees, administrators or managers via text message, email or Twitter. QuickBooks Time offers labor expense management module that reports labor expenses, including PTO, overtime and regular time. QuickBooks Time also provides customizable filters that help capture the exact timesheet information sorted by employee, project, date, group, job code and payroll period. Pricing is per user per month. Support is provided via knowledge base, phone and email.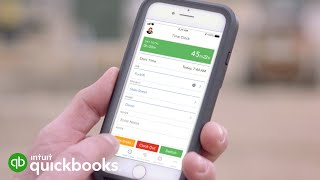 QuickBooks Time does not have a free version but does offer a free trial. QuickBooks Time paid version starts at US$20.00/month.
Starting Price:
US$20.00/month
Alternatives to QuickBooks Time
Industry: Graphic Design
Company size: Self Employed
Used

Daily

for

6-12 months

Review Source
---
Love Love Love this....
Pros
I love being able to track my design time with this easy software
Cons
The package cost for QB isn't free.. its fair but not free.
Industry: Transportation/Trucking/Railroad
Company size: 2-10 Employees
Used

Daily

for

1+ year

Review Source
---
Very Helpful
Overall, while QuickBooks offers a range of benefits and features, it is important for organizations to carefully consider their specific needs and requirements before committing to the software.
Pros
QuickBooks is an excellent software product that has helped my business in many ways. The user-friendly interface and robust features make it easy to manage and track our finances, from invoicing and bill payment to generating reports and analyzing data. The integration with other tools, such as our bank account and credit card, makes it simple to keep our financial information up-to-date and accurate. Additionally, the customer support team is always helpful and responsive, which has been a huge asset for our business. Overall, I would highly recommend QuickBooks to any business looking for a comprehensive and effective financial management solution.
Cons
While QuickBooks is a popular and effective financial management tool, it does have some limitations and potential drawbacks. Some of the potential cons of using QuickBooks include:Cost: QuickBooks can be expensive, particularly for small businesses or organizations with limited budgets. The cost of the software, as well as any additional licenses or modules, can add up quickly.Complexity: QuickBooks is a comprehensive financial management tool that can be complex to set up and use, particularly for organizations that are not familiar with the software. This can be a barrier for some organizations, particularly those with limited IT resources.Integration: While QuickBooks integrates well with other financial tools and services, it may not be as compatible with non-financial systems and applications. This can make it difficult for organizations that use a mix of different software products to fully leverage the capabilities of QuickBooks.Customization: QuickBooks provides a wide range of features and tools, but it may not always be possible to customize the software to fit the unique needs of a particular organization. This can be a limitation for organizations that require specific features or functionality that are not available out-of-the-box.
Industry: Accounting
Company size: 11-50 Employees
Used

Daily

for

6-12 months

Review Source
---
Simple product but needs an upgrade!
It's been okay - it works and is straight-forward, but the actual functionality of it could use an upgrade.
Pros
This software is super easy to use. It has a great mobile app, and makes it easy to edit, review, and manage employee timesheets if needed.
Cons
One pain point is that it logs me out of Quickbooks Online each time I log back into Quickbooks Time. It makes it difficult to accurately and efficiently record time for each client. The reports are also slightly confusing to customize and run.
Industry: Information Technology & Services
Company size: 501-1,000 Employees
Used

Daily

for

1+ year

Review Source
---
Awesome HR Management Application
It was great and effective all through. However we didn't continue it further because of the hefty cost we incurred.
Pros
This is a full fledged HR Management Application covering end-to-end features. Using this app empowered HR department to be more effective and our employees/users got their work/service done at breeze with speed!
Cons
The price is a bit on the higher side and it gives you a burn if you've 500+ users using this application, which is what happened in our case. We have 600+ users using this.
Reasons for Choosing QuickBooks Time
Xero's local product support was very very non-responsive!
Reasons for Switching to QuickBooks Time
QuickBooks seemed to have all the features that we required
Industry: Financial Services
Company size: 11-50 Employees
Used

Daily

for

2+ years

Review Source
---
QuickBooks Time: A Comprehensive Review of its Features and Limitations
QuickBooks Time is a great option for small businesses and self-employed professionals who are looking for an easy-to-use time tracking and invoicing software. Its seamless integration with QuickBooks Online and user-friendly interface make it a great option for businesses that already use QuickBooks for accounting. However, for those who are looking for more detailed reporting options and customizations, it may not be the best fit.
Pros
User-friendly interface: The software is easy to navigate and has a clean, intuitive design.Time tracking: The time tracking feature is accurate and allows for easy tracking of billable hours.Expense tracking: The software makes it easy to track expenses, including the ability to take a photo of receipts.Invoicing: The invoicing feature allows you to create professional-looking invoices with minimal effort.Integration with QuickBooks Online: The software seamlessly integrates with QuickBooks Online, making it easy to sync data and manage accounting.
Cons
Limited reporting options: The software has limited reporting options, making it difficult to track detailed data over time.Limited customization options: The software has limited customization options, making it difficult to tailor the software to specific business needs.Limited integrations: The software only integrates with QuickBooks Online, which may be limiting for some businesses.