About Teamwork
Teamwork.com is the only project management platform built specifically for client work. Deliver work on time and on budget, eliminate client chaos, and understand profitability in one platform. Teamwork's customers track and manage their projects with a suite of integrated solutions such as helpdesk, collaboration, knowledge sharing, and customer relationship management add-ons, enabling Teamwork.com to be the 'one-stop shop' solution for business owners. Teamwork.com is trusted by over 20,000 companies worldwide with a global team of over 350 employees, making project management more straightforward, efficient, and impactful with our project planning software, integrated with all the tools you already use. Teamwork.com makes it easy for everyone to see what they're working on, who they're working with, and what comes next — whatever size your team is. Reducing the level of complexity in collaboration gives you and your team the freedom to work the way you want. We believe that work and project management are more than just getting the job done. It's about delivering results. Teamwork.com gives users every advantage to stay on track and deliver work on time, collaborate effectively, and achieve high-performance results. Our products work together to support your team with improved collaboration, seamless communication, and faster project delivery: - Teamwork.com: a work and project management tool that helps in-house and remote teams improve collaboration, visibility, accountability, and ultimately results. - Teamwork Desk: a central place for shared mailboxes like support and contact so that you can manage client requests, support, and project communications with more visibility at scale. - Teamwork Chat: a messaging platform that helps teams make decisions through improved collaboration and productivity. - Teamwork CRM: an easy-to-use sales CRM software that gives you everything you need to manage your sales pipeline, organize your processes, and get critical insights on accelerating your growth. - Teamwork Spaces: a modern, intuitive content collaboration workspace with intelligent features like required reading and live widgets - helping your team to become more engaged and accountable when it comes to company content. Teamwork.com is a solution built for all client services teams; with a flexible platform, you can customize what you need and want: - Human Resources: Create a centralized hub for your client services team to work alongside HR to collaborate on projects across the organization efficiently. - SEO: Teamwork.com enables SEOs to manage all your tasks without hassle - Marketing Design Agencies: Teamwork.com helps you plan and track your projects, so you have more time to develop creative ideas that wow your clients - Architects: Take control of your architect projects by efficiently collaborating with your clients - Consultants: Teamwork.com directly helps consultants improve collaboration, control scope creep, and resolve client issues faster - Agencies: Manage multiple complex client projects with ease, Never miss a billable minute, Unlimited free access for your clients, Scale into a platform with everything you need to run your agency - PMOs: Teamwork.com helps project management teams deliver better projects in less time. - Product Teams: Easily manage and execute product requirements from concept to completion. - Marketing Teams: From campaign planning to content production, the right project management software can take your marketing team's work from done to delightful. Teamwork.com is, ultimately, the last project management tool you'll ever use. Get started working together beautifully with Teamwork.com today using our 30-day free trial, or schedule a demo with our team.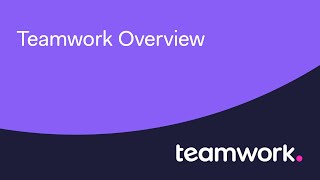 Teamwork has a free version and offers a free trial. Teamwork paid version starts at US$12.50/month.
Industry: Marketing & Advertising
Company size: 2-10 Employees
Used

Daily

for

2+ years

Review Source
---
We tried everything - And love Teamwork Projects
We tried literally everything we could find in the market place for Project management software. We switched from Basecamp originally and the big push for us was the TimeTracking with tasks that could be brought into invoices. I know Freshbooks has that feature too, but freshbooks doesn't have project management in the way that we needed that total collaboration environment.
We looked at Monday.com too recently but since we have full buy-in on Teamwork I don't think we are in a place to switch and a lot of the features and pricing just don't make sense. That is where I think Teamwork has really cornered the niche well in terms of pricing and features.
Pros
Gantt charts
Tasks
Task Creation
Inviting Clients into the space
TIME TRACKING!
Cons
User interface was updated but could be better, especially when compared to Monday.com
Response from

Teamwork.com

Hey Adam,

Thank you for your wonderful review of Teamwork Projects! Five stars and a 10/10?! All our Monday morning dreams are coming true!

We are delighted that you are enjoying the software, and that it has filled that gap in your Marketing Stack! We also love the time tracking features, it was an important one for us to get right - we are glad that you agree!

Another great thing about Teamwork is our support team - should anything ever come up in your use of the software! They are coffee fuelled problem solvers - what a fantastic combination! You'll find them over at [email protected]

Have a great day!
Nancy at Teamwork :)

Replied 11/11/2019
Industry: Internet
Company size: 1,001-5,000 Employees
Used

Daily

for

2+ years

Review Source
---
Teamwork improves project and task management
Our group is more efficient, task-oriented, and collaborative when we work together as a team. It's ideal for companies with a large workforce. As a result of its ease of use and adaptability, it's ideal for usage by a wide range of organizations. It's great that we can contact with the vendor via Outlook and the tool keeps track of what we say. On top of that, we've got all of the project files saved on the server.
Pros
This software's user interface is well-designed and simple to operate. Reports, calendars, and Gantt charts may all be created. This program allows us to work with a variety of file types. All members of the team will be able to more readily communicate with each other thanks to this program.
Cons
I have seen better user interfaces in other products, but this one falls short. While getting acclimated to the UI takes some time, managing and controlling project activities becomes much simpler once you have.
Industry: Internet
Company size: 2-10 Employees
Used

Daily

for

1+ year

Review Source
---
Predatory Billing Practices - Avoid like the plague
They do their predatory billing near Christmas hoping you won't notice the massive charge or your team will be on vacation. Everything about what they do is deceptive and dishonest. I spent $700 with them and I would have been happy to keep paying them some small amount according to how much I use the service, but after downgrading and then suddenly being billed $1200 I am appalled. Then they have no customer support ability to refund. No other service I use operates this poorly. Even my cable internet provider can refund a mistaken charge. No notification, no approval, just $1200 out of nowhere.
Pros
It was fine to use for a year. It can be a bit slow and clunky. It can be hard to find thing and there are more ways to use it than necessary. It probably has too many features, but it gets the job done once you figure it out. I would say it's adequate.
Cons
The billing is way off in nightmare land. It's just fraud how they bill. They say it's pro-rated but they actually charge you ahead of time for use you haven't used yet. This is not how pro-rated works. Pro-rated means you pay for what you use. What they do is the opposite. Then they will count the highest number of users you had during the year concurrently or not and create a charge for you for a year in advance without notifying you first. Then their policy is no refunds. So what happens is you suddenly get a bill for $1200 when you only have 2 users, which you expect to be like $20 / month at most. Their customer support is useless. So you are paying in advance for something you didn't ask for and won't use and they won't just refund it. This should be an automatic easy refund for them. They lose nothing by refunding you for a service they have not provided yet, so it seems their policy is just to trap people and drop massive bills on them and hope they pay them.
Reasons for Switching to Teamwork
Recommended by a friend.
Industry: Marketing & Advertising
Company size: 11-50 Employees
Used

Daily

for

6-12 months

Review Source
---
Great for tasking, mediocre to terrible at everything else
Teamwork excels at tasking and basic project management, but don't count on it for any company or portfolio insights and/or big picture views.
This is a good tool for small teams that worry about pipeline and traffic control but not for large interconnected teams that require account management, efficiency evaluation or budget oversight.
Pros
The UI is very intuitive and clear.
Actions around tasks have short paths to complete and work well.
The features for tasking are useful and easy to work with.
The knowledge base covers almost every topic and support is responsive, friendly and helpful.
Cons
The reporting tools are basically non-existent and any historical evaluation of data almost impossible.
Teamwork does not distinguish or allow to filter for late tasks historically, which means once a task/milestone is completed it becomes impossible to tell if that task was late or on time.
This makes tracking efficiency and employee performance impossible as we do not know if tasks are on time in general and where the bottleneck lie.
Similarly not being able to construct dashboards and manipulate data around time, late tasks, etc. for teams rather than projects hampers decision-making.
Compared to something like Celoxis or even Jira which for example allows to compare any data with custom scripts etc, Teamwork feels incredibly inflexible and dated to have to export excel sheets to manipulate and evaluate data.
Our account managers are not able to find out if they are doing good or not on a specific account as data can not really be filtered and displayed that way either.
Reasons for Choosing Teamwork
Tool incompatible with teams.
Reasons for Switching to Teamwork
Cost and team buy-in
Response from

Teamwork.com

Hi Sophie,

Thanks for your review of Teamwork.

We apologise for the issues you have experienced with our product. Could you email us at [email protected] so we can try resolve these problems?

Kind regards,
Karen at Teamwork

Replied 29/1/2021
Industry: Pharmaceuticals
Company size: 11-50 Employees
Used

Daily

for

1+ year

Review Source
---
Great tool. Need to be able to customize notifications a little better
Pros
The different styles of project management are all captured here. You can use board view, gantt view, task view. Love the reminders you can set for tasks.
Cons
Wish the 'my tasks' feature was more distinctly displayed. I also wish you could make tasks 'related' without linking them by dependencies. Some info gets lost in closed tickets.
Reasons for Choosing Teamwork
Jira is better for dev, Teamwork is better for project management