About Quicklizard
AI-Pricing Software for Retailers and Brands. We enable retailers and brands to achieve pricing excellence at scale. We do this by providing an end-to-end plug & play pricing as a service. For the full product lifecycle. Across all channels. How it works Quicklizard platform connects to multiple data sources, sending all price-impacting data to the pricing engine. The platform balances AI and business rules to recommend the optimal price - per product, per channel. Repricing recommendations that are accepted are automatically deployed to the right channels and updated in ERP records.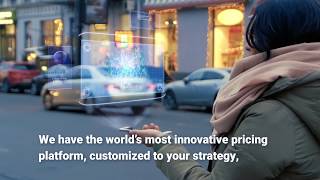 Quicklizard does not have a free version and does not offer a free trial.
Alternatives to Quicklizard
Industry: Management Consulting
Company size: 2–10 Employees
Used

Daily

for

2+ years

Review Source
---
The leading solution for innovative dynamic pricing.
Pros
1. Easiness of Use
2. Competence of the team
3. Availability and Response Time
4. Not only state of the art, one step ahead
5. Bandwidths of Features & Functions
Cons
Sometimes, the company seems to be too innovative for the state of the market. The market has been educated for the classical price monitoring to get competitive price data. Quicklizard is way more than that, but struggles sometimes to be comparable with vendors who deliver less features & functions.
Industry: Information Technology & Services
Company size: 11–50 Employees
Used

Weekly

for

2+ years

Review Source
---
Profit optimization made easy. Offer the right price for the right product at the right time.
If you are not already using Quicklizard, you should definitely consider using it.
Offer your customers the best price for all your products every day.
Pros
We are a sales partner of Quicklizard and therefore regularly give demonstrations to customers who have more or less dealt with the topic.
Again and again we are amazed how we manage to explain this complex topic and the incredible possibilities Quicklizard offers to new customers. This is only possible because Quicklizard makes it very easy for users to understand and use the system as such.
Once installed and filled with data everyone benefits from day one. If you have questions like: can we map this logic / rule, our answer is yes in 95% of the cases. For the other 5% the excellent Quicklizard Support will step in and can solve 99% of the cases.
The best of all - Quicklizard integrates perfectly into your existing IT infrastructure. Simple and reliable.
Conclusion:
Even if dynamic prices, automated price recommendations or just a clear view on your competitors are foreign words for you at the moment. With Quicklizard these terms will soon become your native language.
Cons
That it is not about implementing a software but a way of thinking, a way of dealing with a problem. It takes trust and courage to break away from the familiar paths in pricing.
Industry: Retail
Company size: 11–50 Employees
Used

Daily

for

6-12 months

Review Source
---
Rule-based pricing that has no limitations
Pros
Easy to manage very complex rules for pricing, based mostly on competitor data but also incorporating our own attributes and limits. We have 9000+ skus online across many different countries and currencies, Quicklizard allows us to focus on creating the pricing logic and rules, and it takes care of all the calculations and prioritising which rule should apply to which product. Custom functions can be written in Python so are easy to adapt.
Cons
Non-technical users sometimes found it difficult to understand which rules kick in and why. It is not a turn-key solution, whilst they were very helpful with issues relating to their API we had to do all of the integration work ourselves.
Reasons for Choosing Quicklizard
PriceShape was very limited its repricing strategies, it essentially could beat or match a competitors price, but was not able to do any margin calculation for example.
Reasons for Switching to Quicklizard
Quicklizard was by far and away the most capable platform in terms of the complexity allowed in pricing rules. It was also competitive on price.
Response from

Quicklizard

Dear Frank,
Thank you for the positive review!

We highly appreciate your feedback and constantly work to improve our services.
We will continue to do our best to help you get the most out of using Quicklizard.

Replied 30/8/2021
Industry: Information Technology & Services
Company size: 51–200 Employees
Used

Daily

for

6-12 months

Review Source
---
Best of Breed Optimization in today's hyper competitive markets
We have clients who are looking for a way to better compete in different markets where the dominant players all use algorithmic strategies in order to optimize pricing. The Quicklizard solution evens the playing field in a significant fashion.
Pros
It all begins with the team, a group of super smart, experienced professionals, which provides a strong foundation for one of the most scalable, easy to configure set of AI powered algorithms that truly delivers profit and sales improvement immediately. Excellent support and a great way to allow a clients profit and sales goals to be inculcated into a unified pricing strategy.
Cons
The solution needs to be translated into more languages.
Industry: Consumer Goods
Company size: 11–50 Employees
Used

Daily

for

1+ year

Review Source
---
Very Smart Pricing Automation
Pricing Automation on the highest level.
Pros
Great platform that makes management of complex channel-specific pricing strategies easy. Plenty of pricing features, mainly based on competitors but also on additional data (stock, sales, views) and AI.
Cons
There is a bit of a learning curve to set up pricing strategies. Understanding all available options and using them correctly can be time consuming.