About Google Classroom
Google Classroom is a cloud-based learning management system that is a part of Google Apps for Education. It is suitable for academic institutions only. Google Classroom enable students to access the platform from computers, tablets and smartphones. Users can create Google Docs to manage assignments, port YouTube videos and attach files from Google Drive. It enables users to provide feedback through comments on the documents. Teachers can create online classrooms for sharing the learning materials for downloading and viewing. Online assignments can be created to keep the track of students' progress. The interconnectivity of Google products such as Google Docs, Google Spreadsheets and Google Slides allows students to submit their assignments easily. Google Classroom can be accessed via mobile apps available for iOS and Android.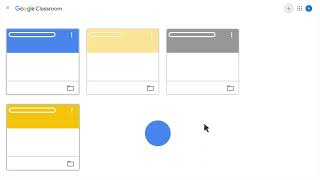 Google Classroom has a free version.
Alternatives to Google Classroom
Industry: Education Management
Company size: 51-200 Employees
Used

Daily

for

2+ years

Review Source
---
A great platform for managing online education system..
Overall, I love to use this software as my daily driver. It saves my time & helps me to manage my studies in this pandemic effectively.
Pros
This software has almost everything that is required to conduct the course online. Our faculties can do Assigning courses, assignments, quizzes, share their class notes & attachments easily on this software. It has a great notification system for smartphones thus student doesn't miss out any important topic. It can also integrate many features from google service & our lecturer love this media more than other available alternatives. It has a clean UI & I love it personally.
Cons
I don't find any cons for this software. But the software would be self-sufficient if it integrates a group calling feature for conducting classes like the Microsoft team.
Industry: Information Technology & Services
Company size: Self Employed
Used

Daily

for

1-5 months

Review Source
---
A great online classroom
I have to say that I am impressed with the Google classroom and what its able to do. With the current state of everyone being home online classrooms became a must have. While I did have access to more advance CMS that are structured for an education being pressed for time I chose to use Google Classroom. I now have about three classes online with a total of 50 students and I can say that Google classroom helps a lot with the day to day tasks when it came to teaching and providing assignments. Student we able to join and with some minor issues they were also able to upload their work. The great thing is that its accessible on both PC and Mobile so it can cater to more students.
Pros
The interface is sleek as with most Google designs. The lay out is simple and you can easily find everything you need to set up your classroom. Since I had three separate classes, I was able to configure each separately adding students via the provided invite code that can be generated by the classroom. Work and assignments can be easily structured for use by students and I love how Google gives you a dedicated Google Drive for storing uploaded classroom content. This accommodates all types of documents and media. There is also integration with YouTube which means students can watch videos from the classroom. I can give assignments and students can also upload their projects. As a basic educational tool Google Classroom is great.
Cons
The biggest downside is that it is too basic and lacks some extra features or some of the features implemented are limited. Maybe this is part of Google concept where all services are separated into apps in their G-Suite, but it can be annoying having a conference call with students, then switching to the classroom, then having to switch to the whiteboard. If all these services where integrated, it would make life a lot better. Also, there a few features that you will have to search online for instructions. Student notifications only work when new content is added. It you correct errors or made upgrades you will need to manually alert your students.
Industry: Education Management
Company size: 11-50 Employees
Used

Daily

for

2+ years

Review Source
---
Google Classroom for Middle School ELA
Pros
Google Classroom is a simple way for teachers to share information with students and parents. It can be used with a separate LMS or gradebook/attendance system. My district uses both Google Classroom and PowerSchool. Students and parents can access Google Classroom outside of school using the app. It is easy to learn and implement in the classroom.
Cons
Google Classroom gives parent access to student work. This is helpful, however, at the middle school level, parents require more access to assignments and materials. The current parent view only allows parents to see a summary of reports from each class. Parents should share the student view so that they can access all information.
Industry: Biotechnology
Company size: 51-200 Employees
Used

Weekly

for

2+ years

Review Source
---
Like Google Docs but for the Classroom
Overall at 4.5 out of 5 product that can be used by young and old to improve learning in the classroom.
Pros
Its was if use for k-12 students is something that really benefits the classroom and remote learning capablilites.
Cons
This could be eased into use for younger kids, its not easy for all kids to use and should be a bit more simple for them and also have more available for teachers as well.
Industry: Graphic Design
Company size: Self Employed
Used

Daily

for

2+ years

Review Source
---
A pandemic hero, that continues to be solid.
My overall experience with Google Classroom is good and a very happy user. To me without a doubt they are the best virtual classroom, as their interface is not only flawless and beautiful, their features are creative and easy to use, it connects well to other Google products and finally it lacks cons for the most part.
Pros
I really truly love this software and what Google has done with it. This is easily the best online virtual classroom as it connects to the URL versions of Word, Excel, PowerPoint and more which are Docs, Sheets and Slides. Since those are also owned by Google and most people use the URL Versions now as all you need is a search engine, it connects to Google Classroom with ease and speed. You also have the previous ratings of the features that I rated. Overall solid solid product by Google and
Cons
To be truthfully honest, not much from what I notice is wrong or bad either Google Classroom, but from what I notice in my student perspective I would like to see more permissions and abilities that are given by default and can not be changed by county's and administration, as I do feel restricted at times.