About Farseer
Farseer is a cloud-based software helping companies to eliminate manual work, improve accuracy and security, and gain new insights in the domain of financial planning and analytics. It is like an Excel specialized for finances, with the robustness of a web application, amplified with predictive features. Our target clients are companies overgrowing spreadsheets, 200+ employees, with multiple people doing financial planning, and are struggling with spreadsheet tools on a daily basis. Benefits: 1. Rapid modeling - Easy, intuitive, and flexible modeling. All spreadsheet benefits, none of the downsides. 2. Demand Forecasting - Collaborative top-down and bottom-up planning blended with machine forecasting. 3. Interactive Dashboards - Live dashboards with powerful interactive widgets and real-time reports. 4. Collaborative planning - Centralized financial planning designed for teams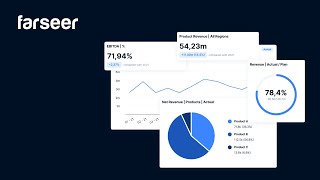 Farseer does not have a free version and does not offer a free trial.
Industry: Logistics & Supply Chain
Company size: 51-200 Employees
Used

Monthly

for

6-12 months

Review Source
---
Makes it easy to recommend
We replaced Excel budgeting process and we are now faster, more acurate and with the possibility to dedicate our time to optimize the process result.
Pros
The initial approach was dedicated and thorough. The implementation covered all our specifics and left nothing unanswered. The software is intuitive with all key features tuned exactly to the task. The integration with the ERP was quick. All promises from the beginning of the project were fulfilled.
Cons
Some additional report formatting possibilities for printing use would be a good addition to the very good dashboard feature.
Response from

Farseer

Thank you, Milan. We are already working on new formatting features. Stay tuned.

Replied 12/1/2023
Industry: Oil & Energy
Company size: 201-500 Employees
Used

Daily

for

6-12 months

Review Source
---
Farseer - The most intuitive and flexible planning software
We replaced Excel completely and we do all our financial planning and reporting in Farseer. Additionally, we implemented balance sheet and cash flow planning in Farseer. Our planning process is faster and more accurate now, and we are covering all three financial reports now, which would be very difficult to achieve in Excel.
Pros
Modelling in Farseer is extremely easy and allows great freedom for the modeller. We have managed to implement very complex scenarios with multiple drivers, very fast. Using those drivers on the dashboard to see how the change impacts the financial KPIs is a phenomenal feature. It works blazingly fast.
Cons
I would love to see some more advanced features in the analytics part, like questions and answers. We saw some beta versions for Q&A and we can't wait for that feature to go into production. Also, waterfall graphs would be a nice add-on. Slicers for date that effect the whole dashboard would also be useful.
Response from

Farseer

Thank you Bruno. We're constantly working on adding new features that will increase Farseer flexibility even more! Stay tuned! :)

Replied 17/3/2021
Industry: Computer Software
Company size: 11-50 Employees
Used

Weekly

for

1-5 months

Review Source
---
Very useful software
Pros
Once it's all set up, it's simple to use and gathers all the important financial information.
Cons
Everything is fine. All the features are useful.
Industry: Logistics & Supply Chain
Company size: 51-200 Employees
Used

Weekly

for

6-12 months

Review Source
---
Very good tool, fully recomended
Overall experience with Farseer is excellent because following reasons:
1. Great Farseer team of people who are always on disposal for any issue, advice and consulting when it is needed. They are willing to accept suggestion for changing some feature or create a new per need. For sure, they are "think outside of the box" crew.
2. Farseer tool is adjustable and every feature can be customized or upgraded
3. Possibility to include several different business units (sales, marketing, supply chain etc.) in one integrated process.
Pros
Farseer is solid forecasting tool which is using several statistical methods for providing estimated quantity or revenue. It is easy to use it and it is not a problem to implement it in standard processes for calculation, control, overview etc.. In addition to the forecasting feature, it provides very good feature for creating dashboards which can provide excellent visualization of needed data.
Cons
When forecast need to be changed manually, this can be time consuming but this is not depending just on Farseer tool, it depends on the structure of forecast process which will be created in Farseer. For sure, they are "thinking outside the box" people.
Response from

Farseer

Thank you for the kind words, Ivan!

Replied 28/6/2022
Industry: Computer Software
Company size: 2-10 Employees
Used

Weekly

for

1-5 months

Review Source
---
Great product and great support
They are a great team and they have a great product. If they keep this up, they can only move even more forward and become even better.
Pros
I love that the software covers the needs I have perfectly. I love the fact that the Farseer team asked me about my issues and then worked with me on setting up my finance flows and everything. I love the fact that they were flexible to work with me on my needs and find ways for me to implement things that helped my particular cases.
Cons
The software is a tricky to use at first, but this is why I would like to put additional emphasis on customer support which is extraordinary and helps you fall in love with the product.
Response from

Farseer

Thank you for your kind words. We will do our best to improve Farseer UX even more.

Replied 17/3/2021