About Coupa
Coupa's cloud-native suite of Business Spend Management applications lets customers gain visibility and control over their spend and supply chains. Customers get an end-to-end process that helps drive collaboration across procurement, finance, treasury, compliance, and supply chain leaders to help their companies spend smarter, mitigate risk, deliver on ESG commitments, and improve resilience. A unified platform approach provides usability and flexibility, freeing up IT from customizations and complex integrations to help leaders deliver on these goals. Coupa allows everyone across your company, as well as your suppliers, to conduct all of their business spend activities in one place allowing them to: ● Optimize Travel and Expense Management: with booking, continual price monitoring, expense reporting and employee reimbursements ● Collaborate with Suppliers: starting with the millions of suppliers already transacting digitally, and engaging others with no fees and instant visibility to POs, invoices, and payment status via the platform for more effective relationships ● Mitigate Risk: with comprehensive third-party risk management across many tiers of the supply chain, continuous community-powered risk and performance monitoring, and real-time fraud detection ● Electronically Manage the Entire Source-to-Pay Process: from spend analysis to risk vetting, sourcing, contracting, purchasing, invoicing, working capital programs, digital payments, and automatic reconciliations—covering all types of goods and services, all on the same unified platform ● Optimize the Supply Chain: with the ability to model the entire supply chain as a "digital twin" and move to continuous design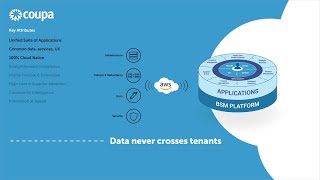 Coupa does not have a free version.
Industry: Telecommunications
Company size: 5,001–10,000 Employees
Used

Daily

for

1+ year

Review Source
---
Coupa - The Expense Manager for your business
Coupa Expense has been a great software for our company to manage the spent smartly with a full proof apprval process. It has brought more transparency and accountability among the team members. As an organisation, we really appreciate this platform and would like to suggest others to use this application in their business.
Pros
Coupa Expense is easy to use. The following features are most amazing to me -
1. Requisition and PO management.
2. Approval DoA/flow chart is very easy to assign.
3. Reimbursement process is simple.
4. Multiple currency is available.
5. Full spent analysis report feature.
Cons
Coupa Expense is one of the best expense management softwares and I personally do not see any improvement area for this software.
Industry: Construction
Company size: 10,000+ Employees
Used

Daily

for

2+ years

Review Source
---
The best procurement systems with high quality service
Coupa enables you to identify new markets to market or buy products, as well as enables you to find the best prices and many good offers.
Pros
Coupa is the greatest procurement solution I've seen so far. I like that it automatically links with numerous global sellers, ensuring flexible purchase order automation, invoice matching, and tracking. Simply enter into the sellers site to monitor the status of their purchase orders and invoices, and track their progress to final payment and customer receipt of monies. Coup also prepares new suppliers, so suppliers submit the necessary information for payment and integration into buyer systems. Coup has helped keep track of deals from start to finish by ensuring payment for sellers and meeting all delivery deadlines for both sides. Coup offers a fantastic user platform with a distinctive visual design and various filters to help you locate what you need quickly and effortlessly.
Cons
Not a lot of annoying things, you just need both sides of the transaction to be aware of how to download documents and work the platform as required, and this becomes easily possible with the completion of sufficient training on the correct use.
Industry: Cosmetics
Company size: 10,000+ Employees
Used

Weekly

for

2+ years

Review Source
---
Necessity in corpo
Pros
Looks nice, after initial configuration quite easy to use when you repeat actions
Cons
Hard to do new things, not intuitive, sometimes you can't do something but UX doesn't tell you why
Industry: Computer Software
Used

Weekly

for

2+ years

Review Source
---
End user's love but application team might face hurdles
Effectively reduces cost, better operational efficiencies and better end user experience
Pros
The tool is meant to give a very good experience to end users. All the out of box functions are designed with high quality UI standards which will reduce the learning curve for end users. IT team don't have to spend hours to explain the features and functions as the terminologies and configurations are quite intuitive. Finally so much comes out of box if planned well and ahead of time a lot of customization requirement can be avoided. The T&E module is really liked by a lot of top tier business users.
Cons
The integration capability is not up to the mark. When it comes to customize a lot of road blocks can be faced but it seems the Product team is actively looking in to some of them and with every release they are making some advancement in this direction. There are some weird limitation on few types of reporting capabilities which I think should be there.
Industry: Information Technology & Services
Company size: 10,000+ Employees
Used

Daily

for

2+ years

Review Source
---
Coupa - Best for your Business
Overall experience is good with Coupa Support and must be recommended.
Pros
I have used Coupa Software for Supplier/Vendor management and Purchasing modules. i have found this software easy in use and give flexibility to do customization as per business requirements.
Cons
The Customer Support needs to be improved. On raising incidents for issue we need to do multiple followups.