About UpKeep
UpKeep is an Asset Operations Management solution that helps businesses scale by giving every Maintenance and Reliability team the tools and information they need to run Operations efficiently and effectively. From your desktop to your phone and even your tablet, UpKeep's CMMS is easily accessible from anywhere at any time. Create work orders on-the-go, get notifications when tasks are updated, and receive alerts straight from your app when assets go down making your business run more efficiently than ever before. UpKeep offers core maintenance functionality, such as asset, inventory and work order management, and preventive maintenance to create service schedules. Users can see a tasks overview page showing upcoming work along with due dates, criticality and assets or workers assigned to each. When adding new tasks, users can include notes, a color-coded priority rating, images, assets, and users. The mobile application gives users the ability to create projects, assign work orders, manage assets, and more. UpKeep is designed for small to midsize companies across various industry verticals. UpKeep offers services on a monthly subscription basis that includes support via phone, email, and through an online knowledge base.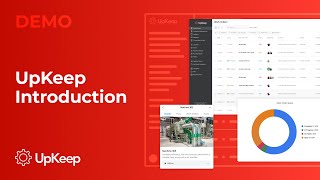 UpKeep has a free version and offers a free trial. UpKeep paid version starts at US$45.00/month.
Industry: Food & Beverages
Company size: 201-500 Employees
Used

Daily

for

6-12 months

Review Source
---
Upkeep can change your whole maintenance program
It's as good at the information provided, which is made better because once it's in there, its accessible to anyone and over time, can provide information
Pros
Information, details, knowing what was done on a machine last time, it means that you don't necessarily have to do the same job twice. If a problem comes back and was misdiagnosed last time you can review what was done and see if you can find where the actual issue is.
Locations, parts, assets, you can put them all into this software and down to the bolt you can provide details on any of them.
Cons
The UI needs work, especially when moving parts around or finding assets in a location. Having a naming standard helps a lot. If you know that an item belongs at a specific site, having a clear site name along with what it is makes a difference.
Response from

UpKeep Technologies

Hi Paul!

Thank you for taking the time to leave a review and for all of your feedback! We are so happy to hear UpKeep is providing value to you and your team and helping to improve your maintenance program. Your feedback regarding the UI of the Parts page is valuable and we will make sure to bring it to the attention of our Product team.

Thank you again for taking the time to submit your feedback as we are always looking for ways to improve the app and make our customer's workflows as seamless as possible.

Have a great day!

Replied 14/11/2019
Industry: Facilities Services
Company size: 51-200 Employees
Used

Daily

for

1-5 months

Review Source
---
Its a Keeper as long as you are keeping UP on it.
Very positive experience so far. They have answered all my questions sufficiently and in a very timely manner. Our account manager [SENSITIVE CONTENT HIDDEN] is fantastic, she is great at explaining things to people of all technical levels. We can see this software allowing to move forward quickly and put together our S.O.P's with minimal disruption during crucial times when we bring in new employees.
Pros
The Customization of the software is quite extensive. Has an honest to goodness workflow that is concise and easy to follow. Best have this system completely laid out and ready to roll prior to rolling it out within your facility that way you can utilize the software's capabilities to its vast potential. The tracking for the work orders is super convenient and thorough and allows for reporting to be super easy and helps track problem areas or where money should be spent.
Cons
I feel that it pigeonholes your ability to use various systems and has no overlap with other systems that could potentially be helpful. does not offer a scheduling option to allow for access to say apartments where 24-hour notice is necessary. Having the ability to link to a calendar or a calendar within upkeep to organize my day project by the project is what is needed badly
Alternatives Considered
Asana
Reasons for Switching to UpKeep
My boss was already familiar with this platform
Response from

UpKeep Technologies

Thank you so much for taking the time to leave us a review! We're glad to hear our software is helping you and your team maintain your facility and track work orders!

Our team is always making improvements and adding new features to the application based on customer feedback. I've shared yours with our product manager.

Feel free to visit our support page if you ever have any questions:

https://www.onupkeep.com/customersupport/

Thanks again!

Replied 14/4/2020
Industry: Oil & Energy
Company size: 201-500 Employees
Used

Daily

for

1+ year

Review Source
---
Good Entry level CMMS System
A great basic CMMS meant for day to day use, to keep work orders, scheduled maintenance and parts/inventory. Lacks a lot of the higher end features that experienced users would want to impliment.
Pros
Very easy to set up and get going, very easy to populated data, and very useful to schedule work orders, etc.
Cons
Analytics - the metrics that one needs the most , and use the most often are in basic, but they do take shortcuts in order to achieve numbers. Downtime tracking is a very mportant tool, but can't be used with manual events.
Reasons for Switching to UpKeep
Pricing of Users (requesters are free) and didn't require additional licenses (technical users and admin are the only paid subscriptions that you need). Initial presentations were well done, and polished,
Industry: Food Production
Company size: 501-1,000 Employees
Used

Daily

for

6-12 months

Review Source
---
Up keep review
Pros
The up keep tools used daily by me because it give me best experience in meeting schedule and give permission to the other people help me keep track of data and it has all the feature where some of the other other popular apps don't have it give the best UI and tools use daily
Cons
There nothing to say about the app it even give the mobile access to everyone that's the best part
Industry: Food & Beverages
Company size: 51-200 Employees
Used

Daily

for

1-5 months

Review Source
---
A great start!
My experience over the first month with UpKeep has been very positive. The team in California have been checking in to provide support and they've sent us a ton of QR labels for our assets and stock room. I have worked with five different CMMSs over the past several years and have been responsible for two implementations. This has been the smoothest and easiest one so far... configuration has been easy and it's been warmly welcomed by my team and the organization as a whole.
Pros
The ease of use and functionality check all of the boxes I was looking for. I get updates on my phone, can track work, and share what we're doing throughout our organization in a way that is simple to understand. The cost and very low barrier to entry has been a huge plus as well.
Cons
There have been little quirks with the system that have taken a little getting used to. Updating PMs or creating a PO, for example, can be difficult when you click off the screen to update a piece of that (check list, asset, or part) and then the whole thing that was being worked on is lost. Having discreet location differences for assets and stock rooms would be nice, too.
Reasons for Switching to UpKeep
Low cost, low barrier to entry, and the ease of hitting the ground running (fast) is why we've gone with, and are going to continue with, UpKeep.
Response from

UpKeep Technologies

Thank you so much for taking the time to leave us a review! We all LOVE your dinks!

We're glad to hear our software is helping you and your team manage your assets and facility!

Our team is always making improvements and adding new features to the application based on customer feedback. I've shared yours with our product manager.

Feel free to visit our support page if you ever have any questions:

https://www.onupkeep.com/customersupport/

Thanks again!

Replied 14/4/2020