About SwiftKanban
SwiftKanban is a hybrid project and workflow management solution that caters to project teams in small to midsize businesses across various industry verticals. It offers collaboration and communication features such as work cards, kanban boards, instant chat, threaded discussions and in-app or email notifications. The solution can either be deployed on-premise, hosted in the cloud or be accessed via iOS and Android applications. Visualization controls such as 'board zoom' that helps users to fit the board to the screen or view different details and 'aging' that view status on card updated by their age provide users with information about specific operations and activities Additionally, via the Board Playback feature, teams can watch their 'kanban movie', review workflows over a set time period and observe patterns, identify bottlenecks and track resource utility. Services are offered on a monthly subscription basis that includes support via phone, email and online live chat.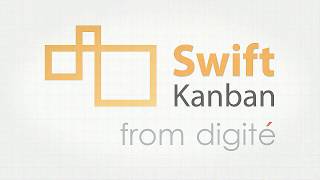 SwiftKanban has a free version and offers a free trial. SwiftKanban paid version starts at US$7.00/month.
Starting Price:
US$7.00/month
Alternatives to SwiftKanban
Industry: Internet
Company size: 10,000+ Employees
Review Source
---
Best-in-class visualization and analytics, "by the (blue) book"!
SwiftKanban has the best-in-class visualization and analytics, "by the (blue) book"!
We organized AgileCamp 2014 event using the kanban board recently. Mahesh Singh presented how they "ate own dog food" by using Swiftkanban to create this excellent kanban tool! The kanban analytics supported - flow efficiency, cycle time distribution - is by the blue book, as close as it can be to what David Anderson describes in the blue book! Kudos to Mahesh & team for producing SwiftKanban!
Industry: Insurance
Company size: 10,000+ Employees
Used

Daily

for

2+ years

Review Source
---
Digite's Swift Kanban: There is none other like it
Swift is without a doubt the most effective way to visually manage, track and report on the work that your team is or will be engaged in. The UI is extremely intuitive and user friendly, providing one less thing for teams to worry about when implementing Kanban systems. The included help files in the form of a knowledge database provide the most up to date information and comprehensive step by step walkthroughs of the functionality of Swift. The tool has been accepted by and is the preferred standard for teams implementing Kanban, regardless of the nature of their work within the organization, and continues to increase its user base on a weekly basis
Pros
With Swift, users have the ability to create a board that is fit for purpose, collect data systemically about the work that resides on the board and work in a truly collaborative environment to deliver to solutions for their customers. The pricing structure works very well for our organization; we draw from a pool of licenses and if we need more, we simply request them and add that number to the overall pool. The cloud hosting configuration is very solid and the requested details about it from Digite have immediately put to rest any concerns our security folks had about a cloud based app and its ability to protect the data that is stored in the tool via the cards. Digite's technical support team is second to none in terms of response time, implementing any bug fixes and new functionality and level of customer support.
Cons
Swift has trouble at times from a performance perspective with WebEx. We have noticed that participants in a WebEx meeting sometimes experience slowness with the tool when making modifications to their boards.
Company size: 501-1,000 Employees
Used

Weekly

for

1-5 months

Review Source
---
Great tool to manager and follow big project of software!
Pros
It is an excellent tool to monitor large software projects with several multidisciplinary teams. It allows to monitor alerts, issues, blocked tasks, backlog, activities is much broader than simple boards applications
Cons
The price can be quite high for small organizations and the learning curve to adapt to the tool is very great given all that can be done with this application. You need corrections in the web version has some bugs
Industry: Information Technology & Services
Company size: 2-10 Employees
Used

Daily

for

2+ years

Review Source
---
Swiftkanban Journey
I am using Swiftkanban since 2015, with a very good experience of use both internally and for our clients.
Pros
I like the simplicity and flexibility of the tool, in addition to the analytics it offers.
Cons
I would like it to have a native mobile version for push notifications and analytics reports.
Industry: Computer Software
Company size: 51-200 Employees
Review Source
---
Awsome Kanaban tool!!!!
Working on this tool for more than a year it cover all the aspects that are expected from a Kanban tool.Some of the feature are really unique and standout from the other products.The tool exceeds our expectation in many ways and would definitely recommend more people to use it.
Pros
Playback option is very unique and only tool providing the same.
The analytic provides a complete set of the components required to check the board progress.
UI is sleek and easy to understand.
Cons
There should be bulk option provided for various operations should be provided in the tool