About Autotask PSA
Autotask PSA is an IT business management platform consisting of a service desk, project management, account management, documentation management, time tracking and billing, contracts, resource management, inventory and procurement, and reporting. Autotask allows supervisors to configure workforce security levels and time off policies and use the dispatch calendar to handle service calls, to-do lists and appointments. The file protection portal lets administrators set up rules to handle data backups and file restoration, whilst maintaining compliance with HIPAA and SOC2 guidelines. Additionally, users can manage inventory across multiple locations and check item availability when creating new contracts, projects or tickets. Autotask facilitates integration with several third-party solutions, such as Quickbooks Online, leading RMMs, and more. Pricing is available on request and support is extended via live chat, documentation, email and phone.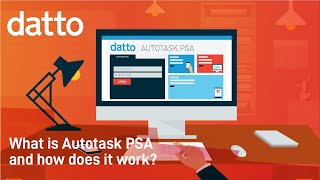 Autotask PSA does not have a free version and does not offer a free trial.
Alternatives to Autotask PSA
Company size: 11–50 Employees
Used

Daily

for

2+ years

Review Source
---
We use it daily and couldn't live without it!
We run our entire business out of Autotask. It does everything for us as an MSP.
Pros
Autotask is about automation. It makes ticketing and billing processes standardized and automated.
It has become our central repository for information. All service related issues, time spent, contracts, hardware, etc goes in there. I tell my team all the time, "If it doesn't exist in Autotask, it didn't happen."
Cons
Autotask support has historically been difficult, but is getting much better.
Reporting is very powerful, but also VERY difficult to get your arms wrapped around it. It isn't something you do on a whim. If you have time to spend with it, you'll get good data. If you don't have time to spend, make sure you pay for some Autotask consulting time to help you.
Industry: Information Technology & Services
Company size: Self Employed
Used

Daily

for

6-12 months

Review Source
---
Great for Large Teams
Overall I enjoyed using the Autotask PSA for most things, but it was not a good fit for the team I was working with.
Pros
Autotask PSA is a great option for large teams. It is fully customizable, offers a wide array of features, and has an excellent, hands-on onboarding process. It is a great option for large teams.
Cons
This software required quite a bit of manual set up for tasks I needed -- things such as automatically sending emails to clients on ticket updates, changing fields from required to not required, etc. For a very small team, onboarding was a bit onerous.
Reasons for Choosing Autotask PSA
The team was looking for a PSA that integrated with an RMM.
Reasons for Switching to Autotask PSA
The RMM was the main draw, the fully integrated PSA was a perk.
Industry: Information Technology & Services
Company size: 11–50 Employees
Used

Daily

for

1+ year

Review Source
---
If ticket communications are critical, Autotask is woefully under developed.
Very frustrated our initial efforts to emphasise specific requirements around integrated messaging from tickets received assurances and poor demonstrations misleading our understanding of the numerous product limitations. Search functionality of the UI is also lacking and with no option to write or save your own queries we have to submit a feature request to community in the hope of just making common variables such as Website or Contract names accessible from the search form. The fact that Kaseya doesn't even use Autotask is definitely noteworthy.
Pros
The online chat support staff were both knowledgeable and accessible during regular business hours in New Zealand and in my opinion represent one of the more compelling values of the platform.
Cons
Email handling functions are woefully out of date. As an MSP providing contract ICT Support for customers it is absolutely essential that we be able to interact with third party vendors on matters related to numerous types of issues where the customer contact does not need to be involved. These issues can be related to licensing, security, cable contractors, etc. In my previous experience with other products such as Request Tracker, FreshDesk and FreshService, ZENdesk, and even Spiceworks, this has never been an issue -- all supported the basic feature of being able to email and receive a reply back as internal update on the ticket. I made concerted effort to spell this out as clearly as possible to during the initial pre-sales demos and was misled to believe Autotask wouldn't be a problem here. Now we are losing track of significant amounts of key communications being documented in our tickets because of this.
Industry: Information Technology & Services
Company size: 2–10 Employees
Used

Daily

for

2+ years

Review Source
---
Autotask is great!
Overall, autotask is awesome. I highly recommend to tech teams that need help with customer management and ticket visibility.
Pros
Autotask makes it easy to keep track of customers, contracts, tickets, and all communication to and from a customer. The portals make ticket queues simple to manage.
Cons
I do feel like Autotask could have a bit more automation and integrations. An SMS tool would be nice.
Industry: Computer & Network Security
Company size: Self Employed
Used

Daily

for

1-5 months

Review Source
---
Good Software... Need Help to understand it
The integration with Datto RMM is a plus. They work hand in hand. I am able to track my clients and time I spend doing tasks down to the minute.
Pros
This software has been great. It took me a while to get the hang of it. I am still learning the ropes, and I am into it for 2 months now. The staff has been very helpful in getting me onboard. I have not used all of my included support call time yet.
Cons
The learning curve is steep. You are only allowed 3 hours of free phone support to get started. Be careful with utilizing it to the fullest.