About ChannelAdvisor
ChannelAdvisor (NYSE: ECOM) is a leading e-commerce cloud platform whose mission is to connect and optimize the world's commerce. For two decades, ChannelAdvisor has helped brands and retailers worldwide improve their online performance by expanding sales channels, connecting with consumers, optimizing their operations for peak performance, and providing actionable analytics to improve competitiveness. Thousands of customers depend on ChannelAdvisor to securely power their sales and optimize fulfillment on channels such as Amazon, eBay, Google, Facebook, Walmart, and hundreds more. For more information, visit www.channeladvisor.com.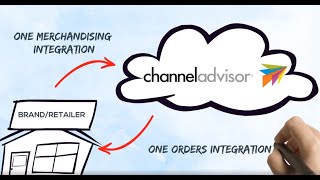 ChannelAdvisor does not have a free version.
Alternatives to ChannelAdvisor
Industry: Consumer Electronics
Company size: 51-200 Employees
Used

Daily

for

6-12 months

Review Source
---
BlueBoard = Love
Overall, I've had nothing but an awesome experience with BB, it's made my morning so much easier and more reliable and I've gotten so many new people at our company using it now, thanks to the CES visit we had from you this year. Thank you all, so much!
Pros
BlueBoard has not only changed the way I monitor MAP pricing online, but has also reinvented the way our Marketing Team can see product reviews from customers and allows our sales guys to see whether product are well stocked enough. It's amazing!
Cons
There are quite a few updates that happen, which is great, but I wish that there was a pop-up mini tutorial each time something changed to show me how to manage my page the new way. For example, I spoke with customer rep. this morning (he's the best!) and had to ask him where to find a group of filtered products I had set up because the filter aspect of BB had changed.
Response from

BlueBoard.io

Hello Kristyn, thank you for your super nice comment!
We're glad we could steer your workflow towards more productivity.
We'll strive to better communicate about our frequent updates to make sure no one gets lost!

Replied 28/8/2018
Industry: Retail
Company size: 11-50 Employees
Used

Daily

for

1+ year

Review Source
---
Powerful software but Expensive and hard to learn
The software is built with a long term vision but they should make it more affordable by offering it at a lower price to more customers. They also need to provide more guidance in the best way to implement the software
Pros
Very customizable, has a beautiful interface, and is built with powerful features including rules, look up lists, limitless product attributes, data mapping, and more. Also has great features for each marketplace, including Amazon Advertising with automatic bidding and rules, repricing, a price gird which shows your price and competitors offer and your sales history which is great for monitoring your competitors in one dashboard
Cons
TONS of setup work. I spent almost a year setting up all the different features and rules for my business. Zero guidance is provided on best way to setup your system. support is slow, sometimes taking 3 days to respond to a ticket. help pages are not detailed. product is way more expensive then cheaper alternatives such as Ecomdash.
They dont have an easy way to integrate with quickbooks or other accounting software, SellerCloud does.
Response from

ChannelAdvisor

Moshe,
Thank you for this valuable feedback. We're glad to hear that you found a solution with ChannelAdvisor that allowed your business to excel. We know you have a choice, and we want you to know we appreciate the chance to work with you.

Replied 25/9/2019
Industry: Furniture
Company size: Self Employed
Used

Daily

for

2+ years

Review Source
---
Good software but not the best company
All in all it is good software but not the best company to work with.
Pros
CA is probably the best solution in the marketplace for sellers wanting to offer goods on multiple marketplaces. The software is comprehensive and relatively easy to learn and use. It is also stable with few day-to-day problems.
Cons
It is also the most expensive solution out there (by far) and they require a one year contract. In addition, they are not easy to break away from when the contract expires. They continued to charge us even after our contract expired and forced us to go through our bank and credit card company to recover the extra charges. We also found them very inflexible. You pretty much have to accept it is their way or the highway.
Industry: Consumer Goods
Company size: 11-50 Employees
Used

Daily

for

6-12 months

Review Source
---
Seems like a great product but project support is abysmal
The tool seems great and works well once properly configured. Lots of room to grow the business on to new platforms easily once properly configured, You will still need a lot of focus on the process and business logic required to create your initial feed, particularly where it comes to product pricing.
Pros
It allows us to get onboarded onto multiple market places easily with a single data feed and powerful rules engine. We can grow into solution as well.
Cons
The project and onboarding support has been dreadful. You are on your own. But that might be for the best as most of the good staff seem overworked and the rest don't seem to care. Make no effort to understand you business and ensure the tool is properly configured so you might as well just take the basic onboarding package and do it all yourself.
Response from

ChannelAdvisor

Dear Martin,
Thank you for bringing your concerns to our attention. We've made a note of your message and shared your concerns internally. Please know, we are always looking for ways to improve our Services and our customers' experience, so we appreciate your feedback. We know sustaining an e-commerce business can be a challenge, which is why we strive to provide each customer with the best solution for their business needs. If you have additional concerns with cases you have submitted, please reach out to your Account Manager directly. On behalf of our entire team, thank you for being a ChannelAdvisor customer.

Replied 17/11/2020
Industry: Retail
Company size: 51-200 Employees
Used

Daily

for

2+ years

Review Source
---
If you sell on more than one marketplace, you need this software
We needed to solve a labor issue of trying to post a product/SKU on multiple different marketplaces without having to go to each one and use their particular interfaces.
Channel Advisor simplifies all of that, and allows us to mainstream our postings from a central repository.
Also, CA manages inventory across all channels, so you don't run the risk of overselling.
Built in repricing tools let you automatically adjust your pricing to match marketplace trends and win the sale within your guidelines. Business rules let you be as complex as you want in defining those guidelines.
Overall, this is an extremely robust (and scale-able) system that allows you to customize and manage listings, pricing, inventory and more from one place.
Pros
Incredible versatility, allowing us to list a large catalog of products across multiple marketplaces with minimal effort.
Centralized and customizable product data management allows for maximum exposure with minimum labor.
CA keeps up with all the latest requirements and mapping changes from each marketplace, so you don't have to.
Cons
My only con for this software isn't the software itself - it's the support.
Support requests can take a long time to get addressed/resolved. Almost all have to be escalated, which takes days if not weeks.