About Genesys Cloud CX
Genesys Cloud CX creates fluid conversations across digital and voice channels in an easy, all-in-one interface. Designed to provide exceptional experiences for your customers and employees, it deploys quickly, is intuitive to use, and continuously innovates with upgrades each week. Genesys Cloud CX simplifies how you connect with customers by providing all the context you need to deliver more personalized experiences. The all-in-one application empowers your teams with an easy-to-use tool to boost performance. Real-time dashboards and up-to-the-second analytics provide the insights you need to run your business—no matter where your agents are located or which channels they handle. Build stronger relationships with your customers by employing the latest innovations in AI, digital channels, voice, and workforce engagement — and transform your contact center into an experience center.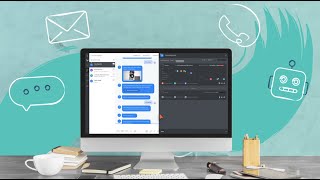 Genesys Cloud CX does not have a free version but does offer a free trial. Genesys Cloud CX paid version starts at US$75.00/month.
Starting Price:
US$75.00/month
Alternatives to Genesys Cloud CX
Industry: Financial Services
Company size: 51-200 Employees
Used

Daily

for

6-12 months

Review Source
---
99% Sunny and Hot with the odd occasional downpour
The overall experience we have had is a great one with a few niggles I would say to describe the downsides. The main experience moving past the building and testing stage into full BAU was another great experience as the support during the early stages was nothing less than exemplary. The issues that abounded with our previous dialler software supplier have now been remedied by our decision to align our business with the Genesys product Purecloud. We are now investing our time and efforts to implement Pureclouds growing functionality to unify our communications Chat, Email, SMS and Social and integrate these with the voice channel to improve the customer journey everytime they wish to communicate with us.
Pros
The ease of use when building the infrastructure to run all the different brands and departments here at Grove & Dean, the stability of the Platform as we are open 24/7 and have only a small team in support of the system. The ease of use, for the agent with the simple yet full featured agent interface and desktop environment. The roll out of new features or improvement of existing ones, the visionary updates from the Genesys senior team and the ability for the users to influence the shape of the platform through the ideas Lab and the fact that they "LISTEN" to the users. Lastly, which is not really a software benefit, the community of users that are sharing their experiences for the greater good for all.
Cons
The support post "LIVE" - Processes too long, lack of knowledge and experience in the first line support team, no immediacy, solutions not always valid and some of the Self Service referral techniques support attempt to use to justify their solutions.
Industry: Financial Services
Company size: 51-200 Employees
Used

Daily

for

1+ year

Review Source
---
Breath of fresh air vs historical telephony systems
The software uptime is an industry leader, with no consistent downtime problems since starting with the service. Which is worlds away from our previous experiences with downtime being seen at least once a month with a large agent / customer detriment because of this.
Pros
Ease of use. The GUI is clear and concise on both and agent and Administrator level.
Cons
The workforce management side of the software still requires a lot of work. There is too many interweaving layers to be able to produce an easy to use schedule for our agents.
Reasons for Choosing Genesys Cloud CX
The historical system was clunky, unreliable with a very sub-par support channel. This was culminated with the system owners choice of decommissioning the telephony platform we had used with them shortly after our contractual obligations had ended.
Reasons for Switching to Genesys Cloud CX
The cost benefit analysis and uptime SLAs could not be matched against any of the other products at hand.
Industry: Automotive
Company size: 51-200 Employees
Used

Daily

for

1+ year

Review Source
---
Not a Big Fan
Overall, my experience with this software is mostly negative and I don't know if I'd recommend it to other companies who are looking for a reliable piece of software they can use everyday.
Pros
Once you are familiar with the best way to search for calls and how to utilize a call page to get information then the software is easy enough to use. In terms of profile information for agents it works well. I think the Queue activity is a good function of the software and allows me to monitor the status of inbound calls easily enogh.
Cons
I feel like I get inaccurate info with this product. For instance, the duration of calls is never accurate (I mean never). Many times the agent who actually conducts the call does not appear on the list when searching for a call and the timeline can be inaccurate too (not all the time though).
My main issue with Purecloud's system is just how often it crashes. I rely on this system daily in order to monitor my agents and I will sometimes need to quickly jump into a call in order to gather info, only to ve given a message that the call data could nto be loaded. I may be understanding if this is the case for a call that JUST ended, but when it's a call from days ago then we have a problem.
Response from

Genesys

Thank you for sharing your experiences of using PureCloud and I'm sorry you have had some issues. We cannot contact you directly as you have posted anonymously but we really would like to connect to drill down further into the points you have highlighted and see what can be done to improve matters. Please contact me directly at [email protected] (Director of Customer Marketing) and I will be happy to escalate your issues. Thanks, Lara Booth

Replied 6/9/2018
Industry: Banking
Company size: 10,000+ Employees
Used

Daily

for

2+ years

Review Source
---
Genesys Pure Cloud
Pros
It is easy to use this product it is like a rock
Cons
Price policies are not flexible and scalable.
Reasons for Switching to Genesys Cloud CX
We use also genesys onprime we have also know how about the genesys.
Industry: Consumer Services
Company size: 10,000+ Employees
Used

Daily

for

1+ year

Review Source
---
GC in CSC
Overall I would say GC is a very up-to-date tool which provides most of the things Customer Service Center needs. During 2 years of experience we have faced only 1 unplanned downtime and just a few integration issues which is very important to run 24/7 customer service.
Pros
As in our Customer Service Center the biggest volume of users are the agents, the ease of use and friendly interface are one of the most important things for us. Learning from the past and systems we used, we have made a good decision to start working in Genesys Cloud. It improved our real-time management which has a huge impact on SLA and agent availability.
Cons
We were aiming to use internal chat functionality within GC but it wasn't adjustable and it didn't fit our company needs due to security risks we found in it. For a huge company like ours, the internal chat isn't the recommended option because you can't filter/categorize people within your organization