About FoodDocs
FoodDocs helps to create and maintain food safety management systems with minimum effort. The automated setup helps you switch to digital food safety in only 15 minutes. The solution helps the customer to spend less on compliance and staff training and to make sure that all business units are following the same HACCP system. Create a HACCP plan in 1 hour without a food safety consultant. A real-time food safety dashboard helps you to stay compliant and save 20% of the time you spend on supervising. FoodDocs has more than 15,000 customers from 60 different countries who confirm that this solution helps them to save at least 1 working day per week on food safety-related actions.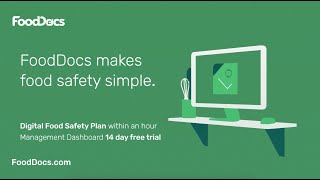 FoodDocs offers a free trial. FoodDocs paid version starts at US$99.00/month.
Industry: Food & Beverages
Company size: Self Employed
Used

Daily

for

1-5 months

Review Source
---
FoodDocs in Estonia for a home kitchen business
Pros
Customer Support was extremely helpful. Graphics made the process easy to follow. Design is clean and simple. The program automates a huge amount of paperwork which would be very hard to organize otherwise.
Cons
I think that the cost of the product is too high for a small business being operated by one person. I ran into some bugs with daily logging activities.
Response from

FoodDocs

Dear Kanchi,

Thank you for your feedback. We are delighted to have you on board FoodDocs!

Our best wishes to you for starting your business.

With kind regards,
Galina from FoodDocs

Replied 5/5/2021
Industry: Food & Beverages
Company size: 11-50 Employees
Used

Daily

for

1-5 months

Review Source
---
Game-changer
As I recently launched a small business I had to learn all the ins and outs it requires to keep a small restaurant operating. State guidelines are always be updated and it's very satisfying to not worry of missing anything. This also helps speed up any compliance documentation I have to do as well as make an easy plan formatted on the program.
Pros
This software took away the headache of researching state guidelines requirements and saved me so much time. Customer service is always available to help promptly when necessary and this program makes my job and life so much easier.
Cons
Can be confusing for first time users, as with anything. But it took one day to get set up and familiar with this program I would recommend to beginner business owners or managers.
Reasons for Switching to FoodDocs
price
Industry: Restaurants
Company size: 2-10 Employees
Used

Weekly

for

6-12 months

Review Source
---
Recomended
Overall experience is good
Pros
As a small catering company, the most I like is the ability to create a Self Control plan from zero and in English. Also, It seems that monitoring will save a lot of time
Cons
Once getting familiar with the software, it seems that tasks are easy to accomplish.
The least likely is that the software seems to work better with google chrome and not my regular browser.
The monthly price is an issue for small companies like mine.
Industry: Food Production
Company size: Self Employed
Used

Daily

for

1-5 months

Review Source
---
FoodDocs is the future
I have had an excellent enjoyable overall experience with the FoodDocs team
The team here explain everything in detail, answer all your question and ensure you get the best service and top-class customer service which is tailored to you and your companies needs and requirements.
[SENSITIVE CONTENT] assisted me throughput and i could not have asked for anyone better, her customer service was impeccable, she was polite and always willing to help.
Pros
It provides you with all the necessary information, documents and processes needed to ensure the safe and effective running keeping your company compliant and up to date.
This software is very responsive and easy to use. I particularly like the graphic user interface and its easy-to-use layout. I would recommend FoodDocs to any upcoming, new or established companies. P.S they have an amazing team
Cons
I liked everything everything about the software I have no complaints.
Industry: Food Production
Company size: 2-10 Employees
Used

Daily

for

1-5 months

Review Source
---
This has taken the worry out of documentation in more ways than expected
A joy from start to finish.
Pros
It's really intuitive. Everything you want is there and if it's not there, the team are super responsive in getting it sorted. It is so easy to get your employees to use this and actually enhances their ability to keep accurate records. From a management perspective I now see our documentation as something to admire rather than an onerous burden to be constantly worried about.
Cons
It would be good to be able to set language/region settings universally (this might actually be possible, I haven't really looked)
Response from

FoodDocs

Dear Hugh,

Thank you for your feedback. We are delighted to have you on board FoodDocs!

After the recent release, users can set language/ region/ system of volume, weight temperature units.

Let's keep it up :)

With kind regards,
Galina from FoodDocs

Replied 5/5/2021