About ActiveCampaign
ActiveCampaign's category-defining customer experience automation platform (CXA) helps over 130,000 businesses in 170 countries meaningfully engage with their customers. The platform gives businesses of all sizes access to 500+ pre-built automations that combine email marketing, marketing automation and CRM for powerful segmentation and personalization across social, email, messaging, chat and text. Over 75% of ActiveCampaign's customers use its 850+ integrations including Microsoft, Shopify, Square, Facebook, and Salesforce. Pricing starts at just $9/month. - Automate personalized experiences across all your customer touchpoints - Track buyer preferences, behavior, and many custom attributes across the entire customer lifecycle for deeper segmentation and more effective outreach - Customize sends based on almost any parameter, so your messages are always targeted for the right audience - Use data from the entire customer lifecycle to choose the best content, send time, and delivery channel for each customer - Create entirely customized campaigns with minimal effort, then improve your send strategy in real time based on customer behaviors - Replicate the 1-1 personal experience for every customer, no matter how big your business gets ActiveCampaign offers free customer service, including live chat and phone support, a self-help knowledge base and complementary data migration from other programs. It also offers one-on-one consulting, expedited support and free custom design services for enterprise customers.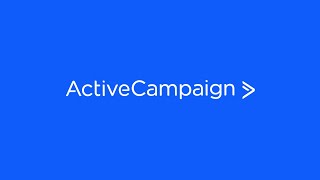 ActiveCampaign does not have a free version but does offer a free trial. ActiveCampaign paid version starts at US$15.00/month.
Starting Price:
US$15.00/month
Alternatives to ActiveCampaign
Industry: Marketing & Advertising
Company size: 2–10 Employees
Used

Daily

for

2+ years

Review Source
---
Activecampaign Best email marketing software
My overall experience has been very good. It has excellent customer service when you have problems. In digital marketing we use it every day and it is necessary to have an easier way to do reports / analysis, and ActiveCampaign is difficult to read the reports, also at the beginning it is difficult to use the platform in the first weeks.
Pros
It is an excellent platform, the CRM is very intuitive and the follow-up it gives to customers through automations is excellent, it is capable of sending automated emails or mass emails, since it has some add-ins that are very much in line with the job. . I am dedicated to digital marketing and this system has been very useful for me to be able to organize myself without the need for more paper or old Excel techniques. I highly recommend it for different types of businesses because it is also very adaptive to whatever you want to do.
Highlights are CRM and sales automation, marketing reporting and analytics, contact management, and A / B testing
Cons
It is difficult to use at the beginning, I would say that it has a learning curve of medium difficulty
Reasons for Switching to ActiveCampaign
I chose ActiveCampaign because it is the most complete of all email marketing software on the market at an affordable price.
Industry: Information Technology & Services
Company size: 11–50 Employees
Used

Daily

for

2+ years

Review Source
---
A good all-rounder
Active Campaign is our one stop hub for our sales and marketing activity so we have an almost global view of how our customers and and prospects are interacting with us - the exception is our help desk but I'm sure we could integrate that too if we really wanted to.
We use Active Campaign to track our:
- Sales team interactions - emails, including emails we send from our own inboxes, tasks and follow up tasks, and call records - as long as we enter them!
- We use it to send and tracks all the newsletter/marketing interactions and all our automated emails for customers on free trials.
- We also track key interactions with our own product (though an integration we built ourselves) so the sales team have a quick reference to important behaviours.
Pros
Moved to Active Campaign from Infusionsoft (2 years ago now, before they changed their name) and we were very satisfied at that particular time that Active Campaign was the superior product.
Good marketing and automation tools - which have also had a lot of investment and attention in the two years we've been using Active Campaign - as well as a solid CRM and lead/opportunity management dashboard.
We have the Enterprise Grade subscription which gives us access to a dedicated account manager. This was really useful in the first year and we had an excellent account manager at that time.
Cons
Active Campaign have really focused in recent years on the live / real time behaviour tools and giving users the ability to build extremely complex automations. For us though, we would prefer a bit more focus on improving the CRM and things that make contact and lead management easier - such as the ability to add follow up tasks from the (otherwise excellent) Gmail widget.
Industry: Marketing & Advertising
Company size: 2–10 Employees
Used

Weekly

for

2+ years

Review Source
---
A Great Tool for Agencies
I enjoy using AC, I like that I can set up my clients on any level of plan to include features that they need. I can then customize their account to their specific needs. For the most part my clients can use AC with minimal trouble to send email campaigns, manage contacts, etc.
Pros
I like that I can partner with AC as an agency and manage all of my clients through my account.
Cons
Some features can be buggy or glitchy. However support is usually able to sort it out.
Reasons for Switching to ActiveCampaign
Price was a factor but also features. I have different clients that require different functionality and I need one system to be able to provide it all. AC fulfilled those requirements for my agency.
Industry: Marketing & Advertising
Company size: Self Employed
Used

Daily

for

2+ years

Review Source
---
Strong Automation System & Ecomm DataLayer, Weak Support and Long Standing Bugs
Pros
Activecampaign sets the bar for building automations, with great sorting and filtering features including customer records, tags, lists, conditional rules/routing, e-commerce data such as purchases, crm pipelines and even a custom event layer. We have created very complex integrations for dozens of businesses ranging from E-Commerce stores, to Gyms to local businesses.
It's really simple to learn and use, and powerful enough to tackle even the most complex business processes. This includes in-store purchases on a POS to sending out emails or automation's based on purchases or LTV. It also supports multiple E-Commerce platforms natively, but be aware those features are nearly 4x the price to unlock after the trial.
Cons
After months of issues that resulted in one of our clients losing an excess of $40,000 in revenue, we can no longer recommend activecampaign. Poor support was to blame for this issue, with it being impossible to get someone on a call even though we pay 6 figures a year for service.
Activecampaign is growing really really fast. Because of this, They have pretty terrible support and there are also long-standing bugs that they seem to have no intention to fix. For instance, the system is supposed to generate previews for each automation's email steps and in various other places, but instance shows a broken image. We have inquired about this to the support to be told they are aware it's been broken for over a year and have no ETA or intention on repairing it. We have this problem on all our client's accounts(dozens), and it's a serious issue with UI/UX but they don't seem to care.
There are also some major logic issues, such as if you filter an automation to show anyone with 0 purchases, it doesn't work. We also inquired about this but got another non-response...
So basically, where it works, it works well but there are a few major issues and they don't seem intent on repairing them, even though they are steady releasing more features to add to their pricing tiers. Overall, it's hard to find another system that provides the ease of use, features, and value of activecampaign but the support and existing bugs are a nasty/necessary compromise.
Industry: Airlines/Aviation
Company size: 1,001–5,000 Employees
Used

Daily

for

2+ years

Review Source
---
Experience the Power of Automation with ActiveCampaign
Overall, ActiveCampaign is a great marketing automation tool. It has a lot of features, and the customer support team is always there to help. It can be a bit overwhelming for beginners, but once you get the hang of it, you'll be able to create powerful campaigns that engage your audience. The pricing is also very reasonable, making it a great option for most businesses.
Pros
ActiveCampaign is an amazing tool for automating your marketing campaigns. It makes it easy to create, manage and track multiple campaigns with its simple and intuitive interface. You can set up automated emails, create segmented lists, and even use its powerful analytics to track the performance of campaigns. The customer support team is always there to help, and the pricing is very reasonable.
Cons
The only downside to using ActiveCampaign is that it can be a bit overwhelming for beginners. It has a lot of features, and it can take some time to learn how to use them all. Additionally, the reports are not as detailed as some other services, so it may be hard to get a full picture of how your campaigns are performing.