About ActiveCampaign
ActiveCampaign's category-defining customer experience automation platform (CXA) helps over 130,000 businesses in 170 countries meaningfully engage with their customers. The platform gives businesses of all sizes access to 500+ pre-built automations that combine email marketing, marketing automation and CRM for powerful segmentation and personalization across social, email, messaging, chat and text. Over 75% of ActiveCampaign's customers use its 850+ integrations including Microsoft, Shopify, Square, Facebook, and Salesforce. Pricing starts at just $9/month. - Automate personalized experiences across all your customer touchpoints - Track buyer preferences, behavior, and many custom attributes across the entire customer lifecycle for deeper segmentation and more effective outreach - Customize sends based on almost any parameter, so your messages are always targeted for the right audience - Use data from the entire customer lifecycle to choose the best content, send time, and delivery channel for each customer - Create entirely customized campaigns with minimal effort, then improve your send strategy in real time based on customer behaviors - Replicate the 1-1 personal experience for every customer, no matter how big your business gets ActiveCampaign offers free customer service, including live chat and phone support, a self-help knowledge base and complementary data migration from other programs. It also offers one-on-one consulting, expedited support and free custom design services for enterprise customers.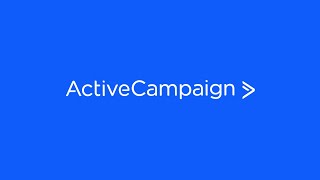 ActiveCampaign does not have a free version but does offer a free trial. ActiveCampaign paid version starts at US$15.00/month.
Starting Price:
US$15.00/month
Alternatives to ActiveCampaign
Industry: Marketing & Advertising
Company size: 2-10 Employees
Used

Daily

for

2+ years

Review Source
---
My go-to software for email & marketing automation
Great, I recommend it.
Pros
I recommend AC to all my clients because there's nothing better that can easily integrate with 3rd party tools and create the automation I want for my funnels.
Cons
Learning the software was a bit tricky and felt overwhelming, but once you know how to use it, it's smooth sailing afterwards. There have also been a few bugs around unsubscribed still receiving emails or automation sometimes not fully working properly with emails sending or not sending but it's fairly rare.
Industry: Media Production
Company size: 11-50 Employees
Used

Daily

for

1+ year

Review Source
---
A Reliable Email Marketing Platform
The price of ActiveCampaign can be prohibitive for some users and the learning curve can be a bit steep for those who are unfamiliar with email marketing. Additionally, there are some features that are not available in the basic package but can be unlocked with a paid subscription.
Pros
ActiveCampaign is a fantastic email marketing platform with a great set of features. It is easy to use, and the intuitive interface allows you to quickly set up campaigns, track performance, and make changes on the fly. The reporting features are robust and the ability to segment customers and target specific lists is invaluable.
Industry: Professional Training & Coaching
Company size: 2-10 Employees
Used

Weekly

for

1+ year

Review Source
---
It Gets the Job Done, but Pretty Clunky- If You Have a Better Option, Please Refer
ActiveCampaign is helpful in growing and managing my list, but the functionality of the main function- sending emails- is kinda trash.
Pros
The lists and tags and managing the lists are very helpful in knowing who's interested in what I have to offer. Also, the open and clicks rate/management is very helpful with this, as well.
Cons
Drafting campaigns is EXTREMELY difficult. Formatting, having consistent fonts, fonts and font colors showing up one way when you craft the email, but showing up completely differently in the preview, and then a completely OTHER way in the test email. It's just very clunky, and I'd prefer another software.
Industry: Food Production
Company size: 2-10 Employees
Used

Daily

for

1+ year

Review Source
---
CRM Automation and Campaigns
Since we have perfected our CRM system, promotional campaigns in general, encompassing various aspects, their management has been so much simpler, both to evaluate their receptivity, as well as simpler aspects of design and the message itself. Evaluating these aspects is important to attract potential customers and ensure that they can find loyalty in our product. Not only with this, without a doubt we got great results thanks to a much more automated system, where we have been able tocover more and fulfill our tasks with greater speed and efficiency. The marketing team is using ActiveCampaign as the number one tool in daily work, since it brings practicality to promotional campaigns and greatly facilitates the sales funnel, categorizing each function we need to do by steps and undoubtedly boosting the results a lot, beyond what was expected. It has given us the facility to manage our information at our convenience, carry our exhaustive follow-up and issue newsletters that give us a complete overview of the work we are doing and see from the front page how we achieve our objectives in less than the expected time.
Pros
ActiveCampaign takes our marketing management to the next level, with its extensive interface it is possible to adapt the configuration of sending marketing campaigns, managing every little detail, thanks to its varied templates we can capture our main idea and make our message come through clearly and exactly how we need it. A/B tests allow us to test that our message is working perfectly and to be able to launch it to the public. Likewise, integrating social networks is essential for a broader management of marketing campaigns and the commercialization of our product, in addition to multichannel marketing it is possible to cover much more and put our eyes on a greater range of visualization. It is the perfect platform to plan and manage our content, perfect our ideas, and send a much more solid result, as well as interact with our clients in a more direct way, perfecting the CRM system by getting what each potential client wants to receive from us. Automating the sending of emails in the search to eliminate spam messages and that our emails are received more directly in the inbox, ensuring the reading of our campaign.
Cons
It is a tool with a complete interface, however, at the same time I can highlight that it can be too dense and complicated to use, it is not very intuitive and makes the process a bit more tedious than expected. In the same way, the search through filters is not as precise as possible, sometimes we need to find something in specific and we cannot, so it would be ideal if it were more accurate.
Reasons for Switching to ActiveCampaign
We considered to implement Salesforce Marketing Cloud but found that it did not adjust to our budget very well.
Industry: Online Media
Company size: Self Employed
Used

Daily

for

6-12 months

Review Source
---
Best decision I every made for a marketing tool
Pros
Automation, Campaigns and Websites are my favorite things in Active Campaign. I simply love creating a new automation to nurture my potential customers. Its easy to use, absolutely logical and you can do EVERYTHING within the automation. I like the handling of the contacts, the overview.
Cons
I would love a better design editor, in which you can design some fancy influencer style emails. Thats a little pain everytime I design an email.
Reasons for Choosing ActiveCampaign
Because active campaign is more intuitive and I get more for my money
Reasons for Switching to ActiveCampaign
As I said I think active Campaign has everything I wanted in an email marketing tool