About AWeber
AWeber provides online marketing services for small businesses. They provide marketing solutions to help you - Grow your email list - Increase website traffic - Monetize your content - Sell your products or services - Automate your emails All from a single platform. AWeber makes marketing easy (and fun). Here's how: 1. GROW YOUR EMAIL LIST Collect email addresses with the landing page and sign up form builder. 2. INCREASE YOUR WEBSITE TRAFFIC Use the web push notifications to send short messages straight to a subscriber's desktop with a link to your website. Send email communications to promote your latest news, offers, or content. 3. MONETIZE YOUR CONTENT Set up ecommerce landing pages to accept monthly, quarterly, or annual subscription payments. 4. SELL YOUR PRODUCTS OR SERVICES Sell your product, service, or a subscription using the ecommerce element in the landing page builder. Promote your product or service and collect payments through Stripe, Etsy or PayPal. 5. AUTOMATE YOUR EMAILS Automatically send an email after someone signs up for your list, makes a purchase, abandons their cart, or interacts with your email. 6. GET MORE VIDEO VIEWS, ONLINE STORE SALES, BLOG TRAFFIC, PODCAST DOWNLOADS With AWeber's Auto Newsletter, you can easily and automatically send emails to your subscribers so they never miss your latest videos, podcasts, blog posts, products, music, courses, again. For over 20 years, AWeber has been a market leader helping over one million entrepreneurs, side hustlers, and businesses of all sizes grow with email marketing and other sales tools.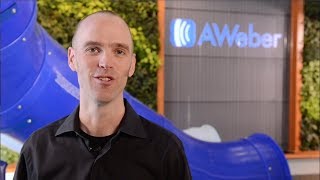 AWeber has a free version and offers a free trial. AWeber paid version starts at US$0.00.
Industry: Marketing & Advertising
Company size: 2-10 Employees
Used

Weekly

for

2+ years

Review Source
---
Aweber is the prefect email service for beginning and advanced marketers
I have several clients using Aweber, and they love it. Aweber does have a learning curve, but it is well worth taking the time to learn how to use it.
Pros
Aweber is designed for marketers. It has a great automation system with many advanced features, like "if/else" and segmentation, that are well worth investing the time to learn. It is a great service for online marketers looking to make the next step. The telephone support is very helpful.
Cons
Aweber usually costs more than other services, but it is usually worth spending the extra money because it provides benefits like 24/7 telephone and chat support.
Industry: Marketing & Advertising
Company size: 2-10 Employees
Used

Daily

for

6-12 months

Review Source
---
The Aweber Review
Great autoresponder for digital marketing/ affiliate marketing professionals. Your potential to grow and maintain active lists is entirely up to your competencies.
Pros
Aweber provides great email templates with superb integration with other top tier programs. It even offers email marketing training and split testing functionality.
Cons
The only con I can think of is that the price increases dramatically as your list size increases. However it still remains very competitive with other autorepsonders.
Reasons for Choosing AWeber
Mailingboss is a part of the Builderall system that I used before. Aweber also provides better looking and better integrated templates.
Reasons for Switching to AWeber
I found it was a lot more user friendly and offered a great 30 day trial with which to test the product with.
Industry: Health, Wellness & Fitness
Company size: Self Employed
Used

Weekly

for

6-12 months

Review Source
---
Has everything but hard for beginners
Pros
Aweber has everything I need for my small business and much more! It's an easy go to because I can do so many things through it
Cons
As a beginner and no email marketing experience it's overwhelming to start using. I wish was more streamline. I didn't know I needed a new list and email automation for every landing page or freebie. I had 5 things attached to one list. Whoever develops Aweber they need to look at their system as "Aweber for dummies". If the developers looked at their systems that way and created the system for the newbies its functionality would highly improve. The left side of options are too many and not described enough.
Industry: Health, Wellness & Fitness
Company size: 2-10 Employees
Used

Weekly

for

2+ years

Review Source
---
Aweber Review
I love that we can have automation when someone opts in to an offer we can have a series of emails to send out to them on a consistent basis. Also is great to send out a blast periodically to all clients/patients at once to keep them informed of announcements or offers.
Pros
It's relatively easy to use and also integrates with most other platforms that I use. It's well known and has been around for many years. It's one of the simplest email marketing software that I have used so far. I like the fact that they are continuously improving the product.
I like the drag and drop builder. Easy breezy!
Cons
There is nothing that I don't like. It is a great product.
Reasons for Choosing AWeber
I felt like Aweber offered more options and integrated with more platforms. Also, at the time, they didn't have double opt in feature.
Reasons for Switching to AWeber
Reasonably priced and most popular.
Industry: Professional Training & Coaching
Company size: Self Employed
Used

Weekly

for

1+ year

Review Source
---
Came back to Aweber
I was an Aweber customer for several years and left to try other competitors. Even though some competitors were a little less monthly cost, they probably cost me more in the long run because of the time wasted in frustration. Aweber works seamlessly with my OptimizePress Smart theme. I enjoy the peace of mind again.
Pros
I love the ease of integration with other platforms. I used Aweber for several years and left to try other low-priced autoresponder services. I learned my lesson. I came back to Aweber recently. They are the best.
Cons
I have no negatives to list. It's the easiest, most intuitive service I have used.
Reasons for Switching to AWeber
I felt Aweber was easier to use and very affordable.