About Simpro
Simpro is a powerful job management software solution created by trade contractors, for trade contractors. If your business struggles with quoting multi-stage projects, managing inventory, communicating with technicians, or any other areas of your workflow, Simpro provides a streamlined platform to address your pressing challenges all while helping you increase productivity and profits. More than 250,000 field service professionals in the commercial and residential spaces trust Simpro for workflow management. Simpro combines cloud-based software for the office with mobile apps for technicians for superior office to field connectivity. Simpro is a top-rated choice in the field service industry due to easily-accessible customer support, online help guides, in-depth implementation and training, and consistent software updates that are tailored to customers' needs. Additionally, Simpro connects with QuickBooks and Xero for streamlined accounting and job management.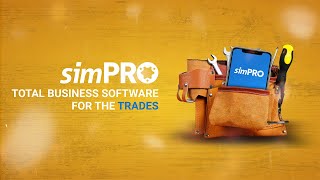 Simpro does not have a free version and does not offer a free trial.
Industry: Accounting
Company size: 1,001–5,000 Employees
Used

Daily

for

1-5 months

Review Source
---
the ideal software for project management.
I recommand this sofware because it's really helps to get project done very quickly
Pros
Simpro is an excellent software for project management. it embeds features such as estimation, planning, execution of tasks, inventory management. it's really a complete and quite easy to use software.
Cons
I have to use it at least for 3 pojects to get my hands on it.
Industry: Construction
Company size: 11–50 Employees
Used

Daily

for

2+ years

Review Source
---
Comprehensive Solution
Implementing simPRO is one of the more significant reasons for our growth over the past five years. Having visibility into job costing throughout the project rather than just when the project is finished, has allowed us to spot and react to project issues earlier. The ability to view a project from start to finish, including all job purchases, labor entries as well as customer invoices and the status of payments, has liberated management to concentrate on more strategic issues to drive growth and improve overall.
Pros
I like that we can track a job/project through the entire process starting with Lead Generation to creating an Estimate and then converting the estimate into a Job/Project all the way through to the final invoice. All stages of the project life cycle can be tracked and job-costing is a breeze because all job Purchase Orders, technician time sheets, etc. are visible.
The inventory management capabilities are a significant improvement over our previous methods. Having all of our vendor's products entered into the Catalog with visibility into our current on-hand inventory makes things more efficient during the estimating process and provides means of controlling how and when materials are assigned to jobs.
Cons
The user interface can be improved a little to make accessing information a bit more intuitive. It is not difficult by any measure, but I would like to see more flexibility and drag-and-drop capabilities - especially with the estimating portion.
Reasons for Choosing Simpro
CW is designed more for Managed Network Service companies so although it did do a decent job with work orders and time entry, it was not effective at managing our materials inventory.
Reasons for Switching to Simpro
I liked the fact the the software was initially conceived and developed by someone that had experience as a contractor. Since many contractors share the same pain points related to tracking and controlling job costs, I felt that these would be addressed more effectively than a software developed for a generic audience or industry.
Response from

Simpro Software

Hi Tim, thanks for your review! We're happy to hear that simPRO has contributed to your business growth. If you run into any issues or need any help with simPRO features, reach out to our Customer Support team or visit the simPRO Help Guide: https://helpguide.simprogroup.com.
Best, Team simPRO

Replied 10/10/2019
Industry: Construction
Company size: 11–50 Employees
Used

Daily

for

6-12 months

Review Source
---
Customer Service is horrible, lots of broken promises.
Our experience with Simpro started out great. The sales person promised us the world and we bought in. The onboarding process was partially hampered by Covid so the whole process was done online. We worked our way though that and started to use the program. We even switched our accounting software to one that was compatible with their system. A lot of the features that they promised to be seamless were not and I kept getting told that it would get better and that they would work on it. The tax features were not compatible in Canada, even though we were assured numerous times that they were and when they finally admitted that they weren't they promised they would fix the issues. We limped along with the software for about 6 months all the while being promised that the issues were being fixed. During this time we saw a definite drop in revenue, that corrected itself when we cancelled the software. We eventually got in contact with upper management, they promised to work with us and make things right. Unfortunately that is all it was, promises that were never followed through on. After cancelling Simpro we were promised that they would keep in contact and even potentially talk about refunding some money. From that point on they refused to reply to emails or phone calls. Stay away. They only care about collecting your money and will say whatever they need to to do this.
Pros
The Quote features and catalogue worked well.
Cons
Time entering, looking back on jobs, live time costing
Reasons for Choosing Simpro
We were looking for a more encompassing CRM that would require less man hours to run
Reasons for Switching to Simpro
At the time thought it was the closest one to cover all of our needs.
Response from

Simpro Software

Hi there Russell,

Thank you for your candid feedback and details in regard to your experience with simPRO. We are deeply saddened to hear that you had a less than ideal experience with our software and team. We understand the implementation process can be a lot of work for your business. Our training process is robust and can take a significant amount of time, however, it is essential for long-term success with our software.

We are also disappointed to hear that you were not pleased with the experience you had with our upper management; serving our customers is a top priority of ours, and we want to make sure it is being showcased through all of our simPRO departments. We have reached out to your Account Management team to have them assist you in any way possible. Once again, we would like to sincerely apologize for any negative experience you have had, and we wish you all the best in your future endeavors.

Replied 16/5/2022
Industry: Security & Investigations
Company size: 2–10 Employees
Used

Daily

for

1-5 months

Review Source
---
Worth every penny!
Our workflow is much more efficient and all users can easily see the information they need to do their jobs. The implementation/set-up was essential in getting us up and running quickly and without the frustrations that can come with learning anything new. Our Implementation Consultant has been fantastic! I have been in contact multiple times with the Help Desk/Software Support and they are great too!
Pros
Rather than a cookie cutter software, we were able to build simPRO specifically for OUR company's needs. It is saving us more time than I ever imagined! It is user friendly from both the administration and technician standpoint. My technicians are actually excited about using simPRO because it is straightforward and efficient.
Cons
It has taken time to get it up and running just the way we want it, but that would be the case with any software.
Reasons for Choosing Simpro
Our previous field management software was too cumbersome to retrieve information and was limited in its functioning.
Reasons for Switching to Simpro
It was important to have a cloud-based system and one that would grow with our company.
Response from

Simpro Software

Hi Nichole, thank you for taking the time to review simPRO! We're glad to hear that your technicians have had a positive experience with our software. If you ever need help with any simPRO features, be sure to visit the simPRO Helpdesk (https://helpdesk.simprogroup.com/) to contact Customer Support or to access our Help Guide resources.
Best, Team simPRO

Replied 10/10/2019
Industry: Security & Investigations
Company size: 51–200 Employees
Used

Daily

for

2+ years

Review Source
---
Great Product for SMB
It is pretty good. The support improved with the transition from Australia to local US support. Things have sort of gone backward since rep left though and now the support isn't the same and I really believe that a lot of it has to do with the fact that rep had done so many implementations that he knew the different ways to skin the cat to achieve implementation objectives.
Pros
Ease of use, functionality, easy to scale up and down with the software.
Cons
I hate the fact that I cannot remove the ability by security group to download whatever is on the screen. This is a huge data info/sec problem. For a business product I should have the ability to limit employee's ability to download a CSV file from any screen effectively handing out my pipeline, customer list, etc to whomever they want. There should be some control for this and this is almost to the point where the product is unusable because of security requirements we have from our own customers.
Response from

Simpro Software

Hi Tyler, thanks for your feedback! We have contacted our US Customer Success team about your concern, and someone will be in contact with you to work through this. If there is anything else you need, please visit the simPRO Helpdesk (https://helpdesk.simprogroup.com/) to speak with Customer Support via phone or chats, or to access the Help Guide resources.
Best, Team simPRO

Replied 16/9/2019