About RingCentral Contact Center
RingCentral's leading cloud contact center offers skill-based routing, agent management, real-time insights, and more to empower your employees to deliver better customer experiences. With the right tools, your agents can meet your customers on any channel at any time. Do more with your customer support and upgrade your call center with RingCentral Contact Center. As the industry leader in cloud contact center software, empower your employees and deliver better service on any channel at any time.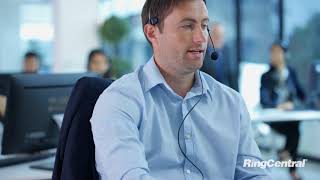 RingCentral Contact Center pricing
RingCentral Contact Center does not have a free version.
Alternatives to RingCentral Contact Center
RingCentral Contact Center Reviews
Industry: Law Practice
Company size: 2-10 Employees
Used

Daily

for

2+ years

Review Source
---
Very pleased
We have been very pleased with our use. Primarily we use this for faxes, and that has been great. My partner also likes to Text using a ring central number
Pros
This is an industry standard and has all the basic bells/whistles for communication control
Cons
the GUI could use some work. It is easy to use with mtiple folks, could be better
Industry: Professional Training & Coaching
Company size: 2-10 Employees
Used

Daily

for

6-12 months

Review Source
---
Great overall solution for call centers
Overall very satisfied with this program as it is a really complete solution; I worked 16 years in call centers and used it for only 6 months during my last experience and I can definitely tell that I am really impressed compared to all the other call centers tools I used before in all my carreer;
Pros
Whatever your position, you can all work with it in a very efficient way, easily without any need to provide a training for it. Impressive really as it is so complete with anything you can need in a call center eather as the client or an outsourcer;
Cons
Sometimes, as any program, some bugs can happen when trying to type or some lags when trying to get reports out.
Industry: Construction
Company size: 2-10 Employees
Used

Daily

for

1-5 months

Review Source
---
Delays in the call quality, terrible customer service, and extra charges
Terrible. They told me there would be no additional charges as I described how we would be forwarding calls to an Australian admin when we signed the contract. The forwarded calls then didn't go through to our admin and were getting blocked. I reached out to customer service and they told me we needed to get white listed and sign a contract accepting liability for any fraud.
As I was getting that done, the service agent disappeared and a new agent took over and told me that wasn't the problem at all. Instead we needed to turn on international forwarding. That's when I learned that there was an additional charge per minute for each of those calls. I had confirmed multiple times with the account rep that there wouldn't be any additional charge when we signed the contract.
When I let their support team know what was happening, they told me I needed to talk to the account rep. Even though I told them our new startup was depending on taking these calls and getting this figured out, they never called me back. I reached out many times to support and they conveniently 'lost' all records of our calls and wanted me to start over in explaining what went wrong each time. Finally, they decided they wouldn't even send me the record of the chat so that I could more easily explain the problem the next time the didn't call me back.
Pros
It seems like it has a lot of options in its feature sets.
Cons
There were significant delays in the call which made it unusable in a business setting. We experienced 2 second delays, which made conversations very difficult.
Industry: Computer Software
Company size: 11-50 Employees
Used

Daily

for

2+ years

Review Source
---
RingCentral allows me to make phone calls from home
Pros
RingCentral can be used at work (via a regular phone) or on an app on my phone so that I have the option of working from home!
Cons
When I get a voicemail, it will show that it was going to my direct extension, however, it went to all of my colleagues on the support team. It's a little misleading when you are trying to figure out who is the best person to call back.
Industry: Investment Management
Company size: 2-10 Employees
Used

Daily

for

1+ year

Review Source
---
Ring Central Review
If I was running my own business I would use Ring Central as a soft phone. Absolutely great value for the money.
Pros
It is very easy to use and is very reliable.
Cons
The only downside, which would be a problem for any VoIP, is that if the power were to be cut and you are not using the mobile app then the phone would be dead. At our office we had the power go out for 5 hours and that meant that we didn't have an effective system.