About Quip
Quip is a cloud-based project management and task collaboration solution that help users work together and communicate without emails. Users can create and edit spreadsheets, documents and checklists in the system, and team members can chat and comment on files in real time. The solution is also available for on-premise deployment. With Quip's team chat feature, users can create different chat rooms on different topics, and there are discussion threads for each document. Users can attach documents to chats, and the document will appear by the chat, so users can chat and view documents at once. Quip's task list offers personal to-do lists, project milestones and priorities lists and allows users to check off finished tasks. When tasks are checked off, other team members are automatically informed. Quip offers dedicated apps for iOS and Android. Users can also work offline, and documents can be synced in the system when internet connection gets re-established. Quip is available on a monthly subscription basis that includes support via email and phone.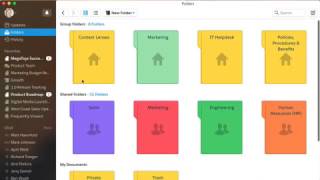 Quip has a free version and offers a free trial. Quip paid version starts at US$30.00/month.
Starting Price:
US$30.00/month
Industry: Health, Wellness & Fitness
Company size: 2-10 Employees
Used

Daily

for

1+ year

Review Source
---
All your info access anywhere. Collaborate with your team and those on your external team.
I am quite happy with it. The fact that everything is there and it's secure and I'm always adding to it makes it more valuable for me and my team every day. Especially when I can pull up costs or ideas when out and about.
Pros
The way it easily works on mobile and on desktop and you get notifications as soon as someone has done something.
Ease of linking documents in chats
Having everything available in one place so you don't lose things and get others up to speed quickly.
Ability to easily lock people out of the use of a document or not.
Cons
Sometimes it's hard to find an item if you clearly don't label it in the title.
- Access to support is a lot harder since Salesforce bought it over. You now have to log in to Salesforce fill in a form to get the support, before you could message support within Quip.
Industry: Consumer Electronics
Company size: 10,000+ Employees
Used

Monthly

for

6-12 months

Review Source
---
Review for Quip
I am enjoying this tool, and Quip has managed to stand out in this heavily competitive field of online collaboration.
Pros
Quip UI is really smooth, and feels new! it has a good functionality to provide the revision history for the document, which I think is very useful. When multiple folks are simultaneously editing the same document, the revision history for each line provides a very nice view of who changed what.
Additionally, Quip has a chat tool embedded in its UI. I use this often to communicate with other folks who are working on the same project.
Cons
I dont have a strong dislike for any of the features, but perhaps one point was it takes significant time for a new guy to get to to speed with the tool and understand all the intricate details.
Perhaps the on boarding proceed can be better
Industry: Entertainment
Company size: 10,000+ Employees
Used

Daily

for

2+ years

Review Source
---
Perfect for quick notes
Great tool for quick notes and easy access but not a tool I'd recommend to use over Google Drive or Microsoft Office.
Pros
Quip is a great tool to use for your team when quickly brainstorming and jotting down ideas. It strips itself of unnecessary formatting/UI options and provides you a clean slate to work smarter.
Cons
While Quip is easy to use, using Quip as a main tool to create spreadsheets or documents is not something I recommend. Exporting a Quip spreadsheets to Excel will export all the information over but leaves you with a lot of manual formatting and editing and becomes unreliable when needing to export something on the fly. This could be fixed if the "Save to PDF" function worked properly, but alas, saving to a PDF does not allow you to format properly and will include the Header rows and columns into the PDF - thus not allowing you to send clean, concise information over to colleagues.
Industry: Consumer Services
Company size: 5,001-10,000 Employees
Used

Daily

for

2+ years

Review Source
---
Preferred documentation method
Overall, at work I often prefer Quip over the Sharepoint. The interface is easy to use and allows the largest amount of collaboration and sharing for what we need.
Pros
Quip has all the features we need to collaborate as a team, take quick notes, organize data into tables, charts, etc.
Cons
The font style feature changes the font for the entire page, so you can't change the font for separate words or sections.
Industry: Internet
Company size: 5,001-10,000 Employees
Used

Daily

for

2+ years

Review Source
---
An amazing platform to track your ideas
We use quip to track our updates, design documents etc and it has proven to be a really powerful platform for the same.
Pros
1. I love quip as its the only good version controlled platform for taking notes that I have found in my industry experience of over 5 years.
2. Its easy to create public/private versions. I could easily create documents that are public (i.e. outside the firm) and private to me.
3. It is so easy to mark your favorite folders and share it across teams.
4. Its fast. I have found Google Docs to be a bit slower than quip.
5. You could easily import the content into a wiki or a word document with all the formatting intact.
6. You can create an excel sheet (or multiple sheets) in quip itself.
7. Onboarding and gettting used to the platform is really easy.
Cons
1. It behaves odd when creating tables and adding pictures (like indentation sometimes screws up).
2. If you are looking for a platform to create animated documents, quip might not be your friend. It supports basic data representation objects like tables, pictures, worksheets but if you want audio etc, you want to goto powerpoint.