About Stampli
Stampli is for Accounts Payable teams that want the efficiency of automation, but don't want to rework their ERP or change their existing AP processes. Unlike other solutions, Stampli provides full support for the full range of native functionality for more than 70 ERPs — enabling us to deploy in a matter of days, not months, with no disruption to your business. Stampli brings all of your AP-related communication, documentation, and workflows into one place for complete visibility and control. It's simple for users to learn and even simpler to use, especially with Billy the Bot™ automating nearly all of your capture, coding, routing, fraud detection, and other manual tasks. For even greater efficiency, Stampli's core AP solution is complemented by a suite of integrated products that include Direct Pay, Credit Cards, Advanced Vendor Management, and others. Stampli provides complete visibility and control over your entire AP program. It reduces the risk of errors, fraud, and compliance issues while improving vendor relationships and making your AP processes much more efficient. Key Capabilities CORE AP SOFTWARE Efficiency, visibility, and control from the only AP automation solution that's purpose-built for Accounts Payable. - Invoice processing: Automate invoice capture, coding, approvals, and more to make AP more efficient and accurate. - Centralized collaboration: All invoice collaboration, interactions, documentation, and workflows are centered on top of each invoice. - Billy the Bot™: Advanced AI that adapts to your unique AP processes and business structure to automate manual tasks and eliminate manual work in your ERP. - Purchase orders: Effortless 2- and 3-way PO match, processing for partial amounts, adjusting line items, and adding new line items directly in Stampli. - Advanced vendor management: Keep vendor records and documents up-to-date to control spend and stay compliant, while strengthening vendor relationships. - Multi-subsidiary support: Process and pay invoices across companies, offices, departments, or locations in a single place. - Insights: Gain instant visibility into invoices, employee productivity, and AP processes with powerful analytics and reporting tools. DIRECT PAY Extend the same efficiency, visibility, and control to your vendor payments. - ACH: Stampli facilitates ACH transfers from your bank account to your vendors, without needing to set up or fund a separate account. - Check: Stampli prints and mails checks to vendors on your behalf from your company bank account. - Stampli Card: Pay vendors instantly while earning cashback by sending a one-time-use virtual credit card. STAMPLI CARD - Get complete control over your corporate credit card spend with Stampli's physical and virtual credit card program. - Virtual & Physical Credit Cards: Request, issue, and manage corporate credit cards from the same software you use for AP — with the same levels of visibility. - Expense Management: Control employee spend, eliminate manual expense processes, and save hours of work with Stampli Expenses — integrated directly with Stampli. HOW WE MAKE YOU SUCCESSFUL - Best-in-class customer support: Our team of AP & ERP experts is available when needed, with industry-leading response times, to ensure you get the most out of Stampli. - Fast onboarding support: Your dedicated Customer Success team member will help you set up Stampli to match the way you already do business. - On-demand training: Any time you need it, you can request training for both your AP and non-AP team members from trainers who have expertise in our product, AP, and accounting practices.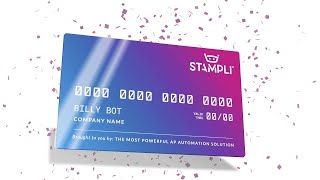 Stampli does not have a free version and does not offer a free trial.
Industry: Telecommunications
Company size: 51–200 Employees
Used

Daily

for

6-12 months

Review Source
---
Adaptable AP Software with Incredible Customer Service
Our accounts payable, procurement, and payment processes were all very manual and as our company begins to scale and grow this was becoming a burden on our accounts payable clerk of 11 years who was stressed and looking for greater career progression. As I dug into the cost benefit analysis I saw that any AP software would save the company a chunk of change as quantified in personnel time and opportunity cost of the endless other processes that need closer attention and improvement. Having implemented Stampli at a prior company I was especially impressed the second go-around with their desire to win our company as a client in the procurement phase, especially with making their pricing more competitive and now in the implementation and troubleshooting phase where their team members are always willing to help and customize a solution if there isn't one.
Pros
When doing software procurement, above price and features is the adaptability or customizability of the software to specific use cases within your industry and company. I specialize in improving processes and at times that includes implementing software solutions; with Stampli they were able to customize integration with our ERP system to allow us to track and better report fiber line buildout without any additional or duplicative work within the ERP system. Within the features, I also saw potential to use Stampli for procurement request workflows in addition to invoice approval workflows and the staff was excited to see that new use of their software and are currently looking to make their software more friendly and usable for that use case. So, adaptability is what I like most about this software. Close second is the customer service. You can tell when a company has good culture and treats their employees well when their employees are helpful and go above and beyond to help you and your company out. I had this experience with their employees from procurement of the software (Stampli was competing against two other companies Tipalti and Bill.com) to implementation and currently with troubleshooting issues. Their staff is responsive and if they don't have a current solution look for ways to adapt their software to meet your needs.
Cons
The payments piece of the software could improve in their identification of payment export errors. They're very general and force you to pay vendors in smaller batches of invoices (for some context we get maybe 130 invoices weekly from our general contractors) where it's easier for you to troubleshoot the problem invoices. I spent an entire afternoon and well into the night trying to find the problem invoice that was holding the batch of 80 or so invoice up for payment and it wasn't pleasant. If the payment export errors could identify problem invoices in the payment batch that would save a LOT of headache and worry on the payment side when your processing a large number of invoice for payment. Also, mentioned before if there could be cleaner data from the advanced search export spreadsheets that would help make data extraction a lot more accessible to users without any sort of data cleaning needed.
Reasons for Switching to Stampli
In the procurement of any software, before price and features is the adaptability of the product to meet our company needs. In consideration of Stampli, Tiapalti (and Tipalti Approve for procurement workflows), and Bill.com I felt that Stampli was the most adaptable and had a customer success team that was willing to help our team make the implementation and customizations at the pace we needed. Bill.com is a huge company and I got the feeling that they were too rigid and what you got in the software is what you got and I didn't believe their customer success teams would give us the attention or be as responsive as we needed them to be. Tipalti was fantastic to work with in the procurement process and seemed to have a customer success team that I daresay is on par or better than Stampli but their product, implementation, and adaptability timeline was too rigid and long (which I can understand from a process standpoint and have respect for) but wouldn't have been able to customize with their development team to what we need in fiber buildout footprint tracking for example because they're slower and more methodical (which again I respect). Stampli actively seeks out feedback from users and implements new features and seems a bit more of a risk taker in developing its product which is a little bit more my speed. Finally, having worked with Stampli before I had a peace of mind of knowing what I was getting and that I could lead the charge on implementation and troubleshooting.
Industry: Farming
Company size: 51–200 Employees
Used

Daily

for

2+ years

Review Source
---
Stampli is easy to use and set up and provides necessary controls
We were able to go paperless pretty much overnight and implement controls on payables.
Pros
The best part of implementing Stampli was being able to go to a paperless environment so quickly.
Cons
Nothing really, everything has worked really well.
Reasons for Switching to Stampli
Customer service, simplicity, candid discussions
Industry: Retail
Company size: 1,001–5,000 Employees
Used

Daily

for

2+ years

Review Source
---
Hundreds Done Fast & Easy
Pros
The ease of coding hundreds of invoices a day, the "Billy Bot" being able to auto populate multiple fields makes repetitive invoices a breeze. Being able to track where an invoice is with every step being recorded from the moment it is put into the system is great.
Cons
Sometimes the auto-population is wrong if the vendors being used are similar style invoices.
Industry: Accounting
Company size: 1,001–5,000 Employees
Used

Daily

for

1+ year

Review Source
---
Best among the rest
The experience of using the Stampli as a tool is extremely fantastic and easy which gives us the invoice tracking and invoice management also the duplicate invoices are not entered easily it gives a pop up for the same
Pros
Best for the multiple level and multiple currency entity which we are using in our company .The Authorization of payment is very safe and also the invoice processing and approving is easy and understandable by all even the freshers as well
Cons
The Audit trail sometimes gives the inappropriate data also the edit option after we send the invoice to next approver's queue is not enables which make things difficult to edit and then the invoice can be edited only when the approver rejects the same and there are system error also sometimes
Industry: Construction
Company size: 501–1,000 Employees
Used

Daily

for

1+ year

Review Source
---
Simple yet effective
Stampli solved our issue of not getting each invoice approved by a manager, within the first month we had caught several invoices that should not have been paid whereas before Stampli they could have been paid without proper approvals.
Pros
Stampli allowed us to move our AP process paperless in the matter of 1 day! It was simple to implement (literally 10 seconds to connect it to NetSuite, plus a couple of minutes for it to download the vendor and item lists) and it is simple to use (as noted by the majority of the approvers). Stampli also has SSO log-in which means our users do not need to remember another password.
Cons
The customer service support opens at 9 AM EST, this in itself isn't terrible but our staff is already at work well before that so if we run into issues we have to wait before someone can look at them. Stampli is not very customizable (as we are used to in NetSuite) but the customer support is there to help us through and to submit new tickets for us.
Reasons for Switching to Stampli
Stampli's ease of use was key in order to get buy in from all the approvers. We wanted a program that was user friendly otherwise approvers would not use it willingly.