About ClassDojo
Class Dojo is a digital classroom management platform, through which students and parents can connect with teachers, other parents, and classmates. The solution allows educators to create digital portfolios for students, allowing all parties to communicate directly with each other. With the Class Dojo app, students can record videos or share work via images on their mobile devices and upload them in the platform's digital portfolio. Families also have access to a variety of group maker tools such as calendars, chat rooms and journals to organize and track curriculum topics.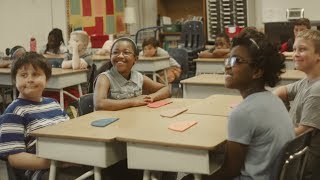 ClassDojo has a free version.
Alternatives to ClassDojo
Company size: 501–1,000 Employees
Used

Daily

for

2+ years

Review Source
---
Great Tool for Entire School Staff
It has helped behavior improve in my classroom tremendously. Students know that if I give or take a point, their teacher knows immediately. It's also a great way to communicate easily with parents. Most parents have a mobile phone and they tend to check their phones frequently. It is faster than email.
Pros
I like that students/classes can be shared with other teachers. If a student does well in Art or has an issue in Music, that teacher can click on Dojo and either give or take away Dojo points from the student. You don't have to wait until the student returns to the classroom and try to find time to talk to the teacher about the issue. It is super quick and easy to use. Bring your ClassDojo up on a computer, iPad, cell phone, etc. and have it open and ready for use. When you need to give or add points, you can do so immediately. If I give a point to a student in my room, the teacher is automatically notified on her device with the point popping up on the student's icon. It's a great way to communicate not only between classrooms regarding shared students, but also with parents that sign up. It includes an email feature with parents that is super handy.
Cons
Sometimes it is a little tricky to set up the sharing of a classroom with other teachers. It would be nice to have more of a step by step set of directions to go along with Class Dojo. The directions are included, but it would be helpful if they were more concise and step by step and addressed each area.
Industry: Design
Company size: 2–10 Employees
Used

Daily

for

2+ years

Review Source
---
Classdojo, forward thinking but a few flaws
Pros
Classdojo is a simple piece of software that allows me to communicate with parents and update them quickly on the progress of their child. I am able to upload photos and answer messages at a click of a button and everything is clear and simple to use.
Cons
There is no way to edit a post and add more photos to it, i have found that i have had to delete the post and start again. This can be time consuming and frustrating, especially with a class full of childrens profiles to update.
Industry: Nonprofit Organisation Management
Company size: 2–10 Employees
Used

Monthly

for

6-12 months

Review Source
---
ClassDojo helps you motivate your kids
I didn't like the app
Pros
It does help to incentivate the kids, but is hard not to forget about it and the free version it's not good.
Cons
The free version doesn't meet my expectations
Industry: Management Consulting
Company size: Self Employed
Used

Daily

for

1+ year

Review Source
---
An Awesome app that even I don't utilise fully yet
Great way for parents to keep in the loop with school life and get a glimps at what the children do. during the school day.
Pros
It's really easy for my children's teacher to share information with me in a secure way. I can like and comment on stories that are shared with me, I can message the teacher privately. As a parent I have my own profile as a parent and the children have their own profiles as students so that they can get involved and engage too. Teachers can give dojo points for good behaviour and if you choose to pay for a subscription parents can reward children with dojo points too.
Cons
Not sure if I don't have the notification set up properly but sometimes I miss things because I didn't receive a notification.
Industry: Warehousing
Company size: 51–200 Employees
Used

Daily

for

2+ years

Review Source
---
Class Dojo Is Great
My experience with Class Dojo over the past 3 years has been extremely positive.
Pros
What I like most about Class Dojo is that you can keep in touch with the teachers and see important information.
Cons
What I dislike most about Class Dojo is the lack of information about a certain classroom.