About Infoplus
Infoplus WMS is a web-based warehouse management software solution for small to midsize 3PLs, eCommerce Retailers, and Wholesalers focused on taking control of overall inventory, warehouse operations and shipping. Key features include the ability to manage unique workflows for different lines of business under a single software platform. Define distinct production line processes compatible with any iOS or Android base devices. Light Manufacturing with 'print on demand' capabilities as well as Kit On Demand functionality to handle eCommerce bundles and flash sales. Give your business the ability to scale based to overcome the next need, challenge or business change with clicks of a mouse. Implementation consultants help each warehouse establish the a custom workflow with industry knowledge to ensure a WMS drives the warehouse operation suited to you and your customers.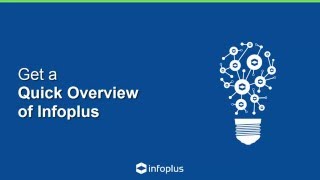 Infoplus does not have a free version. Infoplus paid version starts at US$795.00/month.
Starting Price:
US$795.00/month
Industry: Warehousing
Company size: 11–50 Employees
Used

Daily

for

1+ year

Review Source
---
Infoplus has help changed the way we do business, for the better
I mentioned them mostly in the "Pros" section, but in short, Infoplus has afforded me the following benefits:
Ability to see and analyze entire operation process in real-time
Ability to provide customers with high-end and reliable customer portal experience
Ability to seamlessly integrate with prospects that show interest in our company (A huge selling point)
Unlimited reporting potential and data that has allowed us to gauge our past and present performance like never before.
I truly believe Infoplus will allow me to take my business to the next level.
Pros
Ease of Use - Obviously, the biggest hurdle in changing software is dealing with employee and customer reluctance to learn something new. Fortunately, Infoplus makes it really easy to use and navigate their software. They also have many helpful tool tips, and easy access to their Knowledge Base which really helps make the transition go smoother.
Real-Time Tool - I can't stress enough how helpful it is to have valuable data shown in real-time. There are literally endless reporting options you can use which allow you to monitor and run your company. Before Infoplus, I was in the dark on so many things. Now, I have real-time data telling me if orders are late, employees are not producing, or a certain customer's shopping cart has unexpectedly stopped communicating. Having these tools at my disposal is invaluable, and I'm not sure how I functioned before without them.
Reliability - Having the ability to tell virtually every customer that "We can connect with your system" is a huge game changer. Not only that, but having the system be reliable for them is an asset that cannot be overstated. We never have to worry about downtime or issues that interrupt our customer's ability to utilize the portal, and that's a huge benefit over our previous software.
Customer Service - Their customer service is 2nd to none. If I wasn't limited by characters, I would continue to commend just how crucial they've been in helping our business run smoothly.
Cons
Any small issues we had during transition we're rectified by their excellent customer service team. I can't commend them enough for the hard work they continually put into their product.
Industry: Wholesale
Company size: 11–50 Employees
Used

Daily

for

2+ years

Review Source
---
review
Use what they have, if you can teach your self the products they are great, getting more from them can be an issue.
Pros
The switch was easy, the team was helpful, training was good.
Cons
The integration we use requires updating at Infoplus, we have to push them to complete the projects. The general communications for us, without paying for the extra chat services, has been poor. If we want something special the script process is cumbersome. Missing some reporting abilities, they are not an ERP system.
Industry: Health, Wellness & Fitness
Company size: 51–200 Employees
Used

Daily

for

6-12 months

Review Source
---
eCommerce and Retail Operations
Pros
InfoPlus is open source which gives us lots of flexibility. It a "Plug n Play" type of system. This allows us to customize it to our needs to get what we want.
Cons
This software can be difficult to take full advantage of if you do not have a developer on staff. The company does not provide the option to pay for a developer from their team to customize the product for you. They will answer questions and get your developer going, but you must bring your own developer to the table.
Response from

Infoplus

Hi Ryan,

Thank you for the candid feedback! You'll be happy to know that we recently launched a "professional services" department to engage with our customers on a deeper level and offer that hands-on solution you speak of in your review. Scripting, smart documents, optimization etc.. I've provided the link to the pro services ticket submission if you ever want to take advantage of it!

https://www.infopluscommerce.com/submit-pro-service-request

Replied 27/3/2023
Industry: Logistics & Supply Chain
Company size: 11–50 Employees
Used

Daily

for

2+ years

Review Source
---
Thankful for Infoplus
Pros
Easy to customize if you understand computer coding. Once you learn it, you can do almost anything!
Cons
I have a few problems that they haven't been able to solve for me.
Response from

Infoplus

Hi Molly,

Thank you for the positive review! We're extremely interested in hearing more about the few problems we have not yet been able to resolve for you. We now have a professional services department that will engage in more hands-on approach with our customers to find solutions that lead you to success. Our support team can field your issues and push them to pro services as needed. Thank you!

Replied 24/3/2023
Industry: Warehousing
Company size: 11–50 Employees
Used

Daily

for

2+ years

Review Source
---
Nothing Better for the Price!
They have taken our organization to the next level at price that won't break the bank. I would recommend them to any small to mid size company that needs a system that compares to the big players in the space.
Pros
Infoplus is an extremely robust and flexible system if you understand how to harness it's power. Extremely capable given you put forth the effort to learn and understand how it operates. They have a great onboarding team as well as professional services that can really help take your organization to the next level. We use it in all aspects of our operations from receiving, day to day inventory management, shipping and everything in between. It's also the only tool i've seen on the market that utilizes machine learning.
Cons
As mentioned in what I like most... it is a big robust system that can be difficult to learn or understand at times. if you go with Infoplus, you need someone on staff committed to learning and working with them on how it operates .. if you do, you won't be disappointed. If you don't, I can see how the system could be frustrating. There are also a few UI/UX things that need to be addressed which I'm confident their team will do in the near future. They are relatively new to the space and making the most of their resources it seems.