About Infoplus
Infoplus WMS is a web-based warehouse management software solution for small to midsize 3PLs, eCommerce Retailers, and Wholesalers focused on taking control of overall inventory, warehouse operations and shipping. Key features include the ability to manage unique workflows for different lines of business under a single software platform. Define distinct production line processes compatible with any iOS or Android base devices. Light Manufacturing with 'print on demand' capabilities as well as Kit On Demand functionality to handle eCommerce bundles and flash sales. Give your business the ability to scale based to overcome the next need, challenge or business change with clicks of a mouse. Implementation consultants help each warehouse establish the a custom workflow with industry knowledge to ensure a WMS drives the warehouse operation suited to you and your customers.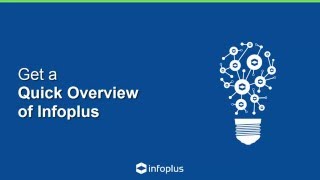 Infoplus does not have a free version. Infoplus paid version starts at US$795.00/month.
Starting Price:
US$795.00/month
Industry: Arts & Crafts
Company size: 201–500 Employees
Used

Daily

for

1+ year

Review Source
---
A Smart, Approachable, and Powerful Platform
We didn't anticipate Infoplus to be as long-lasting as it was merely a recommendation from a previous supplier whom we no longer work with. We are very happy with the product, and I wish to continue using this CMS as opposed to looking for something with more features, as what Infoplus offers to us currently, is all that we need and more.
Pros
Infoplus is at a great price point and offers features that meet my company's expectations regarding inventory management and fulfillment. New users are easily trained and familiar which is a plus, and it's mechanics allow for this to not only be approachable, but powerful. The filtering system too is an amazing feature, where any information can be easily exported for reporting purposes.
Cons
I have heard from upper management that some of the controls and features are less in comparison to similar platforms, however for the time being it is most suitable for our company. I wish to continue working with this for the next several years if not more.
Industry: Health, Wellness & Fitness
Company size: 2–10 Employees
Used

Daily

for

2+ years

Review Source
---
InfoPlus Review by Robin Geoghegan
It's about an 8 out of 10. It will be higher if you can fix your order processing issues when InfoPlus is undergoing maintenance or updates.
Pros
I appreciate the number of options for shipping in order to keep costs down for our small business.
Cons
Our orders are getting "stuck" between WooCommerce and InfoPlus and not flowing in to InfoPlus whenever InfoPlus does an update or has maintenance. InfoPlus needs to find a better way to cache orders flowing in so that once updates or maintenance are complete, orders flow in. My team is having to manually fix this every time InfoPlus has an update or maintenance. Extremely frustrating.
Response from

Infoplus

Hi Robin,

Thank you so much for the feedback! We completely agree with you in regards to caching orders while we're in our short period of down time for maintenance. I will make sure this is on our product roadmap if it isn't already there!

Just as an FYI, you can sign up for email/text alerts at status.infopluscommerce.com as we always push out alerts the day of and right before we go down for maintenance, this might help you stay on top of those better until we can systematically address the issue. Thank you again for the feedback!

Replied 24/3/2023
Industry: Consumer Goods
Company size: 2–10 Employees
Used

Weekly

for

2+ years

Review Source
---
Wishing for easier interface and more information
Pros
That it is connected to Shopify and when I cancel an order in Shopify it cancels it in Info Plus
Cons
I can't get a unit count on pending orders. We have alot of pre-orders and I want to go in and quickly and easily see how many of each unit is "on-order" and I can't see that at all. This is something I should be able to see daily.Also, if there is an address change on an order, I should be able to update it in Shopify only. Right now I have to update it in Shopify and then also go into Infoplus and update it. They should be linked in this function.
Response from

Infoplus

Hi Sonia,

All items in Infoplus have an "open order quantity" along with 9 or 10 other quantity fields. I would advise getting with your Infoplus admin or reach out to our support team for more information.

Shopify address changes are not automatic due to trigger and shipping information that gets applied at the time of order entry. If addresses are updated but carriers are not, it can cause issues downstream for the pick and pack team.

Thank you for the review.

Replied 3/4/2023
Industry: Logistics & Supply Chain
Company size: 11–50 Employees
Used

Daily

for

2+ years

Review Source
---
Totally customizable, but at times unpolished
Year 1 (2021) was at times rough with Infoplus. I think they might have outgrown their customer support department. So when issues came up resolutions took a long time. However, they now a new, very solid, leadership team. I personally know most people on the leadership team, and they really are great to work with.
Pros
Infoplus is the most customizable WMS on the market. You're able to inject scripts anywhere in the platform. I have not seen a platform that allows you to access the API from within the product. We're able to do anything we want to, with the right amount of work. I have come across very few issues that don't have some sort of workaround by utilizing the API.The billing feature is also solid. It allows you to create invoices within the platform, although it doesn't push automatically to QB, it can with a 3rd party integration.
Cons
At times, Infoplus can be slow and clunky. Unpolished is the word I would use. Some workflows are unnecessarily complicated, requiring more clicks than really ought to be there. We ship in a 3rd party software because the packing/shipping aspect of the product is really devoid of key features. However, the integration with 3rd party shipping software (Shipstation) is solid. We've never had an issue and we're able to customize what information is sent/received as well.
Reasons for Choosing Infoplus
Outgrew SkuVault needed more 3PL features.
Reasons for Switching to Infoplus
Higher customization and better price than other options
Industry: Retail
Company size: 501–1,000 Employees
Used

Daily

for

2+ years

Review Source
---
Great Value Software for your operation
Pros
The product is relatively easy to use and also get implemented. For instance we implemented at the start of 2020 had a very tight timeline & then with Covid restrictions on travel and the overall impact on businesses we were able to get set up in a new location within 45 days with very little support.
Cons
Reporting functions would be nice to have a standard pack of reports that are generally adopted in most fulfillment, distribution center settings. While most reports can be created with relative ease, having prebuilt standard reports with the ability to customize or as you can currently add your own reporting would be a major + to the product.
Response from

Infoplus

Hi Timothy,

Thank you for the review! We completely agree with you and have plans to not only have canned reports available in the future, but we're integrating some very cool BI and analytics tools to take reporting to the next level. Keep an eye on our product update emails over the coming months / year to stay on top of it. Thanks again for the feedback!

Replied 24/3/2023