About RingCentral MVP
RingCentral MVP is a cloud-based business communications solution that offers tools for Messaging, Video and Phone. Core features of the solution include conferencing, auto-recording and unlimited long-distance and local calling. RingCentral MVP is a fully integrated mobile-based phone system that helps keep employees connected via a variety of business and personal devices including smartphones, tablets, desktops and phones. The RingCentral mobile app is integrated with the phone system and keeps employees connected to customers and colleagues from anywhere. Additionally, RingCentral integrates with basic email platforms and other applications such as Salesforce CRM, Box, Dropbox and Google Docs. RingCentral MVP gets businesses up and running within minutes. All phones are ready for immediate use and setup. Users can manage their own phone preferences without IT help.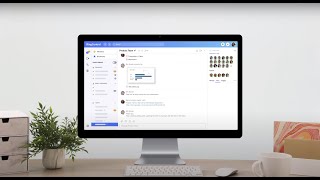 RingCentral MVP has a free version and offers a free trial.
Alternatives to RingCentral MVP
Industry: Insurance
Company size: 201–500 Employees
Used

Daily

for

1+ year

Review Source
---
Review of Ringcentral
Ringcentral replaces our previous phone system in its entirety, allowing us to utilize soft phones and providing a means for video and text communications. Although we later transitioned to different services for chat and video, initially it was a welcome addition when we were just needing the phone/fax. Overall ring central is a high quality soft phone.
Pros
Ringcentral gave us a lot of options with a low barrier to entry. We came from an environment with no soft phone capability so the transition was very noticeable. The peer-to-peer communication and peer-to-client communication are both very simple and the call quality is always crystal clear.
Cons
The initial IVR setup for our company was a very drawn out process. We had to hire an external party to create our entire workflow since the built in functionality did not suit our needs. Additionally, we were in the market for a custom API hook that new calls would invoke and the process to get this built in took an extremely long time (6+ months) to add.
Industry: Information Technology & Services
Company size: 11–50 Employees
Used

Daily

for

1+ year

Review Source
---
The go to phone system for SMB.
I was impressed with using RingCentral MVP functionalities.
Pros
Aside from the functionality I like that you have the option to have an actual desktop phone, or softphone to use an app on a mobile device to stay connected with team members, prospects, and customers.
Cons
This does not happen often but there could be a lag once in a blue moon.
Response from

RingCentral

Walter, the Review Team appreciates you for taking the time to leave a review! We are happy you enjoy the diversity in device options and product functionality. Thank you for being a committed user!

Replied 7/9/2023
Industry: Food & Beverages
Company size: 11–50 Employees
Used

Daily

for

2+ years

Review Source
---
Overall works really well but they WILL NOT STOP PESTERING for reviews/feedback
Their platform is solid. The features are extensive. The call quality is good. The configuration backend is a bit wonky. They simply beg for feedback way way WAY too often. This has been going on for years.To everyone at RingCentral reading this. You DO NOT have consent to contact me or our company about this feedback. It's disgusting I now have to write this every time I leave feedback to not get a followup call.
Pros
Features and functionality is great. Very extensive and works reliably. Apps are available for desktop, mobile, and tablet that all work pretty well (once you get past the takeover-popups)
Cons
THEY. WILL. NOT. STOP. PESTERING. FOR. FEEDBACK. I cannot go 24 hours without a popup/takeover/email/phone call from RingCentral BEGGING me to tell them what I think of the software and to announce whatever new feature they released. Just this week, 3 different phone calls begging for feedback. This morning I get "Desktop app refresh" begging me to turn on the new interface which showed a dozen different "what this button does" "what that button does" popups. The tablet did the same thing yesterday and it took 5 minutes to get past all the "new feature" popups... every last one of them pointed to buttons and functions that have been there for years.The icing on the cake was a few months back I left them feedback about this very problem. I specifically selected that they MAY NOT contact me further about the issue. Not even an hour later they call me on the phone, interrupting me at work, to get more details... Had to block the number. A few days later they try calling my number 6 times in a row. When that didn't work they then called my boss to ask if he was the person to contact about the feedback. Meanwhile they emailed me about it twice with #NOCONSENT clearly written in the subject field.We use maybe a dozen different software packages/platforms for our business. RingCentral single handedly accounts for 80%+ of the "please leave feedback" and "check out this new feature" popups/emails.
Alternatives Considered
Five9
Reasons for Switching to RingCentral MVP
When purchasing RingCentral it had the right combination of features we needed at the time.
Industry: Information Technology & Services
Company size: 11–50 Employees
Used

Daily

for

2+ years

Review Source
---
Incredible Phone Management
We have had an excellent experience using RingCentral MVP. It has been essential for our communication within our team and with our clients. I would recommend to any company looking to have great video and telephone communications.
Pros
We utilize the ability to manage all our users phones and licensing form the admin portal. Uses connections are very reliable and the VoIP options help us be more mobile. The administration is easy to learn and setup. Users are able to quickly pick up how to use phones.
Cons
If we had to pick a con for this it would be that it really makes you use their phones if you want a physical phone at desks. It would be nice to use other brands.
Reasons for Switching to RingCentral MVP
We choose RingCentral MVP over Zoom phone due to them having more features and better pricing.
Industry: Construction
Company size: 11–50 Employees
Used

Daily

for

2+ years

Review Source
---
Ring Central Review
I like that I can manage my calls from anywhere and call out not using my phone number.
Pros
I like that I can call out of my cell phone not using my phone number to customers.
Cons
I do not like that when I am not connected to wifi I drop calls
Response from

RingCentral

Jennifer, the Review Team appreciates your feedback! As VoIP calls need a reliable internet connection for optimized call quality, you'll experience poor connection when there is not a strong connection available. Call Continuation is available on mobile to switch calls from poor WiFi to your carrier to continue the call as a 3G/4G VoIP call. Learn more about call continuation here: https://ringcentr.al/3R7rRzz. In addition, here is an article regarding troubleshooting VoIP connectivity issues: https://ringcentr.al/44JvAq0. We hope this helps regarding dropped calls without connection; thank you!

Replied 7/9/2023