About SolarWinds Service Desk
SolarWinds Service Desk is suitable for companies seeking a help desk solution that offers IT service management (ITSM) functionalities. SolarWinds Service Desk offers comprehensive service desk functionality that helps businesses respond to service requests in a timely manner, resulting in improved support. SolarWinds Service Desk is a cloud-based software offered for an annual subscription. In the system, users can manage service tickets and company assets. It also works on the go from any smartphone or tablet equipped with a web browser. SolarWinds Service Desk integrates with other applications, including Google Apps, Salesforce.com, OneLogin and over 140 other applications. Users can submit service tickets through either email or the inbuilt self-service portal. The portal empowers users to search for a solution independently using the system's configurable knowledge base. Customers can also submit a new request and check on the status of a pending issue.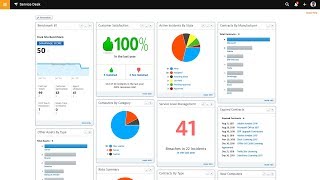 SolarWinds Service Desk pricing
SolarWinds Service Desk does not have a free version but does offer a free trial. SolarWinds Service Desk paid version starts at US$19.00/month.
Starting Price:
US$19.00/month
Alternatives to SolarWinds Service Desk
SolarWinds Service Desk Reviews
Industry: Retail
Company size: 10,000+ Employees
Used

Daily

for

2+ years

Review Source
---
Hossam's SolarWinds Service Desk Review
My overall experience with SolarWinds is very positive, although we have switched to another system due to budget issues, yet i still prefer it.
Pros
SolarWinds Service Desk is easy to use & what i like most about it is its dashboard customization feature, as i can be able to monitor my team's ticket status all day long, without having to look into the tickets of other teams, and being SolarWinds, it gives me the ability to view it in appealing charts, and reporting & notification is well maintained.
Cons
The least i like about it is its cost in relative to other ticketing systems in the market.
Reasons for Switching to SolarWinds Service Desk
Because we are already using SolarWinds Network monitoring tools, so it makes life easier to use the products of the same vendor in terms of integration & ease of use.
Industry: Environmental Services
Company size: 501–1,000 Employees
Used

Daily

for

6-12 months

Review Source
---
Huge Upgrade
Overall experience with this product have been great so far. Our employees use this platform more than our last and they have also been able to find their own solutions more. I really love the support from the customer support a lot. The support is always right on top of any issues and I have experience very quick responses when I do need to contact them. A+ on customer support.
Pros
I like how easy the GUI is, editing the categories and assigning the ticket to a support tech is all very simple right from the first view. I also like how there is a quick view option where you can view the ticket without having to leave the screen.
Cons
We have an issue with Tasks. They cannot be changed once a service catalog item is ran which has made us have to create work around or create extra tickets in order for multiple people to work on one catalog item.
Reasons for Choosing SolarWinds Service Desk
We needed a friendlier GUI with more User integration.
Reasons for Switching to SolarWinds Service Desk
Cost to features were a big plus. We got everything out of the box with Service Desk that we need currently.
Support is non-existent and clunky. Interface good, but needs work.
Samanage's software is the 5th HelpDesk software package I have used in my professional career of 20 years. It has some nice features, including the automated inventory for Windows workstations, and the ability to setup custom SLA's. But that is where the positive end.
Things I don't care for are outdated "help" articles in their support portal, written by their own staff, that are inaccurate, and wasted over two days of my time trying to implement something that I discovered didn't work, then when I flag their support, I get a brief apology. Support is terrible, if they cannot write and police their own articles for accuracy. I don't appreciate organizations that cause more work for organizations using their product.
The system does not allow for UNC paths to be set as links in the system. This prevents our organization from sending "clickable" link to help staff add printers, map drives, etc. Only hyperlinks that go to the web are able to be made clickable.
Searches are another headache. While it is nice that it searches across everything to yield results, you have no method to filter the results returned to a date range or the ability to sort the results by a certain field.
We also had to take their supplied agent (for automated inventory), and build our own MSI package for deployment. Unsure why they are not able to do this themselves, but it is frustrating.
No native iOS app is available, for the technicians to use, and using the HTML 5.0 interface is clunky and not very useful on iOS devices.
The software has a lot of potential, but still needs a lot of work.
Response from

SolarWinds

Hi Ryan - We're always looking for feedback and suggestions to help us stay agile and keep up to date with our customers. Our community is a great way to engage and find help, however we realize that as the software continues to change, some of the solutions within the community can get outdated. We're always working to update as we go! As your customer success manager, I'd like to apologize if the experience with our support team was challenging. Our goal is always to surpass your expectations.

Our search and filtering functionality has seen some enhancements over the last months and once we connect, I'm happy to take you through some of the enhanced dynamic reporting functionality that comes with the updates. I will reach out to set up some time for us to speak. - Britt, 919-648-0785

Replied 7/4/2016
Industry: Design
Company size: Self Employed
Used

Monthly

for

1+ year

Review Source
---
my review 16
In summary, SolarWinds Service Desk is a great tool for managing IT operations, but it comes with a high price tag and a steep learning curve. It may not be the best fit for small businesses or those with limited IT resources. However, for larger organizations or those that need a robust and feature-rich ITSM solution, it can be an excellent choice.
Pros
Remote Access/Control feature allows technicians to remotely access and control end-user devices to resolve issues quickly and efficiently.Real-time notifications keep technicians informed of new tickets, updates, and other important events in real-time.Ticket management system is well-organized and easy to use, making it simple to track and manage all service requests, incidents, and problems.Alerts/Notifications feature enables administrators to set up alerts and notifications to be triggered by specific events or conditions.Access Controls/Permissions allows administrators to set up different levels of access and permissions for different users and groups.Dashboard provides a real-time overview of the service desk's performance and key metrics.SLA Management feature allows administrators to set up and track service level agreements (SLAs) with customers.Compliance management feature helps organizations meet compliance requirements by tracking and reporting on IT assets and configurations.
Cons
High cost of the software.Steep learning curve, it can take some time to master all the features and functionality.Some customers report technical issues with the software and support.Limited customization options
Industry: Nonprofit Organisation Management
Company size: 51–200 Employees
Used

Daily

for

1+ year

Review Source
---
Excellent ITSM tool
Solarwind Service Desk has met all of our requirements. It is easy to use and follows ITIL best practises.
Pros
Ease of use and customisation. Customer services
Cons
Reporting is limited. Even customisation in reporting is limited
Reasons for Choosing SolarWinds Service Desk
Price and lack of ITIL support
Reasons for Switching to SolarWinds Service Desk
Price, Ease of use and customisation, Customer services