About PRTG Network Monitor
PRTG Network Monitor is an on-premise and cloud-based network monitoring solution. The system caters to businesses of all sizes across multiple industry verticals and is compatible with Windows 7 or later. Primary features include network monitoring, bandwidth monitoring, alerts, data publishing, customization support and reporting. PRTG Network Monitor helps users to monitor devices, network traffic and applications on the infrastructure. It helps administrators and technical staff to monitor network outages, analyze network connections, monitor network quality and comply with service level agreements. PRTG Network Monitor assists IT administrators to monitor uptime and downtime for an individual device or an entire network using a single console. A customizable dashboard displays real-time network performance and status information for all devices. Administrators can remotely dispatch updates or install new applications across devices using a master console. Pricing is a one-time fee for an on-premise solution and monthly subscription for a cloud solution. Dedicated mobile apps are available for Android, Windows and iOS devices.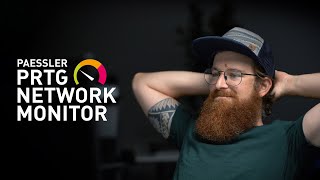 PRTG Network Monitor pricing
PRTG Network Monitor has a free version and offers a free trial. PRTG Network Monitor paid version starts at €1,300.00/one-time.
Starting Price:
€1,300.00/one-time
Alternatives to PRTG Network Monitor
PRTG Network Monitor Reviews
Industry: Information Technology & Services
Company size: Self Employed
Review Source
---
That really made my Day!
First of all: Actually (April 2016) the product is free for up to 100 Sensors!
I was searching for an easy solution to monitor the internetconnection of one of my customers from outside. They sporadically experienced strange bandwidth problems and the cable provider didn't solve the problem within months. So while searching for an easy to install and use monitoring (simple ping) solution I found PRTG from Paessler in Nuremberg. I 've heard of it before as the Windows based alternative to Nagios.
What can I say: I expected a solid Dice Game and ended up in Las Vegas!
Installed withing minutes on a small Celeron machine running Windows 7. This runs the core Server and the Probe. You create Groups within the Windows (or Browserbased) Desktop. Within those Groups you create Devices and Sensors (Ping, HTTP, FTP, NTP, SIP, SMTP, SNMP Switch Traffic, ... and I'd say hundreds of others) at Locations you can define and are shown on a map. A configurable HTTPS allows secure Browser and mobile APP access. I use the one for my Windows phone that shows me my favorite (customer) Sensors directly.
Automatically scan your Network (that might create a lot of Devices and Sensors, especially when you are using SNMP ready Switches, but don't worry, just pause them before you run out of your licenses). Monitor Switch Traffic if you wonder how long the Windows 10 updates disturb your other Machines. You can install remote Probes in other networks to monitor them and still collect all data on one central monitoring server.
PS: In the end, the cable provider changed the modem after I sent them several times very clear screenshots from PRTG where you could see the 1800 ms echos all three weeks instead of 32 ms the rest of the time.
Pros
Very good structure and overview of your devices and systems load, usage, availability and traffic
Easy install and use. No deep knowledge of MIB, RMON, LINUX or SNMP necessary
Free for small environments
Very Flexible (google 'prtg netatmo' for an impression :)
Be aware and informed about uprising problems (Mail, SMS, Mobile)
You literally see what your users experience
Cons
Really! I have been thinking, but didn't find that much.
Rather ... nothing?
OK, one: you need a Windows system. That might be an issue for some.
Industry: Financial Services
Company size: 1,001-5,000 Employees
Used

Daily

for

2+ years

Review Source
---
PRTG is simplified my work Everyday.
PRTG can do Monitor all systems, devices, traffic and applications of your IT infrastructure.
Everything you need, and don't expect more for custom weekly / monthly reports
Pros
This is the Recommended software that I often use to monitor or improve the Information Technology infrastructure. Very easy to install, user friendly and supports mobile devices. It can detect our problems quickly. We can check all critical Service Application components on the bus :)
Cons
This software does not yet have a weekly custom report for audit needs, so we do a manual retrieval :(
Response from

Paessler

Dear Reski,

thank you for leaving us a review!

Cheers,
Paessler AG

Replied 1/10/2019
Industry: Information Technology & Services
Company size: 2-10 Employees
Used

Daily

for

1+ year

Review Source
---
PRTG network monitoring
This product works pretty well. it does have some false possible alerts at time but once you setup some delay and parameters , things are great.
Pros
PRTG (peassler) has many ways to detect and monitor devices. I like the SNMP and ping feature the most.
Cons
The interface was a little weird to understand at first. However, I had to find how to add users and groups for alerts. But once you add some devices and start getting alerts, things were great.
Industry: Information Technology & Services
Company size: 11-50 Employees
Used

Daily

for

2+ years

Review Source
---
Zero customer support / loyalty
I have been a longtime customer of PRTG 7+ yrs now. I contact them about once a year for little things I run into with the program. This time around they refuse to help, beyond basic email support in the middle of the night. If you want a program that provides support this isn't the product for you. If you are in the US the best you get is email support and they usually only respond while you are sleeping. Don't expect them to go out of the way for you. PRTG has wasted 2+ hrs fighting with me on fixing something their software caused, something they could likely fix in a 5min phone call. After paying them for support all this time I am done with this company, they are a scam!
Pros
Great for monitoring bandwidth usage or finding health problems/over utilization of resources. All using the SNMP protocol.
Cons
Support, they don't provide much beyond an KB article or emails in the middle of the night.
Response from

Paessler

We're sorry to hear about your frustration and that our support has not lived up to your expectations.
We always try to give you the best possible support in case of problems.

Kind regards,
Paessler AG

Replied 27/10/2020
Industry: Financial Services
Company size: 1,001-5,000 Employees
Used

Daily

for

2+ years

Review Source
---
PRTG is very robust product for network monitoring and alerting
Good software for network and devices monitoring with custom sensors capability and notification.
Pros
Very good features to monitor and probe network devices for uptime and alerts. Ticketing system and Notification system.
Overall good product and gives needed visibility.
Cons
Interface could use a refresh to be more modern. Needs some time to get used to managing.
Response from

Paessler

Dear Jack,

Thanks for sharing your review with us and the community!

Cheers,
Paessler AG

Replied 5/3/2021