About Aplos
On Sale Now! Get 50% Off 6 Months. Limited-time Offer. Start your free 15-day trial today! No credit card required. Aplos is a cloud-based system designed specially to serve the needs of nonprofit and church organizations. The Aplos platform includes fund accounting, online donation management, reporting functionalities, fundraising tools, membership management, event management and custom communications. Aplos offers features that allow organizations to manage their fund accounting, report transactions, manage finances, track cash flows and create journal entries for direct double entry accounting. Users can fundraise with the use of online donation tools, custom communication, donor database reports and event registration. Aplos enables organizations to manage all of their financial, donation and donor information in one place. Aplos is suitable for small to midsize organizations, including nonprofits, foundations, service clubs, faith-based organizations, churches (from church plants to multi-sites) and schools.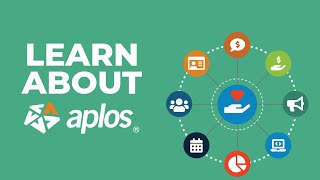 Aplos does not have a free version but does offer a free trial. Aplos paid version starts at US$39.50/month.
Starting Price:
US$39.50/month
Industry: Financial Services
Company size: 2–10 Employees
Used

Weekly

for

2+ years

Review Source
---
Great for our small Condo Association
They are incredibly responsive, and when we initially set up the Accounts, they spent the time with me to help set us up based on our needs.
Pros
Bank Integration is a huge benefit. As the Treasurer of a small condominium association (volunteer job), I only need to spend a couple of hours a month on our financials. Running reports for our condo meetings and taxes is a breeze.
Cons
Its not completely made for condo association accounting, but we've been able to retrofit our needs. Funds doesn't exactly translate to the accounts we track, as we really do have 3 separate bank accounts. This requires an extra step in our monthly recons, but its not awful.
Industry: Religious Institutions
Company size: 2–10 Employees
Used

Daily

for

1+ year

Review Source
---
Faith Baptist church use of Aplos
Cannot say enough about the excellent support (Especially from [SENSITIVE CONTENT]and his team) making the transition to Aplos in the middle of our year and the quick response during the process and afterwards.
Pros
Time savings, ease of use, great support available and easily understood. Wonderful training session and tools available at your fingertips.
Cons
Could use some more flexibility in tracking give and particularily break down of givers and amounts for real time reports.
Industry: Religious Institutions
Company size: 2–10 Employees
Used

Monthly

for

2+ years

Review Source
---
Very Difficult and Complicated, With Poor Tech Support
Not good. I need help, and the support never provides help that works.
Pros
Had potential for non-profits vs QuickBooks
Cons
Bank integration does not work. I've used QuickBooks for non-profits, with integration that works fine. In Aplos, what shows up in Aplos doesn't match what the banks say. Tech support answers fairly quickly, however, they come up with all kinds of solutions that don't work. And different people will offer a different solution. None of them work. Then they drop it leaving me hanging. I may go back to QuickBooks which once you get a few words down (business terms vs non-profit) it is actually quite easy, and more dependable.
Reasons for Choosing Aplos
I believed the Aplos advertising that their app is so much better. It isn't.
Reasons for Switching to Aplos
I believed the Aplos advertising, and the trial offer of a low price.
Response from

Aplos

Hi William! Thank you for your feedback, and I'm sorry to hear of the trouble you've had concerning bank integration. You also mentioned using QuickBooks instead, so if you don't mind I'll briefly speak to both. QuickBooks creates and maintains its own bank integration feature, whereas Aplos has a partnership with Plaid and Finicity, which are industry leaders in the space. Plaid and Finicity both connect with the financial institutions and pass the information back to Aplos. We have very little control over the information received. However, we do have a great relationship with both partners, and consistently work with them on improving the experience for our customers. As for using QuickBooks, this may be a better fit if you do not need Fund Accounting and donor management.
Our Customer Success Director, Alex Acree, will be reaching out personally to help troubleshoot the bank integration issues you're seeing. If you have any other questions or feedback please let us know.

Replied 19/6/2020
Industry: Nonprofit Organisation Management
Company size: 11–50 Employees
Used

Daily

for

1+ year

Review Source
---
Aplos is a great tool for Non Profits!
We are MUCH more efficient since we started using Aplos. It is so much easier to do every single function in the company now, and we can each look up information with no difficulty.
Pros
I enjoy the ease of use of Aplos more than anything.
Cons
No Auction site management system incorporated
Industry: Religious Institutions
Company size: 2–10 Employees
Used

Weekly

for

1+ year

Review Source
---
Life Made Uncomplicated
When it comes to a business like APLOS it is all about service and they shine in this area. Wish more of our friends would give them a try and break the Quick Books strangle hold on them.
Pros
Fantastic Support and training available. Staff is quick to respond and worked with us to resolve any questions or issues.
Easy to get started website maker that gave our site a professional appearance relatively easy and has substantial flexibility out of the box.
Reporting is a big selling point...many reports and lots of filters that allow for detailed customization.
Cons
Not having a larger number of initial users allowed under the basic package.
Reasons for Switching to Aplos
Price, depth of functionality and real Fund Accounting mentality