About Direct Mail
Direct Mail is an email marketing solution for Mac that lets you create and send personalized emails to your list of subscribers. Designed for SMBs and large companies alike, Direct Mail includes customizable email templates, image editing, live previews, custom email sign-up forms, automatic and manual list segmentation, email tracking, campaign analytics, subscriber activity reporting, and more. Customize with images, videos, buttons, surveys, and more. Drag and drop images directly into your email and edit image within the app (including cropping, removing backgrounds, and adding filters). Conditional logic allows you to tailor custom content for each recipient. "Spam Tests" alert you to any mistakes before you send, including broken links, misspelt email addresses, and spam filter issues. Direct Mail allows you to target your messages to specific subscribers—either manually or automatically. Metrics include opens, clicks, unsubscribes, and bounces.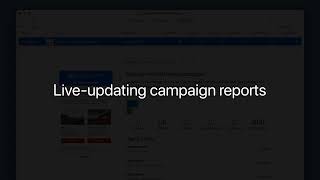 Direct Mail has a free version and offers a free trial. Direct Mail paid version starts at US$15.00/month.
Starting Price:
US$15.00/month
Alternatives to Direct Mail
Used

Weekly

for

2+ years

Review Source
---
A great all-around DM solution
Pros
Great Templates, Ease of use and customization, Very good analytics. Renders very well on all kinds of devices and there's plenty of additional testing functions. The automatic management of unsubscribers is also very handy. For someone with zero previous DM experience but wanting to send out a weekly newsletter this is fantastic value for money.
Cons
Can't think of anything specific even though I would like to group reports (i.e. comparing flights of the same campaign or issues of the same newsletter. Presently I export to Excel but it would be practical to have these inside.
Industry: Computer Software
Company size: 2–10 Employees
Used for

2+ years

Review Source
---
Great Newsletter Software
Love it! I have used Direct Mail for many years, brought it with me into different companies and into different projects and it always does the job.
Despite the pleasantly simple and light user interface, Direct Mail has really advanced and professional features that cover everything I need, from tracking to unsubscribing. Even though I'm not a marketing professional, I was able to run several well received newsletters and very successfull campaigns with it.
I don't use Direct Mail very often (just running the odd newsletter or campaign), but I have used it for EVERY mass email I have sent since appx. 2014 and cannot think of any other software that does what I need it to do as well as this.
Pros
I really like the ease of use, the WYSIWIG editor and the long list of imported address formats. Direct Mail ist fun to use and easy, while still having all features needed for a professional campaign (it even connects to Google Analytics which will make the marketing guy helping on my next campaign very happy).
Cons
In some areas the content block management feels slightly clunky and needs one or two more clicks than necessary.
Industry: Higher Education
Company size: 1,001–5,000 Employees
Used

Weekly

for

2+ years

Review Source
---
Customer Service Just Stopped Communicating with Me 2 1/2 Months Ago!
It worked fine until there was an issue. They made an initial response and never followed up to my subsequent questions or requests. I have been sending them the same request for 2 1/2 months and zero response by email or the online chat.
Pros
My predecessor used it and it was easy to continue to use.
Cons
Customer Service when you have a problem.
Industry: Medical Devices
Company size: 2–10 Employees
Used

Daily

for

2+ years

Review Source
---
I've never looked back!
Without a doubt the best system I've used and I love that it's simple and smart at the same time.
It's easy to use and I never feel overwhelmed. Other systems go too far and make the experience feel like you need to be an expert (even though they say it's "easy").
We currently have the smaller of the packages but look forward to expanding to the next level soon - thanks to Direct Mail.
Pros
Where to begin?
• import from Google Sheets (because we use Google forms to add to our database)
• personalised emails with reference to specific fields (with a fallback)
• the reporting (especially the bounce report)
• smart groups
• templates
Cons
Four features I would love to see developed:
1) The ability to include a table with rows and columns
2) The ability to embed HTML/iframe
3) Some widgets like a countdown timer.
4) I would like to feature all our previous newsletters on our website and short of creating a button to each web version, I would love to see an archive site that we could use.
Reasons for Choosing Direct Mail
Direct Mail makes developing communications to clients easy and very good looking - not the case with competitors.
Reasons for Switching to Direct Mail
SEE "Why did you make the switch?"
Industry: Marketing & Advertising
Company size: 2–10 Employees
Used

Daily

for

2+ years

Review Source
---
Direct Mail always hits the spot
One of my oldest clients is a company that offers PR monitoring software and for the last five years we have been sending out email campaigns every week (Tuesdays through Thursdays) and I know that they are getting customers signing up to their services as a result. We update their campaigns on a regular basis and with Direct Mail's excellent interface I can adapt and amend things very quickly.
For all our email marketing clients Direct Mail allows me to schedule highly personalised campaigns for weeks ahead – a feature that is especially invaluable when we go away, ensuring that our clients' campaigns never miss a beat even when we're on the beach.
Getting notifications on my iPhone, via their Stamps app, means that whenever I am out of the office I am always aware how our campaigns are performing and can provide instant updates if clients need information even when I am away from my Mac.
Direct Mail is a real gem; the pricing policy is very fair and you can easilty up and downgrade your plans as needed. Their support is excellent, and I must shout out to [SENSITIVE CONTENT HIDDEN]; even though we're on different continents we're on the same page and I appreciate being able to have direct contact with support and not having to go raise support tickets.
I very much look forward to continuing to send out compelling campaigns via Direct Mail in the months and years ahead.
Pros
Direct Mail is a powerful and comprehensive, but easy-to-use, email delivery platform that makes every email campaign a joy to design, develop and implement.
It's intuitive interface allows you to design a campaign, create a distribution list and then monitor the results in realtime. The templates that are provided by Direct Mail are almost infinitely adaptable, but you can create your own formats or import templates. Either way, you have at your fingers tips a professional system that I would now not want to be without.
Cons
There is very little, if anything, to dislike, but if there is one improvement they could make it would be to have the option to use the email sign-up forms as a contact form.
At the moment, when creating automated sign-up forms, the only option is for users to 'subscribe', but if Direct Mail could incorporate the option to choose 'submit' and not 'subscribe' that instantly turn it into a powerful and highly editable contact form, which you can incorporate into any website.
Reasons for Choosing Direct Mail
Easy answer: Direct Mail knocks MailChimp out of the water every time. MC is web-based and requires you to log in to find your campaigns; then, you are faced with an overly-complex interface that is nowhere near as intuitive as Direct Mail. When I trialled Direct Mail I immediately closed my MC account. Since then, I have only used MC if clients are using it, but every time I push the merits of Direct Mail.
Reasons for Switching to Direct Mail
Constant Contact (CC) offers a suite of solutions, from email marketing to e-commerce, which was potentially of interest, but I found their email marketing system a constant irritation. Again, it's web-based (or was when I trialled it) and found the method of building campaigns a real pain; the lack of customisability was nowhere near as good as Direct Mail.