About Office Practicum
At OP, we know you want to be a champion for your patients. But in order to do that, you need a hassle-free EHR that moves at the speed of kids. The problem is you are tangled in the complexity of running a pediatric practice while trying to navigate a myriad of issues--from staffing shortages and complex billing to keeping your patients current with well visits and vaccines. We believe it shouldn't be so difficult and time-consuming. We understand the frustrations pediatricians are facing with the push and pull of technology when all you really want to do is spend more time providing great patient care (and getting home in time to eat dinner with your own family). You shouldn't have to sacrifice any of this to manage your business. OP leverages our pediatric expertise to help you deliver care efficiently while reducing time wasted on redundant and tiresome tasks. We recognize the unique needs of the patients you treat who will benefit from a pediatric-specific EHR with custom features, reports, and templates. In short, we allow you to treat children like children, not "little adults". Our EHR complements your workflows and lets you be in complete control of your day. OP offers smooth navigation tools that simplify your patient visits with time-saving pediatric resources placed right at your fingertips – many that you won't find in other EHRs. These include: Integrated Bright Futures Well Visit templates 200+ pediatric-specific sick visit templates Preemie + Down's Syndrome growth charts Vaccine management + forecasting Automated school, sports, and camp forms Comprehensive care plans Asthma action plans Mental health tracker Telemedicine Educational resources + handouts Patient Portal Immunization forecasting Patient recalls + reports State + regional immunization registry interfaces Business Analytics + Dashboards In-house pediatric RCM services OP is so much more than a healthcare solutions provider. We're a community of like-minded independent pediatric practices from around the country who work together to solve business, clinical, and financial problems. With over 6,500 pediatric providers serving the healthcare needs of more than 15 million children and their families, the OP Community ensures that you have a place to share ideas, develop solutions, and mobilize to advocate for change. Our mantra is "we're better together". And it shows. Schedule your free consultation today. And in the meantime, check out our video showcasing how we can help you and your staff handle everyday tasks with ease. Stop losing valuable time and resources and join a community motivated to help you thrive.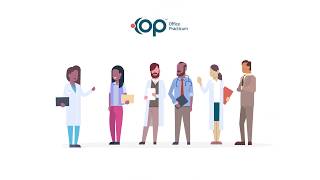 Office Practicum does not have a free version and does not offer a free trial.
Alternatives to Office Practicum
Industry: Medical Practice
Company size: 11–50 Employees
Used

Daily

for

2+ years

Review Source
---
Office Practicum delivers
This overall is a great program.
Pros
This is a pediatric software. The designers have built-in designs that are tailored to meet the demands of many pediatric offices. As times and requirements from multiple agencies change, the designers are quick to meet these new challenges. It is easy to use. We have trained new doctors, nurses, front office with no problems. It also has ways to keep confidentiality matters under control. We are able to do everything that we need to do on the software. The designers are prompt to handle problems and prompt to respond to new requirements including requirements, it seems, from the state level for each of the states. We also use the program for billing purposes, and have had no problems with the billing end of things. You can have your own design features added easily and make your own templates for almost everything. Plus, making templates is very user-friendly
Cons
Some of the things we need to do on the software comes at an additional price. For example, if you want to be storing on the cloud or you want the software to send emails of upcoming appointments to patients. Sometimes there are a lot of clicks that seem could be decreased. Extra clicks is time consuming. There are other things that could improve workflow as well which would also improve time consumption.
Industry: Medical Practice
Company size: 2–10 Employees
Used for

2+ years

Review Source
---
Pediatric Bliss
I have been using OP for about 20 years now and have watched it grow and change like any child from infancy to adulthood, and this program has matured to an invaluable tool for pediatric practices across the country.
Pros
This is one of the easiest programs I have ever used. The point and click on most screens has made a computer dummy like me a genius when it comes to doing my job, or even helping out in areas of the program that are not in my every day job description. Entering payment, doing diagnostic testing in house or sent out to the lab, exam notes and prescriptions have become easier and quicker plus more legible. The program helps track tasks which need to be done when children come in for visits so nothing can be forgotten, vaccines history is available so appointments can be made within the correct time frame to the child to receive them so visits are not lost on early scheduling. This program, if used to it's fullest potential can be a doctors' dream come true.
Cons
There are very few cons to this program, but with all computer generated software, there is the occasional update that doesn't go well. When that happens, support at OP is usually on top of it and a fix is done asap, after all computers are only as good as the programmer and we are all human.
Industry: Hospital & Health Care
Company size: 11–50 Employees
Used

Daily

for

2+ years

Review Source
---
Honest OP review
We have used OP for five years. I have never been this unhappy with any software. Customer service is nonexistent. There are never fixes to anything yet they continue to push upgrades that end up causing more problems. You pay for a product that does not work. This is the worst EMR I have ever used.
Pros
Absolutely nothing. I have nothing positive to say about OP
Cons
Everything. This is by far the worst EMR I have ever used.
Alternatives Considered
PCC
Reasons for Choosing Office Practicum
The owner of our practice wanted a pediatric specific EMR
Reasons for Switching to Office Practicum
The option for cloud based services.
Industry: Medical Practice
Company size: 2–10 Employees
Used

Daily

for

2+ years

Review Source
---
Great for Pediatric Practices
The pre training was great!
Pros
IT is extremely pediatric friendly, There is a lot of good support.There is a support staff that you can reach through telephone, email or chat along with a list serve with a lo of other offices to so how every one does things or is there is an easier way then what you are doing. The software is very user friendly and the report modules are great. We have not even used all that is available such as the MU product and the Portal which I have heard are good too. Yesaly conferences are a great way to meet others on the program and have great classes to pick up new ideas and learn of changes.
Cons
Billing reports were a little harder to get used to. Our billing person has no problem but did take a little training.
Industry: Medical Practice
Company size: 11–50 Employees
Used

Daily

for

2+ years

Review Source
---
Office Practicum
We have been using OP for almost 4 years and we are very happy with it. We did a lot of research before we chose OP and we are glad we chose this product. OP is very "user" friendly for pediatricians; whereas, the other products out there were not. This made the transition for paper charts to EMR a much smoother process than we anticipated. No regrets!!!
Pros
Ease of use. Support at OP is fabulous...very quick to respond and solve issues.
Cons
Not happy with the speed of retrieving messages. wish it were quicker. Not sure if this is just our system or a glitch with OP. OP is looking into it.