About Marketing 360
Marketing 360 is a cloud-based marketing platform suited for entrepreneurs as well as small and midsize businesses. This solution allows organizations to run social media advertising campaigns, conduct search engine optimization (SEO) programs and analyze digital marketing performance. Marketing 360's UXi websites feature helps users create web pages branded web pages that include call-to-action buttons. In addition, the system provides website templates that can be customized and edited with the help of drag-and-drop functionality. Marketing 360's Natural Listing Ads feature helps users manage organic search results by tracking keyword volume and ranking. In addition, it analyzes competitors' SEO performance with the same keywords and shares real-time reports providing organic conversion rates. The Social Targeting Ads let organizations to segment and target clients on the basis of social details such as age, gender, location and interests.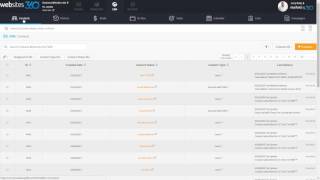 Marketing 360 has a free version and offers a free trial. Marketing 360 paid version starts at US$25.00.
Alternatives to Marketing 360
Industry: Computer Software
Company size: 1,001–5,000 Employees
Used

Daily

for

1+ year

Review Source
---
Improves your marketing and sales rates.
I was introduced to Marketing 360 by a friend who had used their services prior to me. I was intrigued by the concept of their marketing services and was excited to have them work with me. At first, I was skeptical about the services they provided, as I had never heard of their company. After using their services, I was pleasantly surprised to learn that their services are actually very affordable, especially in comparison to other marketing companies. Their services are very affordable and effective.
Pros
I've done a lot of online marketing for the past 6 years but I've only recently discovered marketing360.com. I'm amazed at how much I've been missing out on, especially when it comes to email marketing. I'm new to marketing and this has been a wonderful resource. Through the email marketing program, I have built a mailing list of hundreds of contacts that are all interested in my products.
Cons
I have tried dozens, if not hundreds, of email marketing services over the years and have yet to find one that is more successful than Marketing 360. It has an easy-to-use interface, I really liked it in general and I didn't have any problems.
Industry: Accounting
Company size: Self Employed
Used

Daily

for

2+ years

Review Source
---
A Comprehensive Review of Marketing 360"
What business problems are you solving with Marketing 360?Marketing 360 has helped me solve several business problems, including managing multiple marketing channels, automating tasks, and tracking the effectiveness of marketing campaigns.What benefits have you realized?I have realized several benefits from using Marketing 360, including saving time by automating tasks and streamlining my marketing efforts, gaining insight into my audience with detailed analytics and reporting, and increasing the effectiveness of my marketing campaigns. Additionally, the ability to manage all aspects of my marketing in one platform has helped me stay organized and make more informed decisions.
Pros
What features are most impactful ?As a user of Marketing 360, I have found several features to be particularly impactful in my marketing efforts. The post scheduling feature has been very useful in helping me plan and execute my social media campaigns. Additionally, the automated publishing feature has saved me a lot of time and made it easier to consistently publish content across multiple channels. Is the product easy to use?Overall, I found Marketing 360 to be a very user-friendly product. The interface is intuitive and easy to navigate, and the platform offers a range of helpful support resources, including video tutorials and a knowledge base. The customer support team is also very responsive and helpful in addressing any questions or issues that arise. Was integration with your existing business processes easy?Integrating Marketing 360 with my existing business processes was a smooth process. The platform offers integrations with a range of popular business tools, including CRMs and ecommerce platforms, which made it easy to connect Marketing 360 to my existing tech stack. Additionally, the platform offers robust automation features, which have helped streamline my marketing workflows and reduce manual input.
Cons
Are there features you feel are missing or could be improved?In my experience with Marketing 360, I have not come across any significant missing features. However, some features could be improved, such as the user interface design for some sections of the platform.Are there aspects of the product that are difficult to use?Overall, I found Marketing 360 to be relatively easy to use. However, some aspects of the platform, such as setting up certain types of campaigns, can be a bit challenging for new users.Was integration with your existing business processes difficult?Integrating Marketing 360 with our existing business processes was relatively straightforward. The platform offers integrations with several popular tools, and the customer support team was available to help with any issues we encountered.
Industry: Marketing & Advertising
Company size: 2–10 Employees
Used

Weekly

for

1+ year

Review Source
---
High risk to waste money
Pros
They are great seller, but no benefit for you
Cons
Inconsistent Results, Customer care is never available. Stay away.
Industry: Dairy
Company size: 5,001–10,000 Employees
Used

Daily

for

2+ years

Review Source
---
Marketing easily and quickly
A good and cheap platform that helps a lot in corporate marketing. It works very efficiently and is easy to use.
Pros
A good platform that is suitable for small and emerging companies. They are well trained and study the market needs very efficiently. They have the ability to acquire new customers in large numbers and in a short time. They have good and responsive customer service. It is possible to create mailing lists that include very large numbers of contacts who are interested in our company's products.
Cons
There are not many cons and may not exist. I am happy with my experience with Marketing 360. However, I hope that this platform will be developed further to accommodate the rapid market movement. I also wish to provide this platform in several languages to be easier to use in the world.
Industry: Marketing & Advertising
Company size: 2–10 Employees
Used

Daily

for

6-12 months

Review Source
---
Manage customers effectively
Really great software that suits my needs
Pros
I really like the interface of the software, I adapted very easily to the features
Cons
Like most of my software, I have not encountered any problems with its use