About Namely
Namely makes life easier for you, your boss, and your employees. Sounds nice, right? Namely gives you the resources, technology and people to support your company every step of the way throughout your HR process and landscape. With modern, intuitive technology and a world-class team of HR experts, Namely empowers people teams with an all-in-one HR solution designed for mid-sized businesses (25-1000 employees). Namely is an HR solution for people leaders who want to save time, avoid error and build culture. With Namely, you get everything you need to build a better workplace through our single platform that is implemented with your unique business needs in mind. Namely's all-in-one solution allows you to: - Streamline all of your HR data - Run and manage payroll with ease and efficiency - Ensure you are staying up to date on compliance regulations - Re-engage and ignite your workforce - Attract and retain top talent - Administer and manage employee benefits - Build trust in your business leaders - Review robust HR data and analytics to make smarter decisions Namely's modern and intuitive platform includes: HR (Onboarding, HR Analytics & Reporting, and Compliance Support) Talent (Applicant Tracking and Performance Management) Payroll (Payroll Processing and Tax Management) Benefit Administration (Life Events, Enrollment, and Administration) Compliance Plus (LMS, Handbook Creator, Live HR Advisors and more) Time & Attendance (Time Tracking & Scheduling) Need more hands-on support? We've got you covered with Namely's enhanced services: Managed Payroll (Outsourced Payroll Administration) Managed Benefits (Benefits Consulting and Brokerage) Check out some of our latest updates! Slack Integration Bring your team together with instant communication through Slack! With Namely's integration with Slack you can make instant company announcements, encourage employee recognition, celebrate milestones, welcome new hires and more right into your designated Slack channel. Continuous Feedback Keep the performance conversations going with Continuous Feedback! Stay engaged and proactive by having an open line of communication throughout the year and provide ongoing feedback to your employees, not just around review time. Expense Reimbursements Employees can now easily submit expenses and receipts for reimbursements directly within their platform, and administrators can quickly approve these expense reports for direct processing. This process is easy for both the employee and admin, providing an improved user experience! Onboarding Manage your onboarding process with more ease! The newly updated template creation wizard, administrator dashboard, and automated task lists allows you to set up the onboarding process and required information quicker and easier for both you and your new employee.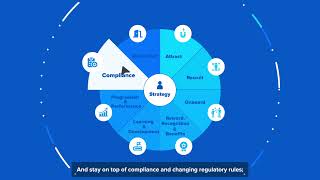 Namely does not have a free version.
Industry: Information Technology & Services
Company size: 201–500 Employees
Used

Weekly

for

2+ years

Review Source
---
Namely keeps us connected and focused at work.
Namely has helped us to manage the workforce, employee retention, understand data and insights within our organization, and keeping us connected in a single package, and we are able to benchmark our productivity, accountability, and credibility in terms of HR. We are able to set time cards, clock-in features at work, as a result, we are able to get optimum results. Managing time-off requests, sick leave(vacation) for employees has been a lot easier, and also the reporting and analytic feature of Namely has helped to keep track of every record at work. Overall, Namely has helped our organization in managing the workforce, employee engagement along with payroll, benefits, and talent management.
Pros
Namely is simply a great platform for HR, Payroll, and benefits management within the organizational framework, as it helps to create better workplaces with varying functionality to adapt in small to mid-size businesses and comply with different regulations at work.
Cons
No particular downsides of the software. Sometimes, I got a problem syncing employee's data to Namely. The API call is not worth handled by the application and keeps me disconnected. Hope this would be solved in the next update.
Response from

Namely

Thank you for your review! We really appreciate your feedback and are happy to hear that Namely helps you manage your workforce, keep employees engaged, and build a better workplace.

Replied 30/11/2020
Industry: Information Technology & Services
Company size: 501–1,000 Employees
Used

Daily

for

1+ year

Review Source
---
Happy with HRIS
Namely is a good system. It has helped us to make our candidate and employee experience easier and more efficient. We are looking forward to adding the benefits system to replace our current system to really give our employees a central place to go for all of their needs.
Pros
We really like the onboarding tool for our new hires. There are definitely benefits to this system to streamline your process. For the most part, Namely provides an easy to use platform for our new hires to upload and provide their information. I really like the option of the e-signature which allows us to send out documents to individuals or company wide to be signed. Those documents are then available on the employees profile. We like the analytics which allow us to look at a variety of data points about our employees. We are preparing to add Namely benefits to our package and are hopeful that this will allow us to increase our employee experience satisfaction.
Cons
We did not have a great experience with implementation and felt that we were not prepared for our go live. Our original Customer Support person struggled with many of our questions and concerns and we were left to figure a good number of work arounds on our own. We are hopeful that the new system for getting help support will be better for us. We are frequently looking for ways to work around the limitations of the Namely software. The Namely community of users has been helpful to our company.
Response from

Namely

Thank you for your review! We really appreciate your feedback and are happy to hear that Namely has enhanced your onboarding process and overall employee experience.

As for implementation, we truly apologize for your experience. We have made several improvements recently, such as introducing Data Migration Services, to ensure that our clients' implementations go smoothly and properly prepare them to go live.

As for customer support, we are confident that our new Pod Service Model will enhance clients' overall experiences and are happy to hear that you have found the Namely Help Community to be helpful.

Replied 30/11/2020
Industry: Internet
Company size: 201–500 Employees
Used

Daily

for

2+ years

Review Source
---
Avoid at all costs
Terrible - service reps do not know the system, standard payroll practice, let alone any questions. Service tickets get lost, takes months for resolution of more complex tasks and extreme micromanagement
Pros
It's pretty. There is really no other pro.
Cons
HRIS:
No proper Leave tracking for maternity/paternity, jury duty, bereavement leave ETC
There's no way to see a PTO accrual history
Employees are not alerted when their address format is invalid
Only one set of holidays - UK sees all US Holidays
When reporting structure changes you have to make MANUAL changes in Namely Payroll IN ADDITION to doing a mass upload in the HRIS
Doesn't auto track history of Job titles
Need to manually assign PTO to employees not automatic
Leave approval amends, not sent
Lack of point in time reporting
Does not auto assign pay group based on the type of pay entered
Payroll:
You can't retract partial payments
Had to print W2s and sort through employees that electronically consented and send out those that did not
"We have to do all of the calculations manually when there is a comp change in the middle of a pay period "
Invalid addresses prevent us from proceeding with payroll
We are unable to easily add "time and a half" for employees who work on holidays
Takes weeks to add a new department code
Tax withholdings do not flow seamlessly from HRIS to Payroll
If we need to Mark an employee as FICA tax exempt we need have to reach out to Namely as only they can do this
Employee ID do not flow over to HRIS
Manually have to add holiday pay for employees does not flow into payroll
You have to manually exclude employees from payroll once terminated
Time and attendance:
Time card entry is tedious
PTO doesn't communicate to Payroll
You have to man
Industry: Industrial Automation
Company size: 11–50 Employees
Used

Daily

for

2+ years

Review Source
---
HR and payroll 'amped up'
Great team, good support. Really have enjoyed and benefited from the Broker Team at Namely.
Pros
I think the ease of use for all users was a main factor. Keeps the team engaged, connected and really enjoy the ability to manage PTO all in one spot.
Cons
Think sometimes there are a couple of suggestions by a minority that get a lot of attention and maybe it isn't something that needed to get focused on right away or maybe more discussion so the functionality works better for all.
Reasons for Choosing Namely
Primarily ease of use.
Reasons for Switching to Namely
Enjoyed the team I had during the process, their knowledge and experience made all the difference.
Response from

Namely

Thank you for your review! We really appreciate your feedback and are happy to hear that our platform helps keep your employees engaged and connected. We work very hard to assess, prioritize, and action on all suggestions that we receive. Please continue to give product feedback to your dedicated Namely Pod and know that we take it very seriously!

Replied 28/7/2020
Industry: Information Technology & Services
Company size: 51–200 Employees
Used

Daily

for

1+ year

Review Source
---
CircleCI<>Namely
Our experience with Namely has definitely been tumultuous. We had a very rocky start and it continued to be rocky as the turnover rate was extremely high on their CS team. We had about 6 CSMs within one year. Constant issues with the platform and no resolution in sight. Things are better now and Namely seems to be making great strides towards progress, but still has work to do.
Pros
-one source of truth for all employee information
- easy to track/request time off
-resources tab is helpful for new hires
-place to store private employee data
-very customizable
Cons
-SO many issues in the beginning(especially with workflows and onboarding templates)
(ex. when you submit a salary change workflow you have to do two separate workflows for base salary and commission, even though the commission piece is added into the workflow).
-can't easily hide legal name from other employees view
-tasks tab is pretty much no use to us. When you assign a task to someone there is no way to set reminders or alert you if you have a task overdue. Also, no notification or red flag that says you have incomplete tasks on the homepage.
Reasons for Switching to Namely
We thought it would be best for what we needed. Globally distributed. Payroll+HRIS. Customizable.