About TouchBistro
TouchBistro is an all-in-one POS and restaurant management system that makes running a restaurant easier. Providing the most essential front of house, back of house, and guest engagement solutions on one powerful platform, TouchBistro helps restaurateurs streamline and simplify their operations – allowing them to spend less time manually connecting the dots, and more time connecting with guests and growing their business. Built to meet the unique needs of the restaurant industry, TouchBistro is fast, reliable, and easy to use, and has all of the features restaurateurs need to increase sales, deliver a great guest experience, and save both time and money. By pairing innovative restaurant technology with an unparalleled dedication to customer support and success, TouchBistro has powered more than 29,000 restaurants in over 100 countries, and is a global leader changing the way restaurateurs do business.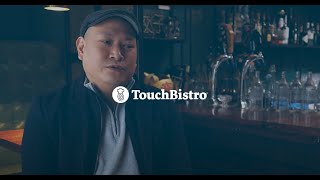 TouchBistro does not have a free version and does not offer a free trial. TouchBistro paid version starts at US$69.00/month.
Starting Price:
US$69.00/month
Alternatives to TouchBistro
Industry: Automotive
Company size: 201–500 Employees
Used

Daily

for

1+ year

Review Source
---
TouchBistro POS Review
When I first saw TouchBistro POS sponsoring restaurants on a Gordon Ramsey television show, I thought if he recommended it maybe we needed it as well. I am not at all disappointed by this decision I have made. Traditional tickets are out the door now thanks to this lovely system. You've made our business run smoother, which means more happy customers.
Pros
The TouchBistro POS system is a very easy to use. I don't find myself to be the best at POS systems, but the setup process was basically idiot-proof. Getting everything to work took way less time than I anticipated. Also, I have yet to see this POS system crash, even during busy hours.
Cons
Sometimes there can be a little lag when putting in certain orders. It seems like the POS system is sometimes just trying to play catch up with itself. We have noticed that moving from page to page oftentimes will slow it down. We have learned to not click as quickly now though.
Industry: Restaurants
Company size: 11–50 Employees
Used

Daily

for

1+ year

Review Source
---
Needs to come down in price
Okay
Pros
User friendly, great tech support, does a lot.
Cons
Need training to buyers, better then they give. There's video you can watch, but hands on learning is much better. You have to pay for each service, other POS's the services come with it. Expert to have more then 1 bill….
Response from

TouchBistro

Hi Tammy, thank you for your review. We appreciate you taking the time to provide feedback and have shared your message with our Senior Support team. - ST at TouchBistro

Replied 25/4/2023
Industry: Food & Beverages
Company size: 11–50 Employees
Used

Daily

for

6-12 months

Review Source
---
A Big Steaming Pile o'POS!!
Their tech support is a joke, it takes all day to get a hold of someone, unless of course they have just rolled out an update that is writhe with errors, then it may take as much as two days to get through to their support. It's really fun when a pos- pos update makes your visa service go out for an entire day. This company is in way to far over their heads. The system is not reliable and neither is their tech support. I just called and 24/7 tech support means someone who knows NOTHING answers the phone and tells you to call back the next day or go on your tablet and submit X to data support team tomorrow. You must have gotten paid for this review. You obviously have not experienced the product first hand!!!
The worst part is my complaints and problems got escalated to [SENSITIVE CONTENT HIDDEN] told me he would work to get me out of this system and out of my 2 year visa contract with Chase. I started talking to him in January and he has now ghosted me. No contact, no follow through. It's going to the lawyers now.
Pros
I thought this would have a better interface than what I had been using. And while it is a little sexier and the touchscreen is handy, but those small benefits our out weighed by the other problems with their lack of competent support and other functionality.
Cons
The biggest problem is that they oversold and under delivered. They told me that all my current printers would work with their requirements. Opps get ready to go live, go live and then find out you have to purchase a $350 printer bc your visa printer isn't "actually compatible" after all. Print all of your visa slips to a boh printer and run to the kitchen to retrieve them for a week while the new printer arrives- so much fun!!! They didn't explain that each device must have it's own Moby Visa device, no problem, that's only about $200+ to get another one of those. Sales person sold me on how they set up your menu, oh not that costs $800, even the promotional video they sent says the same thing.
It is not reliable, there are constant glitches in the system. They roll out updates with out thoroughly testing them. I'm not paying them $120 per month to be QA for their shitty updates. The interface with the Mobi CC machine from Chase it completely intermittent. For at least half the transactions of the day, you have to send the info to the machine twice bc it automatically craps out an error on you. During one painful update, the system stopped communicating our visa terminals altogether. Really fun to ask customer if I can write down their info and run it later, that didn't make us look ghetto or anything.
Reasons for Choosing TouchBistro
Because the Sapphire system was not very user friendly and had limitations that we were constantly trying to work around. It looks like an old dos program from 1999, for the most part.
Reasons for Switching to TouchBistro
They start up cost was supposed to be much cheaper.
Industry: Restaurants
Company size: 11–50 Employees
Used

Daily

for

2+ years

Review Source
---
Excellent POS system
Touch bistro has been a vital part of my business. It was easy to set up my menu and any modifiers, which is important for not missing things on an order. Getting daily, monthly or even yearly reports is very easy. The software is easy to use, so you don't have to be tech savvy to understand how to use it. When you link your payment terminal with the system it is only a push of a button and the customer can use the terminal. There is no change of discrepancy between the register and terminal. Overall it is a great system and I have had no issues with it in the almost 3 years I have been using it!
Pros
I love that it is so easy to navigate through my menu. Payment options are made simple and easy for the employees and customers. You don't need to be tech savvy to understand how the program works so it's great for all age employees.
Cons
Sometimes it takes a while to reach support
Response from

TouchBistro

April, it's been a pleasure working with your business for the past 3 years! Thank you for sharing. -Carly

Replied 23/8/2023
Industry: Restaurants
Company size: 11–50 Employees
Used

Daily

for

1+ year

Review Source
---
The Best POS system
TB is the best POS system I have ever worked with in 40 years I have been in the restaurant business.
Pros
The ease of switching over from our old system to the TB system
Cons
Nothing . Everything works exactly they way we wanted .
Response from

TouchBistro

Hey Brian, thank you for leaving us a review! We appreciate the kind words!

Replied 21/12/2021