About iClassPro
iClassPro is a cloud-based business management solution for midsize and large studios with features such as class management, attendance management, staff scheduling and online payments. iClassPro features class scheduling, which allows students to schedule their classes online. When a class booking is made, it reflects in trainers' calendars in real-time. The solution also features a mobile application for iOS devices where students can sign in and mark attendance. The app allows students to make online credit card payments for class fees and merchandise purchases. iClassPro features automated email and text messages which allow users to manage marketing campaigns and student communications. The solution features website integration which allows users to add pre-formatted buttons to patent websites by pasting the HTML code in the website code. iClassPro is available on a monthly subscription basis that includes support via email and through online knowledge base and FAQs. Support via phone is available during business hours on weekdays.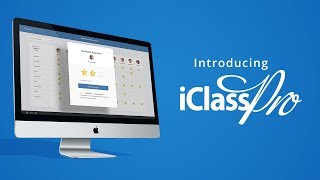 iClassPro does not have a free version but does offer a free trial. iClassPro paid version starts at US$129.00/month.
Starting Price:
US$129.00/month
Alternatives to iClassPro
Industry: Sports
Company size: 11–50 Employees
Used

Daily

for

2+ years

Review Source
---
Berks East Review
We have been using iClass for 5 and a half years, and believe it is currently better than other alternatives.
Pros
General Setup is easy to set up and make classes and billing.
Able to send billing statements, and messages to all the clients.
Cons
Wish we could make custom reports.
Wish there was a color blind option when viewing past due balances on family screens.
When a trial or make up - Would like to make a note to the trial record.
Notes on families and students are difficult to find, and should be integrated so that you can see note about family and students more easily.
Industry: Sports
Company size: 11–50 Employees
Used

Daily

for

1+ year

Review Source
---
Great Program with minor Flaws
We have really enjoyed the program overall. It beats our last program hands down. Even with all the issues I would not go back to what we had before. Pretty easy to use and I love the platform/ portal for the parents.
Pros
I love the ease of access once everything is set up. Coaches can take roll and keep up to date on student info rather easily. Skills tracking is available on the app, but not quite as easy to use.
Cons
As the person responsible for printing out the reports, I have an issue with the format of reports. They are not always easy to get looking like they should and some are hard to get what you want. There are also little issues I do not like. The entering of payments is a little tedious at times. We have also had a few issues with the time clock not working correctly.
Reasons for Choosing iClassPro
Needed an online platform to make it easier on office staff and customers.
Reasons for Switching to iClassPro
Other gym owners that I trust sold me on IClass Pro.
Industry: Recreational Facilities & Services
Company size: 2–10 Employees
Used

Daily

for

6-12 months

Review Source
---
Not as good as Jackrabbitclass, but has a birthday party system
The only reason I still have it is because of ipartypro, otherwise I would go back to Jackrabbitclass.
Pros
That ipartypro is compatible and my customers can easily book parties and add additional items onto the basic party package.
Cons
-I do not like that there is no point of sale and I still have to us paypal in the store. I would like something that I can use for walk up open play sales and not have to enroll/register a family.
-I do not like that the reports section won't tell me what my daily sales are and in what areas. I want a functional useful report system, and I'm not getting it from iclasspro. I am an indoor playground that does classes in 8 week sessions, not a studio or gym with year long enrollments.
-The report system should be able to tell me how many children enrolled in which classes and how much money came in from those children for those classes. It should do the same for birthday parties. I should be able to set dates for a period of time. A year, a month, a custom time frame.
-I cannot change the photo attached to the parent portal, though I have tried for the past four months.
-I would prefer to use html and have parents book directly from my website instead of being directed to the parent portal.
-The promo codes are useful and yet a pain to activate and they never seem to work right. Why do we have to turn them on for every class when we are copying currently set up classes?
Industry: Sports
Company size: 11–50 Employees
Used

Daily

for

2+ years

Review Source
---
IClass Pro works great for gymnastics schools.
We have had a really good experience with IClass Pro. It works well with our class schedules.
Pros
IClass Pro continues to update and add new services and customer service is always on top of servicing their customers.
Cons
I wish reports could be customized to better help us with sign in sheets.
Reasons for Choosing iClassPro
Cost
Reasons for Switching to iClassPro
IClass Pro is a better option for the gymnastics industry. It allows us to keep up with every thing we do.
Industry: Health, Wellness & Fitness
Company size: 11–50 Employees
Used

Daily

for

2+ years

Review Source
---
Constantly Improving
Having come from spreadsheets and papers to manage the business, iClassPro was a major upgrade. Overall, they continue to improve, which in turn pushes us to continually improve as well. I'm very satisfied with the value I receive from iClassPro.
Pros
Our business is constantly seeking ways to improve the way we offer our services to our customers, and the iClassPro software is no different. There are always new features being added that simplify the process of registering, paying, scheduling, and managing classes and staff.
Cons
It's difficult to find faults with the software. The ability to create a custom registration charge table would be appreciated, as the registration fee at our facility is not the same for a second or third child, as it is for the first.
Reasons for Switching to iClassPro
The user interface for the staff and parent portal seemed more intuitive in iClassPro.