About ClinicSource
ClinicSource is a cloud-based practice management solution that helps in scheduling and documenting the therapy appointments of the patients. ClinicSource Therapy Practice Management's scheduler includes billing and electronic medical record, where the patient's information is recorded in the database and all the claims and invoices against the patient are displayed and can be generated automatically. The mental health practitioners can create notes and alerts on each patient that can be linked to the patient's medical records. This helps the patient to view their medical history at a common location. The scheduler also helps in booking appointments that can be edited and modified using drag and drop feature. The appointment reminder feature gives the patient an alert a day before each appointment to avoid a no-show. The Patient can reschedule the appointment in case it is required at their end. It is priced on a per month subscription basis. Support is available on call and live chat.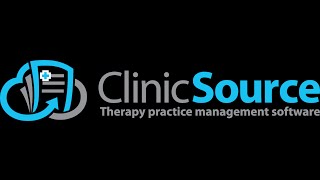 ClinicSource does not have a free version but does offer a free trial. ClinicSource paid version starts at US$59.00/month.
Starting Price:
US$59.00/month
Alternatives to ClinicSource
Industry: Medical Practice
Company size: 2-10 Employees
Used

Daily

for

2+ years

Review Source
---
Great Software for Private Medical Practices
ClinicSource offers organization to any medical practice. It provides video and documented tutorials to make training easier for new employees.
Pros
ClinicSource is great for maintaining patients' personal info, medical records, insurance, billing, and payment information. ClinicSource gives you the ability to create accounts for the doctor and administrator. The administrator is able to schedule appointments, alerts, and notes according to the doctor needs. You can link Clinicsource to an email or phone to obtain alerts.
Cons
Unable to obtain deleted patient information through customer service. Therefore, click "SAVE" in each thread to ensure information is saved.
Industry: Medical Practice
Company size: 11-50 Employees
Used

Daily

for

2+ years

Review Source
---
Great product!
Overall experience is outstanding-- not because of the product, but because of the customer services. Responses to questions are always quick, and they are well explained. Most recently I interacted with [SENSITIVE CONTENT HIDDEN]... he was fantastic. His responses were easy to understand, and he was very personable. A good product is important, but customer service wins clients!
Pros
The product is easy to use... if a mistake is made, it seems easy to correct-- not permanent.
Cons
Integration was easy. If anything could be changed, it would be cool to offer some sort of teletherapy platform within Clinic Source. The platform would offer games and programs that families and therapists could log in to, and have teletherapy sessions with all e-materials loaded into CS.
Used

Daily

for

1+ year

Review Source
---
Looked awesome initially, but does not fulfill promises
I was able to start my company with this software. I was able to use an integrated schedule, documentation, and billing software. The cost is reasonable.
Pros
Graphics are appealing. The technical support person is very kind and helpful. The cost is reasonable. I am a one-therapist company and for the most part, most of the system works.
Cons
(1) One has to place a "support ticket" to get any help. The initial person on the phone who takes your call is unprofessional and robotic and states that you "first" have to place a "support ticket". Then, the support ticket will be closed if a certain amount of time passes--even of your problem was unresolved. For example, I placed a "support ticket" on a Friday, and by Monday I was notified by that it was "canceled" due to "customer did not respond in a timely manner". So due to the fact that I placed the ticket on Friday, and I didn't respond to the 'automated message' in 1 day's time, (Saturday--when I was not working) my ticket was cancelled and I had to start the process over again. Once you are able to schedule "a help session", Steven, the tech, is wonderful. He is very kind and helpful. However, it is very frustrating go through all the "hoops" prior to getting help. (2) The company has not held on to the promise (when I signed on in September 2016) that there would be a "patient portal" or means to have clients register for service at home by October of 2016. They still haven't added this. It is now October 2017. (3) Additionally, the company does not know how to explain/correct Medicare billing. A tech (not Steven) did not /could not understand how to help me with G-code entries. Lastly, we can not use Clinic Source to bill Medicare Clients. Medicare rejects all. We have to bill using a different system.
Industry: Medical Practice
Company size: 11-50 Employees
Used

Daily

for

Free Trial

Review Source
---
New ClinicSource user
As stated, we are new and in the trial phase, but so far, so good.
Pros
We are new to ClinicSource, but so far things are going well. Everyone has been very helpful and willing to help answer questions or help with problems. We are still in the trial phase and hope to go live soon.
Cons
We wish that there was eligibility checking capabilities, but we understand that is coming in the future. And for that data migration it would have been nice if the insurance information had loaded.
Industry: Hospital & Health Care
Company size: 2-10 Employees
Used

Daily

for

6-12 months

Review Source
---
Worth the price
ClinicSource saves us time, which equates to saving us money. Things are streamlined in ClinicSource and accepting new patients is a breeze with the patient portal, and with the ability to store documents the clients provide, everything we need for our clients is in one place. Billing through the clearinghouse is efficient as is their support.
Pros
I like the patient portal feature. I also like the ease of billing through the clearinghouse and the therapist dashboard. ClinicSource is an easy way for me to manage the scheduling, staff, billing and documentation of our small, but growing practice. I feel ClinicSource can "grow" with our company.
Cons
The price is a little higher than other software programs, and the price has definitely gone up since I started using this software years ago. However, ClinicSource offers more and offers better features than other software programs.