About Project.co
Project.co is a cloud-based solution that helps small to large enterprises manage multiple elements of projects including payments, tasks, time, people, files and more. It lets users request clients to process payments electronically via credit cards and generate automated invoices with the required information. Project.co helps businesses arrange and view tasks in various formats such as lists, calendars, schedulers or Kanban framework. The centralized platform enables users to chat and collaborate with team members/clients, streamlining communications across the organization. Additionally, managers can embed videos into comments and filter attached files by names and dates. Project.co facilitates integration with third-party applications including Stripe and SagePay. It allows administrators to automate the delivery of email notifications to team members appearing in an offline mode. It is available for free as well as on monthly subscriptions and support is extended via live chat.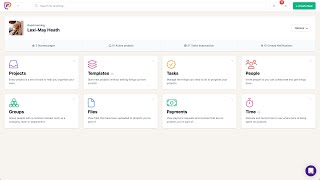 Project.co has a free version and offers a free trial. Project.co paid version starts at US$8.00/month.
Starting Price:
US$8.00/month
Alternatives to Project.co
Industry: Internet
Company size: Self Employed
Used

Daily

for

1-5 months

Review Source
---
The Perfect PM Tool for the Entrepreneur or Startup!
Their public roadmap is a huge plus, showing off all the new shiny features that are yet to come, it's exciting to be a part of this!
I love this product and have been using it daily to build my business, they've made it almost too easy!!
I only wish I found them sooner.
Pros
Project.co has allowed me to simplify my client interaction and keep all the conversations in one place. Between file sharing, comments, and quick task view I'm hitting all milestones in stride.
I've used other client facing products before and they have always become bloated and have had a steep learning curve for the client. With Project.co this wasn't the case! It's intuitive and easy to get onboard and find your way around the project. PM's have dived in and within 10 mins created a new project, added clients, and started the convo after our kickoff meetings.
Customer service is above and beyond anything I could have expected with [SENSITIVE CONTENT HIDDEN] and his team. Available to answer simple questions on the spot all the way up to complex integration walkthroughs this team has it all.
Cons
This is is super small and probably already in their planned releases. But the ability to completely edit and change the UI colors/branding in the app itself. (Button color, Left panel bg color, Login page details)
Industry: Computer Networking
Company size: 2–10 Employees
Used

Daily

for

2+ years

Review Source
---
The Best Tools for My Team So Far
Project.co is very easy to use, my people like it, as well as my clients.
Pros
we are a small developer team, using Clickup to project managing till last week we decided switch to Project.co.i still remember it token me 3 hours to understand Clickup's UI and logic, it is a great tool but it also too complicate, and sometime it is very very slow, i see this problem had been feedback long time ago, but seems now improvement so far. we paid Clickup but people inside my team don't like to use it~ LOL.our requirement for a project managing tool is simple:- it must have different views, like Kanban, Calendar, and overloading for each one.- it must be easy to use, when we invite some client to get inside, they can easily understand how it works.- it must have a nice interface of note-taking, a notion-style is preferred, and it also must can take long notes- real-time collaborate, chat, or even video meeting.so far, only Project.co works fine, it have notion-style slash note-taking with long notes, have enough views we can clearly see status, and chat tool is great.The most important point, is unlike clickup which is huge and complicate, Project.co very easy to understand.but I also have to say, Project.co is not perfect now, ex. I have feedback that there is no highlight for code snippets so far, and sometime it a bit buggy.but when I feedback bugs, I got reply fr
Cons
It is still missing some feathers, like highlight for code snippets when taking notes.also sometimes it is slow to connect, i guess this because its data-center located in EU, an I am not..
Reasons for Choosing Project.co
Clickup is much complex.
Reasons for Switching to Project.co
Taskade can take long-form note.Notion is not very good for invite clients to editor unless we paid for them.Flowlu, buggy and note editor is too simple and also hard to use, it more like a CRM not a project managing tool.
Industry: Mechanical or Industrial Engineering
Company size: 2–10 Employees
Used

Daily

for

Free Trial

Review Source
---
There is no free tier. The site locks your data out after the free trial is over.
Pros
Interface is ok. It is minimal and does not have lots of color. Website is unresponsive sometimes.
Cons
There is no free tier. The site locks your data out after the free trial is over, forcing you to pay to get it back
Industry: Research
Company size: 1,001–5,000 Employees
Used

Daily

for

1-5 months

Review Source
---
Project.co - tool for collaboration within your team
Project.co is very simple and easy to use tool for project management.
Pros
Project.co is very easy to use software, almost everything is very intuitive and I would say it is also suitable for teams which don't have any experience with project management softwares. It enables to communicate about projects, track progress, share files - everything in one place.
Cons
I haven't found any disadvantage yet, compared to more comprehensive softwares, Project.co is focused on simplicity so more demanding user might miss some features or customization options.
Industry: E-Learning
Company size: Self Employed
Used

Daily

for

1-5 months

Review Source
---
Project and Task Tracking is a Breeze with Project.co
My experience with Project.co has been very positive and I have yet to fully utilise its full range of benefits. It is very easy to use and I highly recommend it for many reasons.
Pros
I have found Project .co to be a terrific and very easy to use project management and collaboration tool which I'm using every day in my business. Since I started using it, I've been able to declutter my desk considerably and have greatly improved my productivity.There are sample Projects and Tasks within the system, so learning and getting started with these key productivity tools is a breeze. There is even a project for Lead Tracking, which has saved me time having to set this up.Apart from the Project and Task management tools, I'm also provided with a whole range of supporting features which allow me to engage with customers and keep all pertinent information together in one place, all nicely at hand for working across a range of projects. The support features include tools to add Notes, Files, Discussion Comments, Time and Payment records, etc. Also, I can add Customised Fields specific to my business, which is also most useful.I also like the integration features so I can connect Project .co with other apps to synchronise data. This includes Stripe integration for billing purposes.The live support Chat facility on the website is also excellent with confirmation of resolution received by email at the conclusion of each discussion.
Cons
There is nothing I have to criticise about Project.co
Alternatives Considered
Asana
Reasons for Choosing Project.co
I still use Trello for certain features but for daily operations the switch to Project.co has been beneficial owing to its ease of operation and flexibility afforded to data management.
Reasons for Switching to Project.co
Price/Benefit analysis in my case weighed favourably towards Project.co