About Jobber
Jobber is a cloud-based field service management software solution that allows small and midsize service businesses to manage field staff, provide customer support, and expand business operations either through a mobile app or a desktop dashboard. As a service business solution, Jobber supports over 50+ service industries and provides interchangeable tools such as an integrated CRM, real-time scheduling and dispatching, expense tracking, invoice creation and billing, online booking, a self-service client hub, quoting, client reminders, automatic emails and many more. With time tracking functionality, Jobber's scheduling module allows users to update any job in real-time such information on task completed and project progress so management can effectively track field personnel. For assignments, management teams can set up individual jobs or recurring contracts and assign multiple field technicians to a single job. Jobber allows users to create professional invoices using customizable templates and will automatically send invoices via email. For epayments, Jobber partners with various electronic payment apps, such as Stripe and Paypal to streamline electronic billing. Jobber's customer relationship management (CRM) module will track past clients' contact information allows users to create custom fields, tags, attach files or phones, and more. All of this is connected back to the billing and work history. In addition, any client can approve quotes, schedule work orders, pay invoices and communicate with service teams using Jobber's self-service client hub. The Jobber app is available for iOS and Android devices.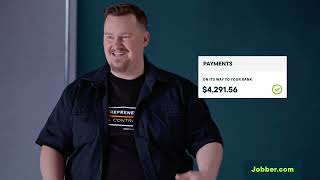 Jobber does not have a free version but does offer a free trial. Jobber paid version starts at US$19.00/month.
Starting Price:
US$19.00/month
Industry: Food & Beverages
Used

Daily

for

2+ years

Review Source
---
Excellent company and excellent product
Makes things work so much better for us! There are small issues but we work through them. Nothing is perfect and for the price point this is phenomenally the best on the market.
Pros
Absolutely great system and easily adaptable to service companies. They are constantly adding features and functions and I hate to give only 4 stars on that but there are a few things that we would like to have but it doesn't incorporate. They are ALWAYS open to listening and I have actually had some of my ideas incorporated into the program. If I could give 10 stars on the customer service and value for the money I absolutely would. It is a simple program to use once you play with it for a bit. They are always updating which is awesome always new functionality available!
Cons
I don't like the fact that Visits and Jobs are treated separately with no way to combine them. I wish that you could set this up and for us, just delete the visit altogether because for us a Job is a Visit. They are always 1 to 1 ratio for us. It makes some of the scheduling frustrating because you can schedule a job but not have a visit scheduled. I can completely see how other companies need the ability for multiple visits on 1 job though.
Would like to see compulsory custom fields so you don't forget to fill out important data on quotes or invoices.
This is a big one, if you don't use the Stripe Jobber Payments then you cannot post a refund to a clients account. You basically have to do a work around and then post a negative invoice. It is very frustrating for a basic accounting function. We often have customers place deposits or pay in advance and they don't use their full deposit for our service. We have to issue a refund and it is a real pain to do.
Industry: Construction
Company size: 11–50 Employees
Used

Daily

for

6-12 months

Review Source
---
Jobber Does it Better
We love Jobber. We have had a wonderful experience and continue to have a wonderful experience every single day. We are very very heavy users of this product and we are very happy with this product! Their customer support is phenomenal as well. Available by chat almost always within a minute or so and they are always INCREDIBLY helpful!
Pros
We love the Jobs being able to be assigned to our Tech's and crews in real time. We love the GPS feature for when homeowners claim that a crew member was or was not there when they said they were. We love the invoice and payment all being directly attached to the job for easy research or review. We love the scheduler and the ability to send booking confirmations in multiple formats. We love the automated Job Completion emails (especially for our property manager clients). There's more but it would take too long.
Cons
The only thing I don't love about Jobber is when I want to send a booking confirmation or an invoice to a tenant AND the property manager, it will overwrite the phone number in the Client's field due to our connection with Quickbooks Online. It is a glitch that they don't have pointed right at this time, the newly added phone number automatically gets added as the "Main" phone number for the client and then when it syncs to QBO it overwrites the main number in QBO and keeps overwriting the phone # as Main back and forth until we can catch it and delete the auto saved phone number and remark the Client's phone as the main phone. It is a clunky process for us.
Reasons for Choosing Jobber
Quickbooks time did not integrate the hours to the projects properly so even though the Project was in Quickbooks and QB Time they did not speak to one another nor were the invoices attached to the Project correctly and 2 separate log ins for the same software is time consuming and clunky. Needing to have two log ins for our Techs, 1 for time tracking and another for expense tracking and then another for the calendar for our clients and staff was just far too much for our crews to manage while in the field and on the go.
Reasons for Switching to Jobber
Cost of the product and the customer service aspect is what caused the final decision to be Jobber
Response from

Jobber Software

Hello Megan!

Thank you so much for the wonderful review. We think it's great that you are benefitting from the GPS waypoints feature and the client communications tools. We love that you love, invoicing and Jobber Payments! Thank you for the feedback on the client sync with the Quickbooks Online Integration. The Support Team is always happy to help and we are so glad that you are having such a fantastic Jobber experience.

Take Care!

Replied 6/6/2023
Industry: Construction
Company size: 11–50 Employees
Used

Daily

for

6-12 months

Review Source
---
jobber crashes and looses your info
not happy I will go back to zoho
Pros
nothing is good about jobber from the crashing software to their smug customer service, I'm not a fan, am very disappointed
Cons
crashes, smug customer service, I'm very disappointed in their process
Response from

Jobber Software

Hey Mike,
It sounds like we may have missed the mark on this one. We are sorry to hear that you have not had the best experience with the mobile app or our Support Team. We are interested in hearing more about how this affected you, so one of my Representatives will be reaching out. Thank you for taking the time to leave a review.

Replied 1/11/2023
Industry: Electrical/Electronic Manufacturing
Company size: 2–10 Employees
Used

Daily

for

2+ years

Review Source
---
Jobber from an Electrical Company
Pros
The dashboard is visualling appealing. I enjoy the customer client hub that is with Jobber. I enjoy the live chat as well as calling in to chat with them about any confusion I may have. We enjoy the expenses that can be added with a total amount.
Cons
I would enjoy Jobber more if they had more options with setting up quote follow-up notifications to send to the client. I would like the option to customize more messages that can be sent out as well as a bigger word count.
Response from

Jobber Software

Hey Bradley, We love that you enjoy the client hub and expense tracking features. We really appreciate the feedback on quote follow-ups and templates and will be sure to share that with the team. It sounds like our Support Team has been helpful in the past, so if you need anything or have more feedback you know where to find us! Thank you so much for the review!

Replied 21/9/2023
Industry: Construction
Company size: 2–10 Employees
Used

Daily

for

1+ year

Review Source
---
Jobber is #1 helping any business to GET THE JOB DONE!
Jobber helped to complete the gap and provide a spot where every memember of our business from the Owner to the Job site employee, from the job site to the office and then from the office right into the customers own portal. Ease of use is top notch!
Pros
Mobile usage, invoicing, customer management, credit card processing, Live texting and complete company involvement.
Cons
We do not have a con list. We love it!We can't say enough about the ease of usage of the entire program.
Reasons for Choosing Jobber
We wanted a program that would assist us in making the field workers a part of the business circle. WE GOT THAT NOW for sure! All while increasing revenue.
Reasons for Switching to Jobber
Nothing compared to ease of usage without compromising features.
Response from

Jobber Software

Thanks for your review, Christa! We are so thrilled that using Jobber has been such a positive experience for you and your team and that you've been finding it easy to use as well. Thanks again!

Replied 3/5/2023