About Focus X
Focus X is an all-inclusive enterprise resource planning (ERP) system that helps you connect every aspect of your business operations. From production to supply chain, customer relationship management to inventory and human resources, it records and stores all your core business data on a centralized database. The application is more focused on the data, information and agility of the process, as well as being able to respond to a fast-moving and volatile business environment. As an AI-enabled ERP software, Focus X is endowed with advanced capabilities that have the potential to improve control over disrupted and broken financial processes, simplify finding the right vendors, make forecasting effortless, and enhance other business processes to achieve greater growth and development.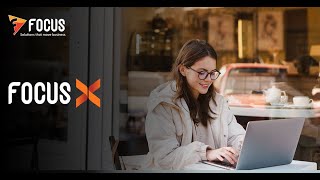 Focus X does not have a free version and does not offer a free trial.
Industry: Automotive
Company size: 11-50 Employees
Used

Daily

for

2+ years

Review Source
---
It is a good software
We have been using Focus from maybe over 10 years. It is on very stable platform. Don't remember we ever had any data loss.
Pros
Customised report, after sales service and training the staff.
Cons
Not commonly used by CAs. New accountant needs training.
Industry: Education Management
Company size: 501-1,000 Employees
Used

Daily

for

2+ years

Review Source
---
Excellent Windows & SQL based ERP for SMB and Enterprises
We had to go live with an ERP [comprising of Finance, Procurement and Budget Modules]. Focus was able to go live within 60 days from the project start and managed the incremental functionality upgrades in a smooth manner.
Pros
1. Simple and Easy to use, with limited or no training required
2. Highly customizable core modules, and easy to integrate with any other solution
3. Shorter go live period/upgrade and patches
4. Excellent resources for implementation and support
5. Finance integrated, easy to use budget module
Cons
not any feature in particular, most of what functions we required had worked well.
Reasons for Switching to Focus X
Value for money and it accommodated our Customization requests
Industry: Wholesale
Company size: 11-50 Employees
Used

Daily

for

2+ years

Review Source
---
FOCUS - 9 Software Review
Extremely Pathetic Backend Support Dubai team and no contact is maintained once the product is sold and implemented. No Knowledge of any changes or upgrades needed to our existing software version and No Updates done for past many years
Pros
Ease of use and very easy to add new features
Cons
There is hardly attention to the after sales / setup services, the Dubai backend support is NIL and NO attention is paid to the required adjustments from the beginning of the implementation and Usage of the Software. Very Pathetic Local Dubai Backend Support Team and dont even know if they will support now
Industry: Real Estate
Company size: 11-50 Employees
Used

Daily

for

2+ years

Review Source
---
AMSAF INVESTMENT LLC
I am satisfied by the overall performance
Pros
Easy to learn and user friendly. Good support from Customer service.
Cons
We are into Leasing and Property management the main disadvantage of Focus 9 is that the real management system is not in-built,while it was available in Focus 6 which was much easier to enter the contracts and post the revenues,while in Focus 9 the Tenancies contracts are to be entered through CRM and then gets integrated to Focus so each time we have to check manually whether all the parameters are linked properly. I had faced this issue when i joined this company and it took me almost 2 years to get the revenue posting module to be properly activated. On account of my previous experience while posting contracts and posting monthly revenue still I have to check each unit wise.
Industry: Telecommunications
Company size: 501-1,000 Employees
Used

Weekly

for

2+ years

Review Source
---
Worth considering
Overall, this software is still worthy to be on the list of tools to use as it has the features needed, and if it doesn't the developers have an open mind of adding and implementing the feature in a quick window of time. This is also not based on some fancy interface where learning is quite difficult.
Pros
I can say that although this software is technically in constant development for new features, I like it when they act on it in a decent span of time. What I mean is particularly on those modules. The developers are true to their word that they are indeed customizable and are always on the lookout for users requesting such non-existent features.
Like most innovations right now, this has helped it shortening the workload on tasks like this and management is quite easy and problems are easily controlled. I like the graph presentations as I am a visual type of person and it makes it easier to understand data to act on it real quick. This one is also not taxing on computer RAM usage which is very good for some of our relatively old computers. And the best part is it is user friendly.
Cons
Although to a certain degree I agree that limitation on Number of Users in proportion to the charges the company incurs when the new ones, but it would be nice to expand further the accessibility of users as it is expected that softwares like these are intended for employee management, and you can't just amount the number to a few individuals. And lastly, I'm hesitant about doing updates as it somehow messes up "old data" and I don't like having to deal with re-checking them one by one. The developers should up their game on this since this software is dealing with finances.