About Square Online
Square Online is an eCommerce solution that helps businesses in retail and hospitality industries create and launch websites with a custom domain name using built-in templates. The centralized platform allows organizations to connect with customers and directly accept orders from social media platforms including Instagram, Facebook and Pinterest. Features of Square Online include search engine optimization, inventory management, website templates, SSL security, gift cards, analytics and more. The application lets organizations receive payments through various methods including debit or credit card processing, Square gift cards, Apply Pay and Google Pay. Additionally, it enables restaurant owners to streamline and manage operations related to online orders, food deliveries or pickups and digital menus. Square Online offers an application programming interface (API), which facilitates integration with several third-party platforms, such as Magento, BigCommerce, WooCommerce and more. Pricing is available on monthly subscriptions and support is extended via online measures.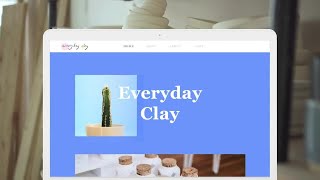 Square Online has a free version and does not offer a free trial. Square Online paid version starts at €10.00/month.
Starting Price:
€10.00/month
Alternatives to Square Online
Industry: Computer Software
Company size: Self Employed
Used

Weekly

for

2+ years

Review Source
---
My square store
overall, I love the product, It help me get my starter business ope and running when I had no idea how to start it SQUARE ONLINE STORE got me what I need and how I needed it to be done so that I could be my best.
Pros
Well first of all it's free you can not beat that no matter how you slice the deal. Finding out what kind of store you are wanting to open. Will you be offering single shipping out will you be shipping multi items for shipping. And if you will be shipping the items or if someone will be picking the items up from you.
Cons
no bad thing s to say about this peace of software. It ask all of the right questions to get your new business up and running no mater wat it maybe that you are trying your hand at this software is ware business will come.
Industry: Consumer Services
Company size: 2–10 Employees
Used

Weekly

for

2+ years

Review Source
---
Square has been a great place to grow my online presence through the years
Overall I have enjoyed my square experience, I have learned a lot about building a site and creating the image in my head into real life. It is affordable for my needs and square as a whole has many resources outside of the online platform that I utilize so it make a great one stop shop.
Pros
I love most that it is so easy to learn on and utilize. It has been a great help in creating my online platform and landing page for clients. I have been able to create a site that matches my brand perfectly and over time has grown with me. The price points as well are great and truly adjustable to what you need in the moment. If you are just starting out and only need the domain you can do that, if you want more as you grow you can do that too. It is a great place to learn new skills and create what's in your mind, especially if this process is all new to you.
Cons
Right now I am expanding into a blog and they have a story feature that is suppose to be their version of a blog. It would say this is the thing I would like to see expand a bit, it is not as easily customizable. For example I can only put in one picture at the top and then the rest is text. I don't have the ability to add more pics. This is a new feature though so if you looking to only do a blog as you business I would look to a site that is more geared towards that. If you looking for a place to just build a site though with products or services then this is a great resource.
Alternatives Considered
Weebly
Reasons for Switching to Square Online
I originally used Weebly before it go bought out by square and I loved the switch over. It was a whole new world with square and I am glad I got brought in through that process.
Industry: Alternative Medicine
Company size: 2–10 Employees
Used

Daily

for

1+ year

Review Source
---
Has some great features, but also plenty of glitches
Overall, Square Online has improved a lot since we started using it at the end of 2019. We love the delivery and curbside pickup features. There are still improvements that could be made, like setting up a subscription program to encourage recurring orders. Most of the features are pretty basic (customer loyalty program, 'similar items', etc.) - we wish there was more ability to customize features so they better meet our needs.
Pros
Creating our website through Square Online was pretty easy, especially for someone without a background in web design. The inventory management features and integration with Square POS is great!
Cons
Just beware, there seem to be a lot of bugs with Square Online and getting ahold of customer service via phone is not easy. You have to jump through several hoops before they will give you a phone number to call. This can be very frustrating when the website is having an issue that needs immediate attention. Once you do get ahold of customer service, if your issue is not deemed 'high priority' it can take them weeks/months to fix it, if they ever do at all.
Industry: Market Research
Company size: Self Employed
Used

Weekly

for

2+ years

Review Source
---
Very Useful and Quick to Set Up
It was a very great tool to have a business start up. When I decide to start my meditation business again in the future, I will definitely choose square.
Pros
I used the card reader in person and it was very useful. I didn't have the need for buying any other items. My remote clients would pay by entering their card as well, which was very simple. I have been a customer of many businesses that have used square and have always been happy when seeing it in other places.
Cons
Their website features weren't very easy to set up. It really wasn't a big issue because of so many sites that let you create your own websites for free.
Industry: Consumer Services
Company size: Self Employed
Used

Daily

for

2+ years

Review Source
---
Review For Square
Great ! Experience and they are top the line merchant services that I have ever known.
I look forward to more upgrades like Weebly and more of their great , convenient , easy to use, feature and services.
Pros
The merchant service fit my business industry, products and services. The upgrade of services and feature are awesome!
Cons
Need a easy shipping on the online website shipping admin with the weight, shipping prices and a easier one time payment link just for businesses without the campaign because it is political. So make a separate link that fits embed code on the features and make it easier to embed. And I can not receive what ever business sales amount of a purchase over 50,000.00 each transactions. I have to make partial payments through the website for one purchase transaction (For Example: if a sale is 115,000 and the transaction only excepts 50,000.00 per transaction; so there will have to be 3 purchase transactions. That's horrible. I need only one transaction per purchase at any price and they can still add other purchases if selected and add to total.