About Abby
With Abby, an auto-entrepreneur can manage administrative procedures on a single platform, streamline the automatic calculation of contributions, and send declarations to Urssaf. The invoicing module assists with the creation of estimates and invoices and includes an automatic reminder system as well as online payment links. Users can track cash flow and generate purchase and revenue books automatically. Teams can manage your clients and tasks, record working time and connect applications.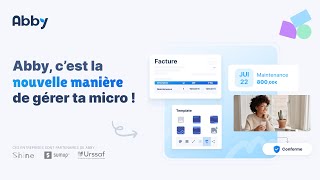 Abby has a free version and offers a free trial. Abby paid version starts at €0.01/month.
Starting Price:
€0.01/month
Industry: Financial Services
Company size: 2–10 Employees
Used

Daily

for

Free Trial

Review Source
---
Abby Review
Overall, my experience with Abby was positive. Her exceptional communication skills and professional demeanor made our interactions productive and enjoyable. She was always responsive and attentive, providing prompt and helpful assistance. The occasional minor oversights were outweighed by her overall effectiveness and dedication to addressing my needs. I found working with Abby to be a pleasant and productive experience, and I would gladly engage with her again in the future.
Pros
One of the things I liked most about Abby was her exceptional communication skills. She was articulate, attentive, and always had a positive and professional demeanor. Whether it was through email, phone calls, or in-person meetings, Abby had a way of making me feel heard and understood. Her ability to effectively convey information and respond promptly to inquiries was impressive and greatly contributed to a smooth and pleasant interaction.
Cons
While Abby had many positive qualities, one thing I liked least was her occasional tendency to overlook minor details. There were a few instances where I had to bring small errors or omissions to her attention, which could sometimes cause minor delays or require additional follow-up. While these instances were rare and didn't significantly impact the overall experience, it would have been ideal for her to pay closer attention to these finer details.
Industry: Internet
Company size: 51–200 Employees
Used

Daily

for

2+ years

Review Source
---
Abby review
Pros
Easy to use software for online business and accounting
Cons
Price a bit high and features very difficult to master
Industry: Telecommunications
Company size: 51–200 Employees
Used

Daily

for

2+ years

Review Source
---
Abby review
Easy to use software
Pros
A software that is easy to use and allows you to make calculations or estimates. What we like most about the tool is that it is quick to learn, no need to be an expert or professional. Abby also has a perfect technical support that guides you in your research.
Cons
The tool has some delays in functionality but with time it will get better.
Industry: Education Management
Company size: 201–500 Employees
Used

Weekly

for

1+ year

Review Source
---
It is known for its advanced optical character recognition technology.
It is known for its accuracy, efficiency, and versatility, making it a popular choice for businesses and individuals who need to work with a variety of documents and data types.
Pros
Document comparison: ABBYY software can compare two versions of a document and highlight any changes or differences between them.ABBYY software can convert PDF files into editable formats, such as Word or Excel.it can extract data from forms, invoices, and other documents, making it easier to analyze and process the information.
Cons
ABBYY software can be complex and may require some training or experience to use effectively. Users who are not familiar with OCR technology or document processing software may find it challenging to use.It can be expensive, particularly for businesses or individuals who need to use it on a regular basis.
Industry: Telecommunications
Company size: 501–1,000 Employees
Used

Weekly

for

2+ years

Review Source
---
Abby review
Fantastic
Pros
Abby, is a software that presents several features that allows us to manage our activities in a simple and easy way. It is easy to use when you get used to it
Cons
It is not easy to use at the beginning but with time you get used to it. The price is also high for beginners but we use it without any problem. I have nothing negative to say about this software because it helps us in our business